FedEx exhibits at Japan International Aerospace Exhibition 2016
Showcasing strengths and solutions for the aerospace industry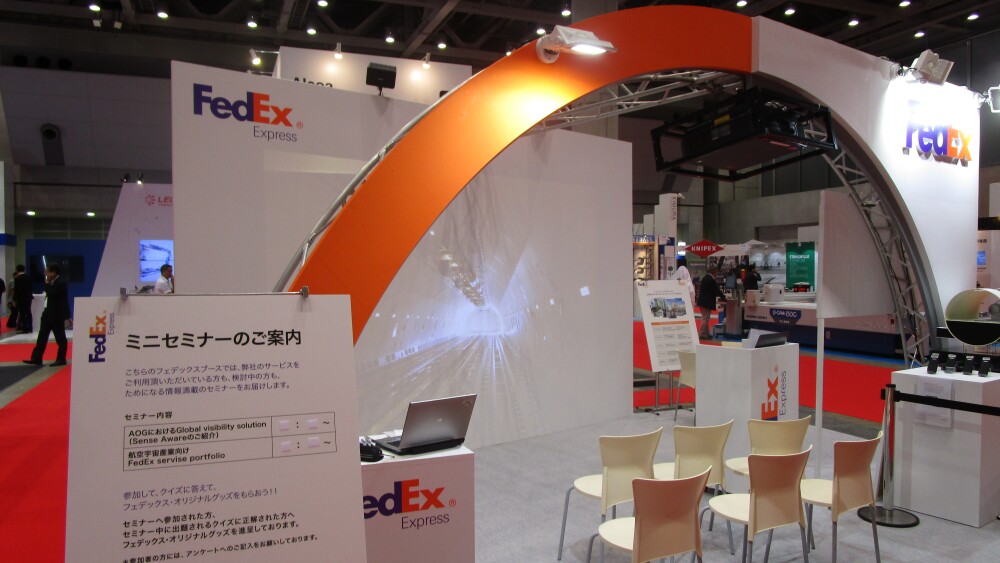 TOKYO, October 12, 2016 – FedEx Express (FedEx), a subsidiary of FedEx Corp., is exhibiting shipping solutions for the aerospace industry at the Japan International Aerospace Exhibition 2016. The exhibit includes the shipping monitoring service, SenseAware®, currently under preparation for introduction into the Japanese market. The event is being held at the Tokyo Big Sight exhibition complex from Wednesday, October 12 to Saturday, October 15.
The needs of the aerospace industry are unique and diverse when it comes to shipping. Many of the items shipped for aerospace companies require special handling, for example items that are unusually shaped and sensitive to shock such as aircraft engines, large items including fuselage parts, and hazardous materials.
The FedEx booth will feature demonstrations on efficient shipping methods and solutions for large items using a model interior of a cargo plane, an introduction to specialized customs clearance solutions for aircraft parts and case studies of the sensor-based shipment monitoring system SenseAware.
"As a fellow company operating in the same industry, FedEx is in a unique position to fully grasp the business and shipping needs of aerospace companies. With our service portfolio and capacity to handle shipments in all shapes and sizes, we are able to offer optimal solutions to customers in the aerospace industry," said Masamichi Ujiie, regional vice president, North Pacific, FedEx Express.
About SenseAware®
SenseAware is an information solutions service that uses monitoring devices and online software to track shipments in real-time. Having first been introduced to the U.S. market in 2009, SenseAware is now used in 30 countries.
*Currently under preparation for introduction into the Japanese market.
About Japan International Aerospace Exhibition 2016
Date: October 12-15, 2016 09:30- 17:30 (opens from 12:00 on October 12)
Venue: Tokyo Big Sight West Hall 1-4
Exhibition booth: W1-104
http://www.japanaerospace.jp/eng/Index