FedEx Exhibits at Tokyo Aerospace Symposium 2015
Showcasing solutions: SenseAware® and experienced customs clearance support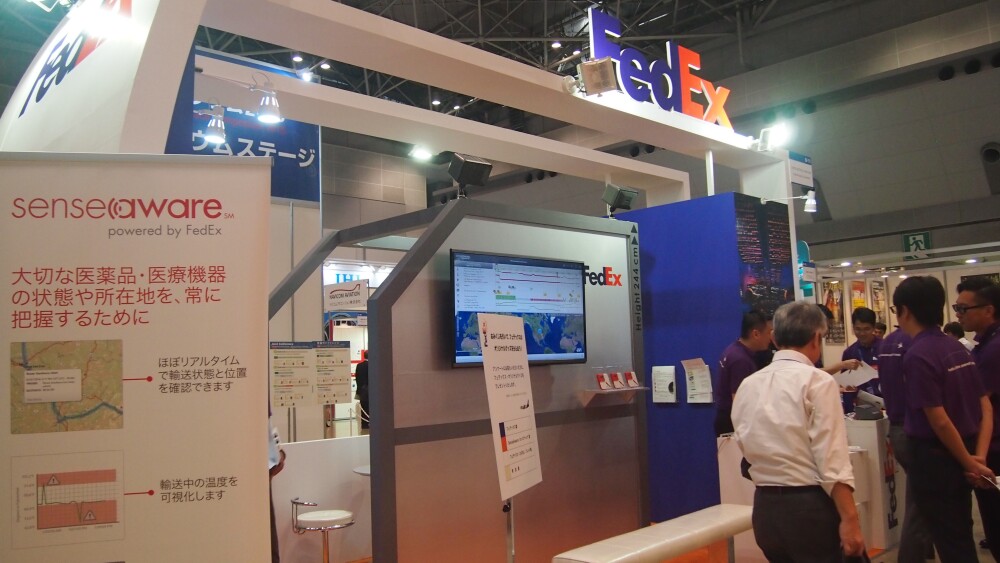 FedEx Express (FedEx), a subsidiary of FedEx Corp., is exhibiting shipping solutions for the aerospace industry at the Tokyo Aerospace Symposium 2015. The exhibit includes the shipping monitoring service, SenseAware®, currently under preparation for introduction into the Japanese market. The event is being held at the Tokyo Big Sight exhibition complex from Wednesday, October 14 to Friday, October 16.
At this year's Tokyo Aerospace Symposium, FedEx is holding demonstrations on SenseAware and introducing case studies of how FedEx has developed innovative solutions for overseas customers in the Aerospace industry.
Given that keeping an aircraft grounded while it waits for a replacement part can cost an airline more than US$100,000 per day[1] once the replacement parts, additional crew and passenger compensation are all taken into account, aircraft maintenance is an extremely time sensitive undertaking. This means that the time needed to ship replacement parts, which range from large materials to specialized rare components, must be as short as possible. In order to meet these demands, FedEx offers a value-added solution that combines SenseAware, a monitoring service for shipping emergency aircraft parts and materials, with experienced customs clearance support to manage the specialized customs regulations required when transporting aircraft parts.
"As an operator of more than 600 cargo aircraft, FedEx has developed its own international supply chain for transporting replacement aircraft parts and fully understands the important factors involved with shipping these parts in the event of an emergency" said Masamichi Ujiie, regional vice president, North Pacific, FedEx Express. "With the combination of our technology-driven SenseAware and customs clearance support for the specialized regulations, I believe that our tailored solutions will help many customers in the aerospace industry".
About SenseAware
SenseAware is an information solutions service that uses monitoring devices and online software to track shipments in real-time. Having first been introduced to the U.S. market in 2009, SenseAware is now used in 30 countries.
*Currently under preparation for introduction into the Japanese market.
About Tokyo Aerospace Symposium 2015
Date : October 15-16, 2015 10:00- 17:00
Venue : Tokyo Big Sight West Hall 4
Exhibition booth : B-11
http://www.tokyoaerospace-sympo.com/jp/index.html
[1] FedEx Business Insights Hub http://fedexbusinessinsights.com/en/ecommerce/understanding-aerospace-customs-requirements/