FedEx Awards HK$230,000 to Hong Kong Winners of Small Business Grant Contest
Tangible Financial Prize in Support of Global Aspirations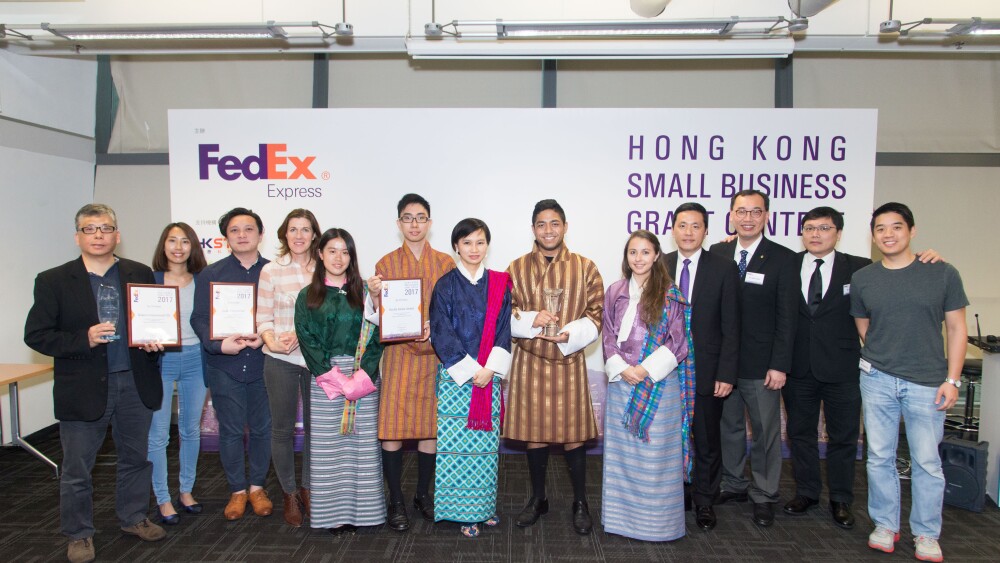 HONG KONG, May 29, 2017 — FedEx Express (FedEx), a subsidiary of FedEx Corp. (NYSE: FDX) and the world's largest express transportation company, today unveiled the Hong Kong winners of its second FedEx Small Business Grant Contest.
The grand prize winner, Ana by Karma Limited, a social enterprise selling hand-made Bhutanese scarves, will receive a HK$150,000 grant from FedEx to grow its business globally. The founder started the business with an ambition to empower Bhutanese women to make a living using their sewing talent. The company sells to customers around the world via social media and reinvests its profits into training programs for Bhutanese weavers as well as their children. With the FedEx grant, Ana by Karma Limited will be able to enhance its mobile application, launch new marketing activities, and invest in new special sewing machines and materials to develop a new product – personalized luggage belts.
The first runner-up, Nokero International Limited, a solar light provider, will be awarded a grant of HK$50,000. The second runner-up, Happy Cow Limited, a dairy-free ice cream manufacturer and distributor, won a grant of HK$30,000.
"At FedEx, we see immense possibilities in small businesses and have a long history in supporting them," said Anthony Leung, managing director, FedEx Express, Hong Kong and Macau. "The FedEx Small Business Grant Contest provides SMEs with the inspiration and practical monetary support to go global and boost their competitiveness. This year, we continue to be impressed by the contestants' innovation, ingenuity and passion, which are driving the success of the SME community and the Hong Kong economy at large."
In its second year, the contest was open to for-profit Hong Kong SMEs that have been operating for six months or more and have no more than 99 employees. Between March and April, SMEs submitted their business stories online. Ten finalists were invited to present their business ideas at a pitching event on May 26. Members of the judging panel included Anthony Leung, Managing Director, FedEx Express, Hong Kong and Macau; Jeff Au, chief strategy officer, Incu-Lab; Dr. Keith Chau, director, Institute for Entrepreneurship, The Hong Kong Polytechnic University; Roland Yau, managing partner, Cocoon Ignite Ventures.
First rolled out in the U.S. five years ago, the FedEx Small Business Grant Contest went global for the first time in late 2015, with contests in Hong Kong, Brazil, France, Germany, Singapore and the UK. This year, the contest makes its debut in mainland China, India and Italy as well.