FedEx and Christian Action Recycle for Families in Need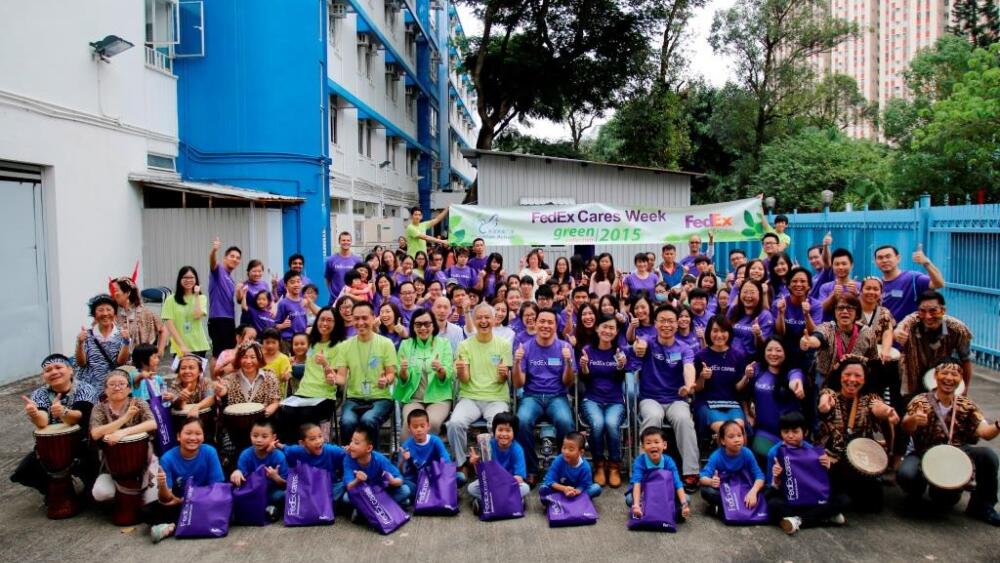 HONG KONG, October 12, 2015 — Hong Kong people throw away a whopping 6 million tons of domestic waste a year, far surpassing their neighboring cities such as Tokyo, Seoul and Taipei in terms of per capita waste[1]. While the alarming figure is a result of the consumption-oriented lifestyle among Hong Kong citizens, more than 1.01 million of the city's people are living below the poverty line[2].
To promote waste reduction and alleviate poverty, FedEx Express (FedEx) joined hands with Christian Action to organize a month-long recycling drive throughout September. FedEx dedicated its vehicle fleet to collect books, toys and electrical appliances donated by FedEx team members and the public. In addition, FedEx and Christian Action organized a fun day on October 10, where 55 FedEx volunteers helped distribute the donated goods to 100 service users of Christian Action and assisted in a series of activities, including balloon twisting, magic tricks and dessert cooking. The events were part of the eighth annual FedEx Cares Week, a worldwide initiative where FedEx team members in 12 Asia-Pacific markets[3] give back to their communities.
"At FedEx, access is more than just an economic concept of connecting businesses to opportunities," said Anthony Leung, managing director, FedEx Express Hong Kong and Macau. "By extending the power of access to the community, we hope to bring together resources and the people who need them. Through our collaboration with Christian Action, we delivered not only recycled goods to those in need, but also a green attitude toward a sustainable lifestyle for the wider audience. I want to thank our dedicated FedEx volunteers who made all this possible."
Across the region, FedEx Cares Week activities have a strong community and sustainability focus. About 1,100 FedEx volunteers in Asia-Pacific are expected to take part in 42 community activities between September 10 and November 7. This is part of a global FedEx initiative involving team members all around the world.
Globally, more than 10,000 FedEx team members are expected to volunteer nearly 55,000 hours during FedEx Cares Week. FedEx Corp. began this tradition in a handful of U.S. cities in 2004 and has since expanded it to nearly 500 global communities where its team members live and work.
For more information about FedEx Cares Week and FedEx commitment to volunteerism and the Asia Pacific communities it serves, please visit newsroom.fedex.com/newsroom/asia-english or newsroom.fedex.com/citizenship_report.
About Christian Action
Christian Action was established in 1985 as a Hong Kong registered charitable organization. Its mission is to serve those who are poor, disadvantaged, marginalized, displaced or abandoned, aiming to give them hope, dignity and self-reliance. Its service recipients include unemployed adults and youth, new arrivals from Mainland China, children and youth from deprived families, ethnic minorities, refugees and domestic migrant workers, and orphans and abandoned children in Qinghai; it also provides social enterprise services. Its services are based on the example of Jesus Christ who serves all people regardless of their age, gender, nationality and religion. Please see www.christian-action.org.hk for more details.
[1] Environment Bureau, Hong Kong Blueprint for Sustainable Use of Resources 2013-2022.
[2] News.gov.hk, September 28, 2013.
[3] Australia, China, Hong Kong, Japan, Korea, Malaysia, New Zealand, the Philippines, Singapore, Taiwan, Thailand and Vietnam