2021 FedEx Express/JA International Trade Challenge China Finals Successfully Wrap Up
Six students will represent Mainland China in the Asia Pacific FedEx Express /JA International Trade Challenge Finals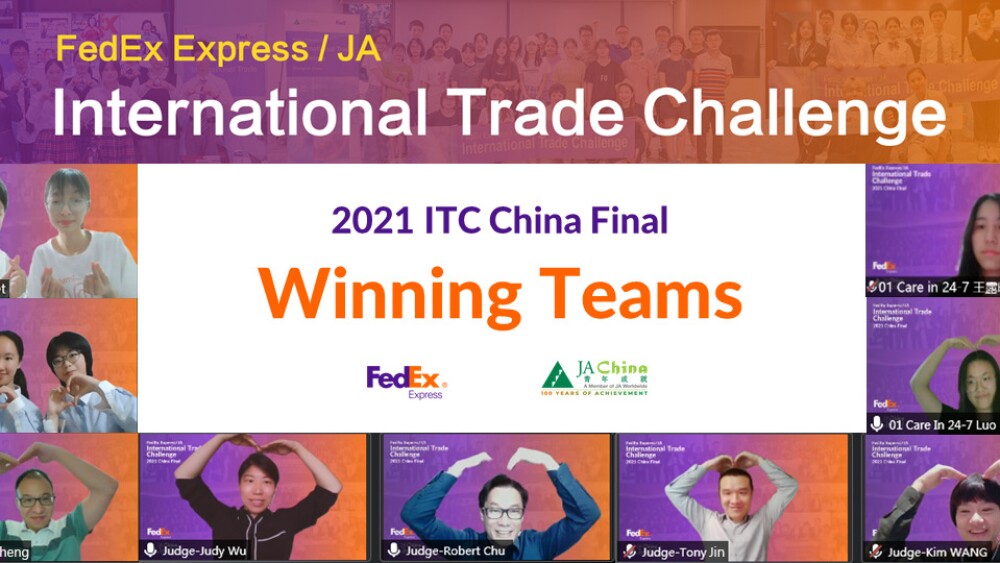 SHANGHAI, June 29, 2021 ― FedEx Express (FedEx), a subsidiary of FedEx Corp. (NYSE: FDX) and one of the world's largest express transportation companies, announced that the 2021 FedEx Express/JA International Trade Challenge (FedEx/JA ITC) China Finals, jointly initiated by FedEx Express and Junior Achievement (JA), has drawn to a successful close. On June 26, 12 teams (24 students total) stood out from the more than 100 participants across China with their online presentation of their English business proposals. As a result of their amazing performances, three teams (six students total) were selected to advance to the Asia Pacific Finals.
The FedEx/JA ITC aims to cultivate entrepreneurship, business application skills and practical English skills among high school students, including those from vocational schools. Since its debut in 2007, through a series of activities and competitions the ITC has successfully held 14 sessions benefiting more than 28,000 students from the Asia Pacific region. This year's ITC is the fifth to be held in Mainland China.
The 2021 ITC China Finals challenged students to create a Pakistan market entry strategy for a physical fashion product. In May, after studying at the international trade workshop, 130 high school students across the country worked in teams of two to develop a business plan. After passing a strict evaluation by a panel of expert judges — all multinational company executives — 12 teams were shortlisted for the ITC China Finals.
After presenting their market entry strategies covering product design, pricing, marketing, distribution, financial plan and a Q&A session with the judges in English, the three winning teams were selected for their sound business logic and feasibility of implementation. They will move on to the Asia Pacific finals as representatives of students from Mainland China:



First prize was awarded to Care In 24-7 team from The SMIC Private School for their DIY Shoes Plan.

Second prize was awarded to GQ Light team from Shanghai Ganquan Foreign Languages Middle School for their Roll - on deodorant antiperspirant with mosquito protection Plan.

Third prize was awarded to Power Net team from Shanghai Commercial Accounting School for their Fashionable viscose filament veil Plan.
At the Asia Pacific Finals in August 2021, to determine the top three winning teams, 60 students from 10 countries and regions will be placed into new teams and given 48 hours to complete a business proposal for a given product and target market. Countries and regions participating in this year's Asia Pacific Finals are Mainland China, Hong Kong SAR, India, Indonesia, Japan, South Korea, Malaysia, the Philippines, Singapore and Vietnam. The judging panel is made up of influential business leaders from the Asia Pacific region.