Young Entrepreneurs from the Philippines Shine at the FedEx Express/Junior Achievement Regional International Trade Challenge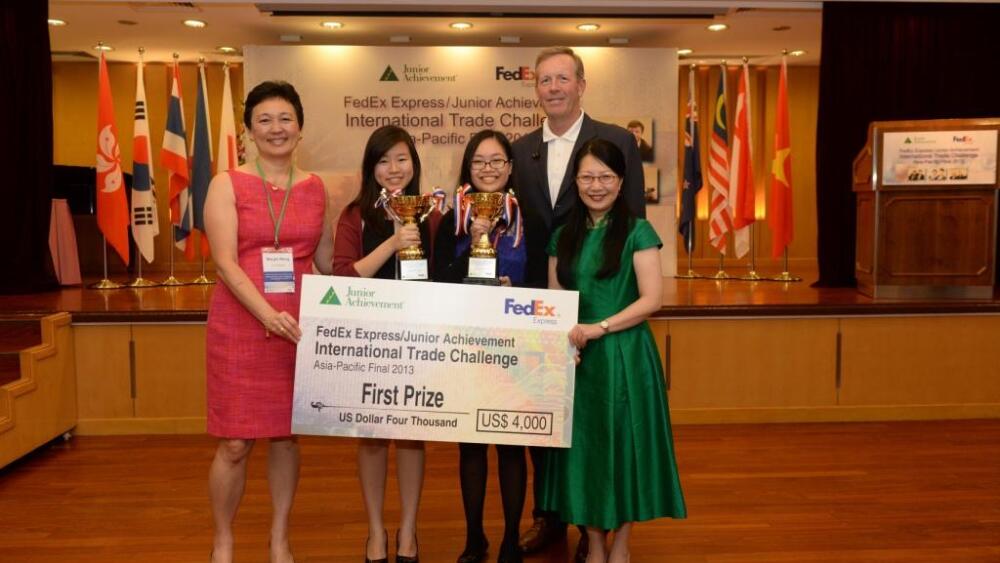 HONG KONG, August 22, 2013—A student team from the Philippines was awarded the title of Entrepreneur of the Year at the FedEx Express/Junior Achievement International Trade Challenge (FedEx/JA ITC) Regional Finals in Hong Kong, a three-day competition for young people from Asia-Pacific to gain first-hand experience of world trade and the fundamentals of entrepreneurship.
Among the 27 student teams from nine markets, including Hong Kong, Japan, Korea, Malaysia, New Zealand, the Philippines, Singapore, Thailand and Vietnam, Pamela Frances T. Gaw & Katrina L. Chan representing Immaculate Concepcion Academy Greenhills from the Philippines impressed the panel of judges with an innovative business proposal in response to this year's challenge. The finalists were tasked with addressing the global issue of recycling materials by developing a new innovative product or service for the Argentinian market using reused jeans. The winning Philippines team came up with the concept of Eco-Gear, a set of recycled, durable and affordable sports equipment, including goalie gloves, a soccer ball and shin guards, targeting the soccer-loving Argentinians.
"We feel so fortunate to have been given the opportunity to participate in and win the ITC program," said Team Philippines. ""Everyone worked very hard during the competition and our team also had sleepless nights. I am happy with what we have achieved. We have learnt a lot from so many great minds from all over the world, had a lot fun and built many great friendships."
The first runner-up was Team New Zealand, represented by James Rankin and Lauren McCarthy, who devised a plan to recycle denim to make shoes. For every pair of shoes purchased, a pair was to be donated to the needy in Argentina.
Team Hong Kong was the second runner-up. Ng Yu Hin and Wong Bo Hang from Hong Kong developed the creative idea of manufacturing a denim "100 Wishes" quilt, manufactured from unwanted scraps of denim from China garment factories. These affordable quilts were to be sold to lower income Argentinians from the south of the country with limited means to afford the country's high energy costs.
This year 54 students, aged between 15 to 19, won a place to represent their markets in the FedEx/JA ITC Regional Finals by confidently demonstrating their teamwork, resourcefulness, creativity and entrepreneurial skills during the local market competitions. At the Regional Finals the panel of judges, comprising successful entrepreneurs and business leaders, assessed the students on their attention to detail, creativity and professionalism in developing and executing a business entry strategy.
"FedEx actively supports entrepreneurship. We are proud that since 2007 the International Trade Challenge has educated and inspired more than 9,900 young people in the region, who will be our next generation of Asian entrepreneurs," said David L. Cunningham, Jr., president, FedEx Express Asia Pacific. "Our world is changing faster than ever. Small businesses in Asia have shown significant innovation and made a vital contribution to driving global trade. The FedEx/JA ITC program provides an essential foundation to help students understand the corporate world, and to pursue their dreams of operating a global business and playing a pivotal role in the future economy of our region."
"At Junior Achievement, we inspire and prepare young people to succeed, with a focus on teaching them entrepreneurial values and encouraging their creativity. The International Trade Challenge serves as a platform for students to unleash their potential and sharpen their business acumen by devising a market entry plan. The three-day Regional Finals have been exceptionally successful with the support of FedEx Express and their professional volunteers who helped mentor the teams. We look forward to continuing to foster the spirit of entrepreneurship among young people in Asia Pacific with FedEx Express," said Vivian Lau, Interim President, Junior Achievement Asia Pacific.
Jointly organized by FedEx Express, a subsidiary of FedEx Corp. (NYSE: FDX) and one of the world's largest express transportation companies, and JA Worldwide®, the world's largest non-profit organization dedicated to inspiring and preparing young people to succeed in a global economy, the FedEx/JA ITC provides an opportunity for students to understand business and entrepreneurship. This year, more than 90 FedEx employees volunteered as mentors helping the students understand the concept of international trade and guiding them in the development of their plans. For more information, please visit www.facebook.com/AsiaPacificITC.