Young Entrepreneurs from New Zealand Come Out On Top at the FedEx Express/Junior Achievement International Trade Challenge Asia Pacific Finals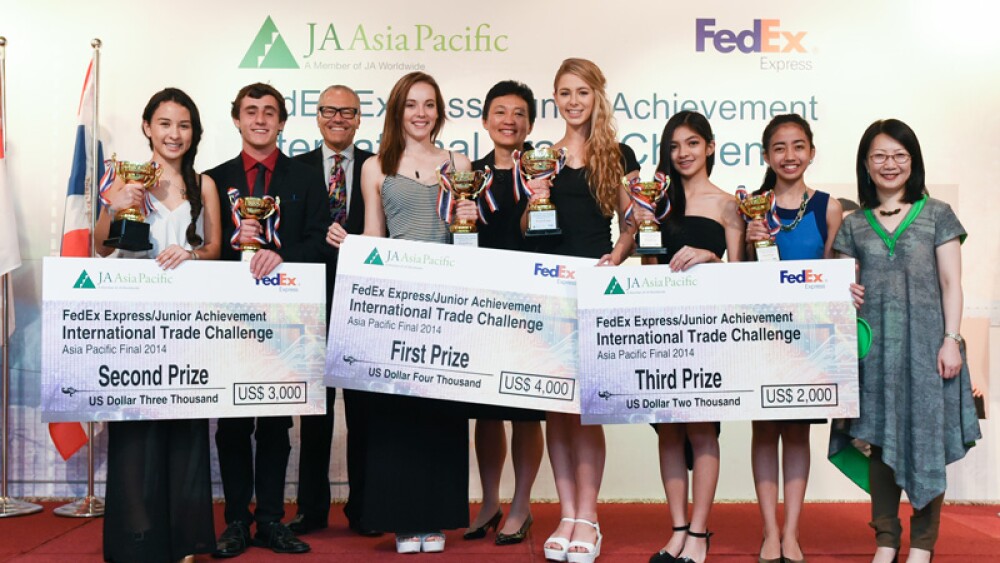 HONG KONG, August 21, 2014 – Team NZ from New Zealand has emerged winners at the annual FedEx Express/Junior Achievement International Trade Challenge (FedEx/JA ITC) Asia Pacific Finals in Hong Kong.
>Shannon Metcalfe from Avondale College and Isabelle Stangl from Long Bay College in New Zealand beat 52 other students and impressed the judging panel with their well thought-out and original business proposal. The finalists were tasked with creating a cohesive market entry strategy plan for a beauty product/service, which also addresses a social issue of Kenya. Team NZ's proposal of a waterless face wash solution, Eye Care, addresses Trachoma problem among Kenyans. While cleaning the face as well as conserving water for drinking, it can encourage beauty naturally at the same time.
This program aims to give young people from around the region a taste of the world of business and entrepreneurship. The Asia Pacific Finals involved 27 student teams from nine Asia Pacific markets, comprising Hong Kong, Japan, Korea, Malaysia, New Zealand, the Philippines, Singapore, Thailand and Vietnam.
"We were overwhelmed when we won the right to represent New Zealand," said Shannon Metcalfe and Isabelle Stangl of Team NZ. "To have come out to Hong Kong and won the regional finals as well is a dream come true. The ITC program was highly stimulating and rewarding – we put in our best efforts and I feel that we got a real-world experience of the world of business which will be extremely valuable in our future careers. We also formed some lasting friendships with one another. We learnt a lot from our FedEx mentors, and I'd like to thank the organizers for a really rewarding experience."
The first runner-up was Team Aotearoa, represented by Amanda Ngo of Kings College and Benjamin Seelen of Nayland College in New Zealand. Their proposal involved a toothpaste that helps fighting against dental fluorosis, which is composing of ingredients safe for ingestion.
Team Avant Garde from the Philippines was named second runner-up. Teammates Deji Nela Agustin Eclarin and Lianne Gabrielle Ramirez Hernandez of O.B. Montessori Greenhills came up with the idea of taking henna tattoos to a next level by introducing Uzurink, which allows oppressed women in Kenya to look and feel beautiful without invasive tattooing or excessive makeup.
Fifty-four students competed in this year's FedEx/JA ITC Asia Pacific Finals and the judges were impressed by the teamwork, resourcefulness, creativity and entrepreneurial skills exhibited during both the regional competition and the earlier national contests. The judging panel of successful entrepreneurs and business leaders evaluated the students' proposals for attention to detail, creativity and professionalism during the development and execution phases of the competition.
"FedEx actively supports small businesses in the communities we serve, and promoting entrepreneurialism among young people reflects that," said David L. Cunningham Jr., president, FedEx Express Asia Pacific. "Some of the students in this year's competition could easily rank among the next generation of business leaders in a few years' time. I'm excited that FedEx has contributed to educating and inspiring almost 12,000 young people from around the region through this program since 2007. I congratulate team New Zealand on winning what was a fiercely competitive contest."
"Junior Achievement's goal in running this program is to provide young people with the inspiration and experience to succeed in the world of business," said Vivian Lau, president, JA Asia Pacific. "The International Trade Challenge functions as a springboard, providing students with the tools they need to translate creative, original ideas into viable business propositions by exposing them to real-world realities. The three-day Asia Pacific Finals, supported by FedEx volunteers, has been a great success and I look forward to continuing to work with FedEx on this valuable program."
Jointly organized by FedEx Express, a subsidiary of FedEx Corp. (NYSE: FDX) and the world's largest express transportation company, and JA Asia Pacific, a member of JA Worldwide, the FedEx/JA ITC provides an opportunity for students to understand business and entrepreneurship. This year, more than 90 FedEx employees volunteered as mentors, helping the students understand the concept of international trade and guiding them in the development of their plans. For more information, please visit www.facebook.com/AsiaPacificITC.