Vietnamese Students Excel at Business Thinking at the 2022 FedEx/JA International Trade Challenge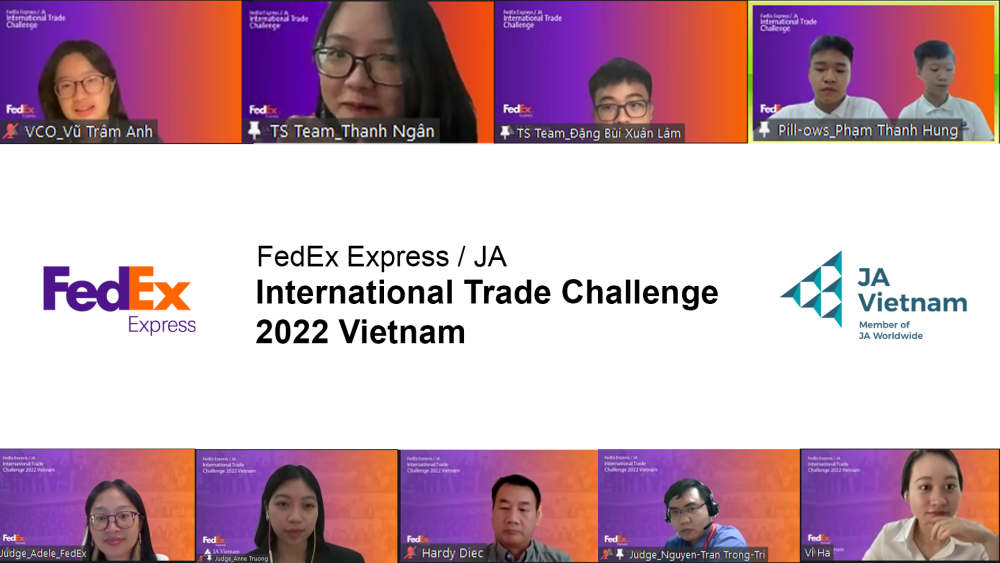 HO CHI MINH CITY, July 7th, 2022 – FedEx Express, a subsidiary of FedEx Corp. (NYSE: FDX) and one of the world's largest express transportation companies, announced the six winners of this year's Vietnam FedEx Express/Junior Achievement International Trade Challenge (FedEx/JA ITC).
These six aspiring young entrepreneurs from three winning teams will go on to represent Vietnam in the Asia Pacific, Middle East and Africa (AMEA) competition where they will compete against students from nine AMEA markets. To promote cross-cultural collaboration at the AMEA finals, frontrunners will be grouped at random into new teams comprising participants from all ten different markets: China, Hong Kong, India, Indonesia, Japan, South Korea, Malaysia, the Philippines, Singapore and Vietnam. This team grouping encourages participants to share experiences with students from other markets, gain global perspectives and brainstorm ideas to include collaborative thinking.
The six students that will advance to the AMEA FedEx/JA ITC are:



VCO Team – Vinschool Times City
Student name: Vu Tram Anh and Nguyen Ngoc Thuy Linh
Product presented: Apphoutheto – Incense sticks

TS Team – Vinschool Imperia, Hai Phong province
Student name: Dang Bui Xuan Lam and Vu Thanh Ngan
Product presented: Digital Healthcare App in Cambodia

3. Pill-ows Team – The Dewey Schools
Student name: Pham Thanh Hung and Bui Duc Quang
Product presented: High tech, shock reducing pillow
This year's competition was held virtually and included a series of workshops held in April 2022 in which more than 400 students from 36 schools participated. These workshops are designed to build up students' entrepreneurial skills including creating a market entry strategy. The twelve teams with the most promising ideas and strategies then moved on to the national finals where they presented their business plans to the judging panel. Representatives from FedEx Express and Junior Achievement served as judges to assess originality of concept, feasibility of strategy and thoroughness of research presented by the students.
"Now, more than ever, the entrepreneurial spirit is needed to bring new business ideas that can boost economic activity as we learn to live with the pandemic," said Hardy Diec, managing director, FedEx Express Indochina. "Through the International Trade Challenge, we hope to foster young entrepreneurs, whose breakthrough ideas have the potential to prepare Vietnam and the world for what's next. The potential in today's students to run startups and small businesses that will be the growth engine of the future is immense. We will continue to support the program to unleash untapped potential in our country's future business leaders."
The annual FedEx / JA ITC is a regional competition that aims to nurture the entrepreneurial spirit and skills of students and introduce them to the fundamentals of global trade. The activity provides these aspiring youth entrepreneurs with the opportunity to gain a solid foundation on which to build future careers in business.