Vietnamese Student Entrepreneurs Showcase Business Ideas at 2019 FedEx/Junior Achievement International Trade Challenge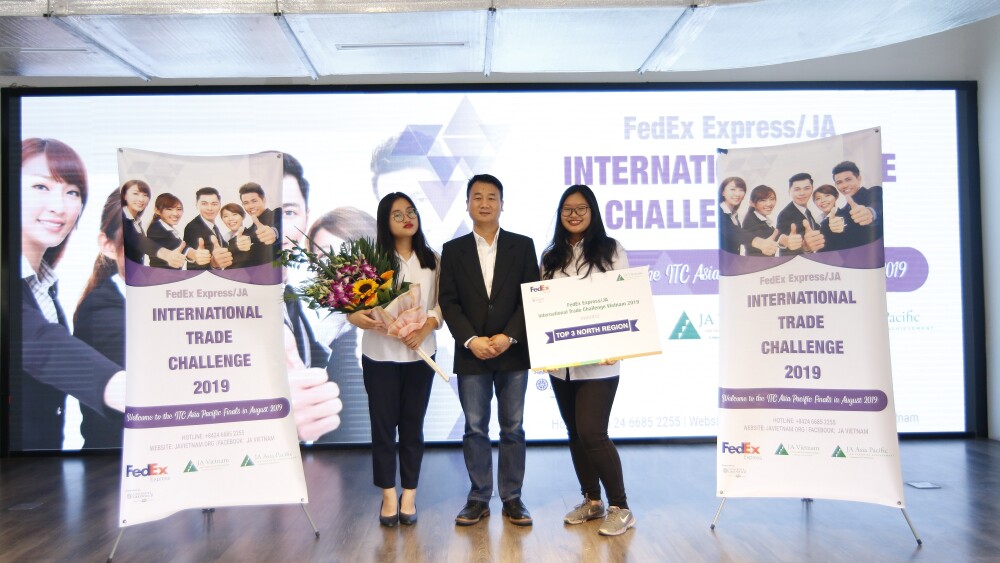 HO CHI MINH CITY, June 11, 2019 – FedEx Express, the world's largest express transportation company and a subsidiary of FedEx Corp. (NYSE: FDX), announced the winners of the Vietnam leg of the FedEx Express/Junior Achievement International Trade Challenge (FedEx/JA ITC).
These six young student entrepreneurs will represent Vietnam and will go on to compete with students from ten Asia Pacific markets. At the Asia Pacific finals, finalists will be randomly grouped into new teams consisting of participants from different markets such as Australia, Mainland China, Hong Kong, Japan, South Korea, Malaysia, Philippines, Singapore, Thailand, and Vietnam, in order to promote cross-cultural collaboration. This environment is designed to encourage participants to share experiences from their home countries and discuss best practices.
The six students from 3 teams who will advance to the Asia Pacific FedEx/JA ITC are:



2 Giang - Hanoi Amsterdam High School
Nguyen Hoang Giang and Nguyen Huong Giang
Product presented: INDAH Nourishing Body Lotion



2. Minh Nhi and Van Khanh - Vinschool
Dao Minh Nhi and Le Van Khanh
Product presented: Pétillante



3. Mai Hoa and Dieu Trang - Hanoi Academy International Bilingual School
Ngo Thi Mai Hoa and Hoang Dieu Trang
Product presented: Alycia beauty box - a box which contains a variation of beauty products that uses organic/halal ingredients with eco-friendly packaging
At this year's competition, 201 teams from Ho Chi Minh City and Hanoi presented their market entry strategies for a beauty product in Indonesia market. The top 16 teams were invited to present their business plans to the panel of judges at the Vietnam local competition. The judging panel, composed of FedEx Express and Junior Achievement representatives, evaluated the ideas based on the originality of their concept, feasibility of their strategy, and thoroughness of research for their business plans.
"This is the seventh year FedEx Express has supported the ITC program in Vietnam, and after the success of our Vietnam representative in the 2018 competition, we look forward to even greater progress from our students this year," said Hardy Diec, managing director, FedEx Express Indochina. "At FedEx, we are committed to empowering young entrepreneurs, and enabling them to connect their skills, knowledge, and business ideas to reach more possibilities."
The Board of Judges awarded Hoang Anh Duong from Nguyen Sieu High school and Tran Cam Ly from Krong No High school, with the Golden Key scholarship. Anh Duong and Cam Ly were recognized for their creative ideas and high impact presentation. The scholarship, sponsored by The University of Greenwich (Vietnam), aims to nurture talented students in international business, start-up or innovation competitions. The winning students will be awarded a VND40,000,000 grant that can be used to study at the University of Greenwich (Vietnam).
The ITC program introduces the fundamentals of global trade to aspiring young entrepreneurs and provides them with a solid foundation to build their future careers in business. Workshops were conducted prepare Vietnamese students for the intensive selection process. These workshops focused on developing their business plans and enhance their presentation skills.
The annual FedEx/JA ITC is a regional competition that aims to nurture the entrepreneurial spirit and skills of students and introduce them to the fundamentals of global trade. The activity provides these aspiring youth entrepreneurs with the opportunity to gain a solid foundation on which to build future careers in business.