Teen Entrepreneurs from Thailand Shine At Regional Business Competition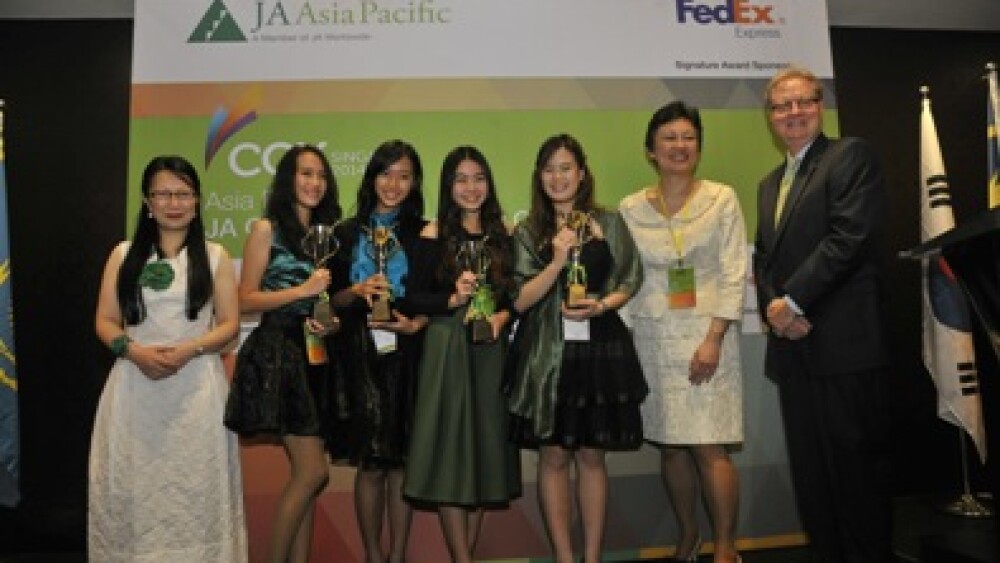 HONG KONG, February 20, 2013—On Wednesday, JA Worldwide (Junior Achievement) crowned teen entrepreneurs (Student Company Bagtastiq) from Thailand as the Asia Pacific JA Company of the Year and another team (Student Company KU Space) from Thailand as the FedEx Access Award winner at its fourth annual regional competition.
Organised by JA Asia Pacific, an operating region of U.S.-based JA Worldwide, the world's largest global organization dedicated to empowering young people to own their economic success, the three-day competition in Singapore saw 15 student companies from 9 Asia Pacific markets—China, Guam, Hong Kong, Indonesia, Kazakhstan, Malaysia, Singapore, South Korea, and Thailand—participating in a trade fair and pitching their companies to a judging panel comprised of business leaders.
Bagtastiq Student Company took the first place in the JA Company of the Year competition with their environmentally friendly personalised waterproof messenger bags made up of old and discarded banners.
The second place went to Orabird Student Company from Korea, who launched a mobile application on Google Play Store that provides a reservation service for consumers looking for services provided by small lifestyle, retail and food & beverage businesses.
Third place honours went to Akram Student Company from Indonesia, who designed handmade educational toys and trinkets made from expired bread clay.
The Asia Pacific Region JA Company of the Year Competition is a contest of business skills, ingenuity and innovation. Under the mentorship of volunteers from their local business communities, these students start and run their own businesses, developing and marketing a product or service to realise a profit for their shareholders. These teams were selected to represent their countries and showcase their business acumen before a panel of independent judges who evaluated each student company's annual report, business presentation, trade booth display and interview performance.
In addition to the Asia Pacific JA Company of the Year, the event also named the winners of its signature award: the FedEx Access Award, sponsored by FedEx Express. KU Space Student Company from Thailand took home the FedEx Access Award for presenting the best business plan with the most potential to create jobs, grow small business, expand global development and contribute to social needs of the local communities. KU Space designs and sells personal, multi-functional lap-desks and hires local unemployed to assist in assembly of their products.
"FedEx believes that global trade opens up opportunities for entrepreneurs and big business and we are heartened by the potential shown by the students in Asia Pacific to leverage the power of access to expand and create jobs, which in turn drives economic development and improves quality of lives. This is why FedEx is proud to support Junior Achievement to educate the youths in Asia Pacific on value of business and free enterprise," said David L. Cunningham, president, FedEx Express Asia Pacific.
"The 2014 Asia Pacific JA Company of the Year Competition provides a unique experience of entrepreneurship and global business to the youth of the region," said Sean C. Rush, President and CEO, JA Worldwide. "It offers them important opportunities to both learn and apply leadership skills, teamwork and innovation in their pursuit of business success."