Tao Li Trades Swimwear to be FedEx Courier for a Day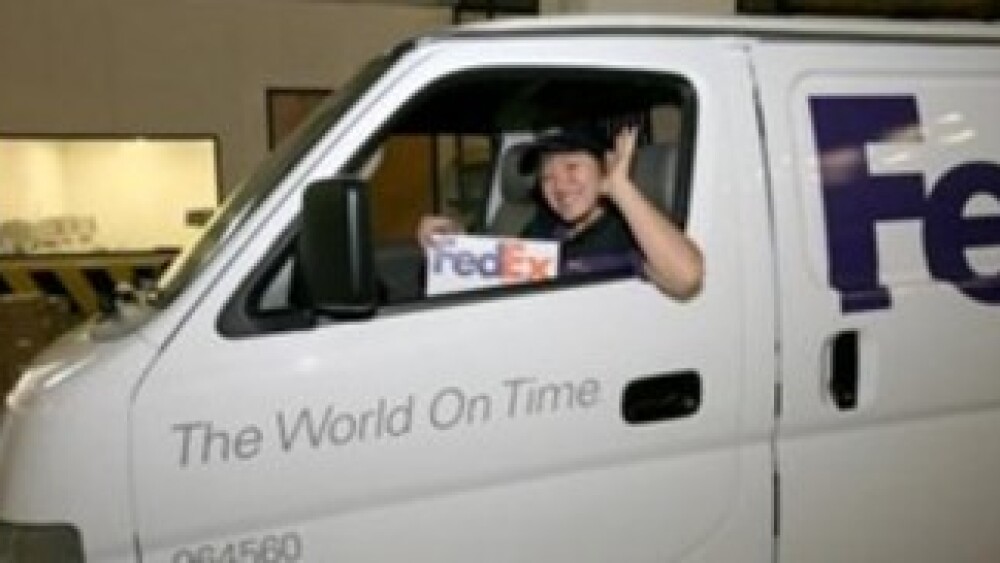 SINGAPORE , 26 November 2007 – Singapore 's teenage swimming sensation, Tao Li took part in a race of a different kind recently.

The 17-year old silver medallist at the recently concluded FINA World Cup Competition, traded her swimwear for a courier uniform to experience a day in the life of a FedEx courier.

Tao Li, who recently signed a sponsorship deal with FedEx, the world's largest express transportation company, demonstrated the same ease as she displays in the pool, handling packages, and using tools like the FedEx power pad.

Today's event marked the first of Tao Li's several official public appearances under the Team FedEx banner as part of a two-year sponsorship deal inked with FedEx, earlier this year.

"We are delighted at Tao Li being a part of today's event, which further highlights the FedEx WeLiveToDeliver spirit. FedEx's success has been built largely on striving to be the best and staying committed to our goals, the same values that drive success in sport, and the same values that are clearly evident in Tao Li's rise to the top of her sport in Singapore and the region, hence the partnership," said Mr Ramesh Kumar Singam, Managing Director, FedEx Express Singapore and Indonesia.

As part of the courier ride, Tao Li and her team of couriers navigated the roads of Singapore to deliver packages to FedEx customers, one of them being F5 – the application delivery networking company.

"FedEx has been F5's express transportation service of choice for many years in Asia Pacific. Their strong global network has consistently delivered on their promise of reliability and quick response times," said Mr. Song Tang Yih, Asia Pacific Vice President, F5 Networks.

The 'Courier for a Day' program has been implemented in other Asia-Pacific markets and generated excellent feedback from FedEx customers who have had the opportunity to participate in the sponsorship programme.

About FedEx Express
FedEx Express is the world's largest express transportation company, providing fast and reliable delivery to every U.S. address and to more than 220 countries and territories. FedEx Express uses a global air-and-ground network to speed delivery of time-sensitive shipments, by a definite time and date with a money-back guarantee.

About FedEx Corp.
FedEx Corp. (NYSE: FDX) provides customers and businesses worldwide with a broad portfolio of transportation, e-commerce and business services. With annual revenues of $35 billion, the company offers integrated business applications through operating companies competing collectively and managed collaboratively, under the respected FedEx brand. Consistently ranked among the world's most admired and trusted employers, FedEx inspires its more than 280,000 employees and contractors to remain "absolutely, positively" focused on safety, the highest ethical and professional standards and the needs of their customers and communities.