Students Promote Road Safety with "Safies" At FedEx and Safe Kids Event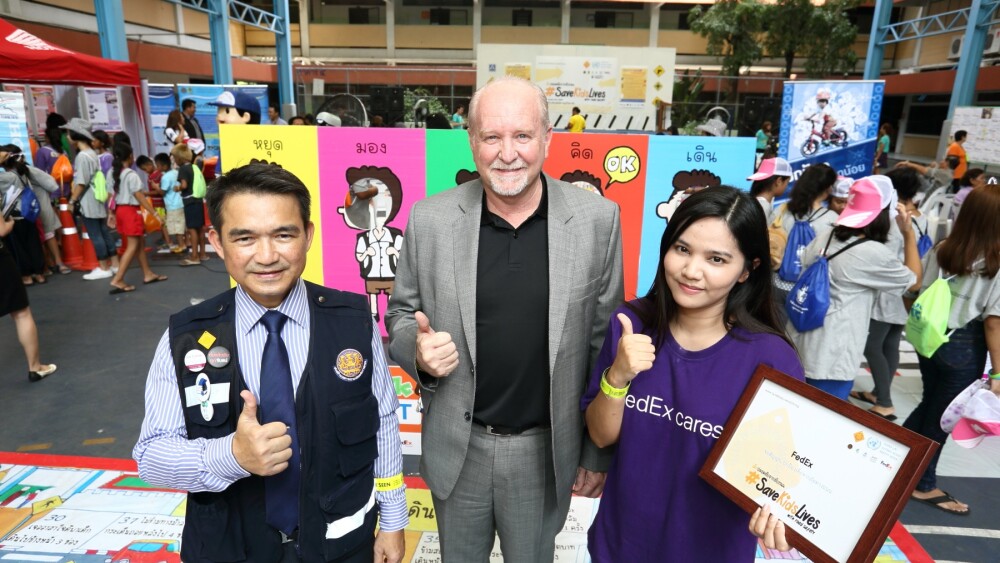 BANGKOK, May 12, 2015 – More than 100 students and teachers joined FedEx Express, Safe Kids Thailand and road safety agencies to promote child pedestrian safety ahead of the new school year.
A highlight of the "Save Kids Lives" event was the mass signing of a Road Safety Declaration to identify priority actions to make roads safer for children.
Safety messages were also shared through "safies"—students took photos with road safety messages and posted them on social media networks using the hashtag #safie.
The rally attendees also called on local transport officials to introduce more measures to improve safety for children in accordance with the United Nation's (UN) "Decade of Action" campaign that aims to reduce the global traffic toll by 50 percent by 2020. According to UN research, around 500 children die from road accidents daily around the world, with thousands more injured.
In Thailand, research conducted by the Child Safety Promotion and Injury Prevention Research Center reveals that more than 1,000 Thai children die from road accidents annually. In addition, more than 100 children are killed in pedestrian related accidents every year.
"Our roads are among the most dangerous in the world, and our young people are among the most vulnerable. There are serious risks in urban and rural areas, and this event is a call for all relevant organizations to work harder and faster to improve safety," said Safe Kids Thailand representative, associate professor Adisak Plitponkarnpim, director, Child Safety Promotion and Injury Prevention Research Center.
The event was also timely because the April-May holiday season is a high-risk period in Thailand.
"Summer holidays should be a time of fun and joy. Sadly however, many people, including many children, are involved in car accidents on their vacation journeys resulting in injuries and some fatalities," said David Carden, managing director, FedEx Thailand and Indochina.
"We believe many accidents can be prevented if more motorists are educated and aware of road safety basics. That's why FedEx is a committed long-term supporter of Safe Kids Thailand. By working together on pedestrian and road safety initiatives, we want to reduce the number of accidents and fatalities by changing behaviors and making roads and communities safer."
Inaugurated in Thailand in December 2011, Safe Kids programs have reached more than 85,000 children, 5,000 parents and 500 teachers throughout the country.
The "Save Kids Lives" rally was hosted by Bangkok's Santiratwitthalai School on May 8.
The event in Thailand was one of hundreds of road safety activities held around the world to mark the third annual UN Global Road Safety Week campaign from May 4 – 10.