Student Entrepreneurship on Display in Hong Kong at the 2021 FedEx Express/Junior Achievement International Trade Challenge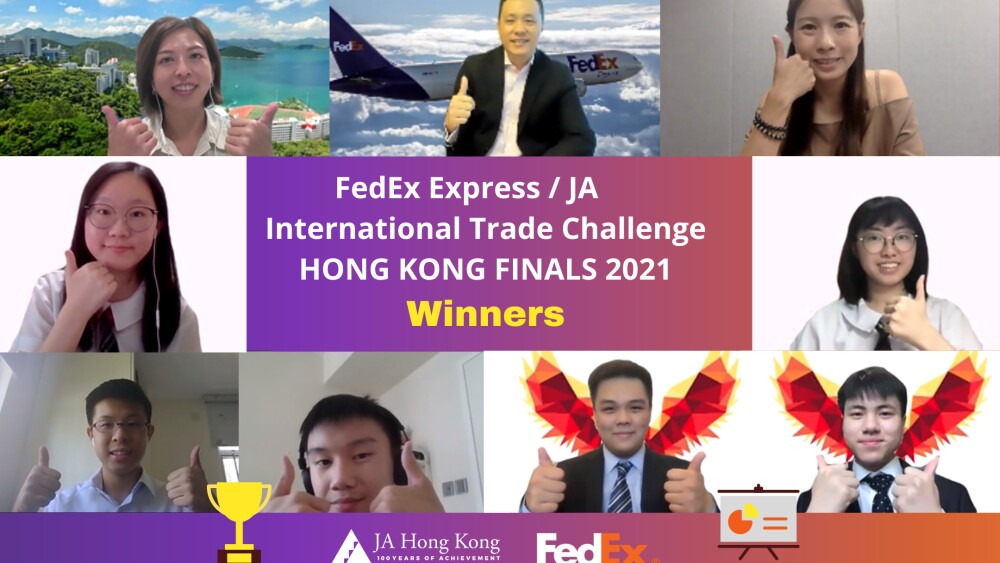 HONG KONG SAR, China, July 19, 2021 — FedEx Express, a subsidiary of FedEx Corp. (NYSE: FDX) and one of the world's largest express transportation companies, announced the conclusion of the 2021 FedEx Express/JA International Trade Challenge (FedEx/JA ITC) Hong Kong Finals. The top three teams, each made up of two members, were selected for their bold business strategies and entrepreneurial excellence. The winners will represent Hong Kong at the upcoming FedEx/JA ITC Asia Pacific Finals in August.
Once again, this year's FedEx/JA ITC Hong Kong Finals took place virtually after a successful run in March 2021. Adapting to the current format of remote learning as a result from COVID-19, teams participated in a series of online workshops and delivered virtual presentations as part of the challenge. In addition to problem-solving and creative thinking, the event allowed students to put into practice their remote presentation skills, which have been an integral part of the new virtual learning environment. Workshops were led by volunteers from JA and FedEx between April and May, focusing on international trade and market entry strategy.
Ten teams were shortlisted for the 2021 FedEx/JA ITC Hong Kong Finals. Finalists were challenged to develop market entry strategy for a physical fashion product with Pakistan being the target market. After presenting their business plans in front of a panel of judges including Anthony Leung, managing director, FedEx Express, Hong Kong and Macau, Dorothy Chau, director of Hong Kong, Macao, and Cross-border Financial Affairs at Tencent; director of Tencent Finance Academy and Ivy Wong, manager, Entrepreneurship Center at the Hong Kong University of Science & Technology, the winning teams were decided based on their strong market research, market entry strategies and creativity.



Team Zenith, Isaac Lo and Ian Chang from St. Paul's Co-educational College, developed a made-to-order hijab. Women in Islam can customize hijabs with their favorite fibres, colors and prints, etc. through an app, accentuating their personality and self-confidence.

Team The Phoenix, Adrian Chung and Kilo Li from Pui Kiu College, developed Inaya, sportswear designed specifically for women in Pakistani. Responding to the hot weather in Pakistan, the sportswear is made of new synthetic fibers that are particularly The two collections are tailored for Pakistani women, including the Capsule collection designed for conservative outfits, while the Neon collection suits the young generation.

Team Pakishion, Abbie Hui and Phoebe Chan from St. Paul's Convent School, developed the high-tech and aesthetics-designed Femlaxy smart bracelet, preventing violence against women by an app and 24-hour emergency hotline. The bracelet is also engraved with feminist slogans to promote gender equality.
"I am pleased to see our Hong Kong students continue to stay passionate despite the pandemic. While demand for new business perspectives and digital solutions for the new normal is rising, FedEx/ JA ITC serves as a platform to support young entrepreneurs who are ready to make a difference in their community," said Anthony Leung, managing director, FedEx Express, Hong Kong and Macau. "FedEx is committed to encourage entrepreneurs whenever possible to succeed. Through our collaboration with JA, we aim to inspire young people to better understand entrepreneurship and think globally. I look forward to seeing the success of our Hong Kong teams at the Asia Pacific Finals."
"We are excited to be partnering with FedEx again this year to offer the resources to nurture youth entrepreneurship in Hong Kong and cultivate resilience, creativity and agility for the 21st century workplace," said Vivian Choi, Chief Executive Officer of JA Hong Kong.
The Hong Kong finalists will go on to collaborate and compete with participants from nine other markets, including mainland China, India, Indonesia, Japan, South Korea, Malaysia, Philippines, Singapore and Vietnam at the Asia Pacific Finals in August. This year marks the first time delegates from India and Indonesia will join the challenge, further expanding this event to include more cross-cultural engagement.
Now in its fifteen edition, the FedEx/JA ITC has inspired more than 3,100 students in Hong Kong, 84 of whom have taken part in the Asia Pacific Finals over the past years.