Singapore Students Win FedEx Access Award at the 2012 Asia Pacific Junior Achievement Company of the Year Competition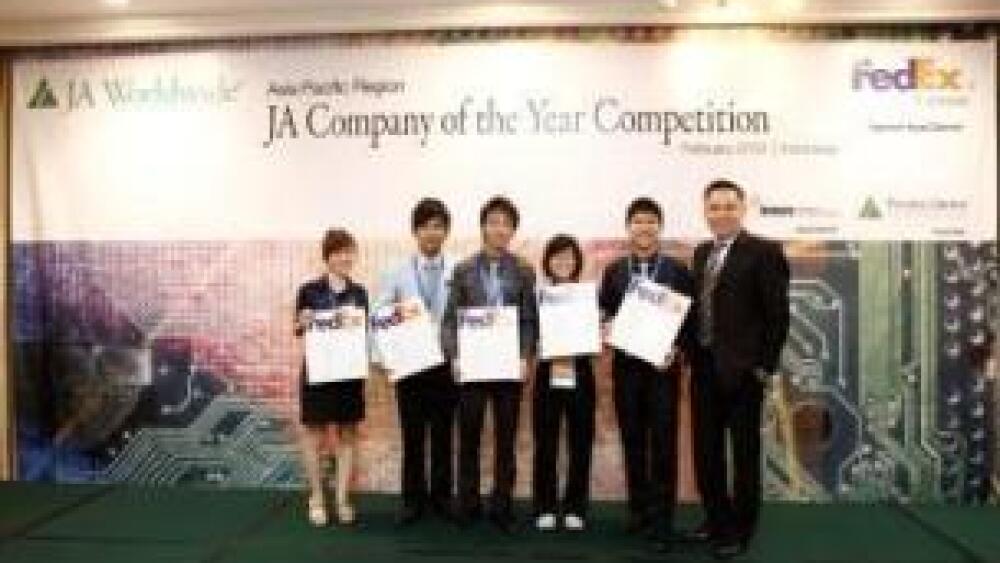 HONG KONG, February 20, 2012 – At the 2012 Asia Pacific Junior Achievement (JA) Company of the Year Competition hosted in Jakarta, Indonesia, student-run company, "y-Craft," won the annual FedEx Access Award. These student entrepreneurs from Jakarta created gifts and premium giveaway products intended to help build their clients' brands. Y-Craft created a multi-use pen which included a USB drive and presentation pointer. Y-Craft also produced luggage tags intended as giveaways for convention and trade expo attendees.

Their business plan demonstrated the most potential for business growth and global expansion as well as its positive impact on the society through job creation and environmental sustainability.

The FedEx Access Award is part of the JA Company of the Year competition which is sponsored by FedEx Express, a subsidiary of FedEx Corp. (NYSE: FDX) and the world's largest express transportation company, to help participants understand the value and impact of global access. During the competition, eight FedEx employees facilitated the FedEx Access Seminar to help students grasp the concept of global access. The winning team was then selected by a special FedEx jury from a total of 80 students aged between 15 to 19, representing 16 student companies.

This is the second year of the Asia Pacific competition. During participation in the JA Company Program, students start and run their own businesses with support from volunteers from their local business community. They develop and market a product or service with the goal of realizing a profit for their shareholders. During the 2010-2011 school year, more than 380,000 students a year participated in this program globally.

"I am very impressed with the maturity of all the companies, particularly y-Craft and their application of Access in their business model. At FedEx, we define Access as the knowledge and ability to open doors and leverage resources that overcome barriers to achieve the impossible. Access gives people a greater ability to connect with products, companies, ideas and each other. As a result, people's expectations change and new demands emerge," said David L. Cunningham, president, FedEx Express Asia Pacific. "FedEx believes that the understanding of Access and its impact is key for successful entrepreneurship. The FedEx Access Award reinforces FedEx commitment to inspire the entrepreneurs of tomorrow."

The JA students of y-Craft identified a global pool of potential suppliers and narrowed their list down to those meeting stringent customer-service requirements. In addition, the JA students donated 20 percent of their profits to a local school.

"We are elated to win the FedEx Access Award and the FedEx Access Seminar has opened our minds to the importance of having a global outlook in our business model and how entrepreneurship can help create jobs, grow the economy and improve the environment," said Jane Trinh Linh Giang, president of Y-Craft.

To be eligible for the FedEx Access Award, a student company must be one of the 16 finalists selected to compete at the Asia Pacific JA Student Company of the Year Competition. Company members completed a seminar hosted by FedEx on the concept and impact of global access. JA Worldwide developed the seminar, which is delivered by FedEx at the annual event. . The JA student company that best demonstrates a comprehensive understanding of global access takes top honors.

About JA Worldwide (Junior Achievement)
JA Worldwide is the world's largest organization dedicated to inspiring and preparing young people to succeed in a global economy. Through a dedicated volunteer network, Junior Achievement provides in-school and after-school programs for students which focus on three key content areas: work readiness, entrepreneurship, and financial literacy. Today, 10.6 million students are served by JA Worldwide operations in 118 countries. For more information, visit www.jaworldwide.org.

About FedEx

FedEx Corp. (NYSE: FDX) provides customers and businesses worldwide with a broad portfolio of transportation, e-commerce and business services. With annual revenues of $41 billion, the company offers integrated business applications through operating companies competing collectively and managed collaboratively, under the respected FedEx brand. Consistently ranked among the world's most admired and trusted employers, FedEx inspires its more than 290,000 team members to remain "absolutely, positively" focused on safety, the highest ethical and professional standards and the needs of their customers and communities. For more information, visit news.fedex.com.

About FedEx Express

FedEx Express is the world's largest express transportation company, providing fast and reliable delivery to more than 220 countries and territories. FedEx Express uses a global air-and-ground network to speed delivery of time-sensitive shipments, by a definite time and date with a money-back guarantee.