Singapore Students Shine with their Entrepreneurship and Creativity at the FedEx Express/Junior Achievement International Trade Challenge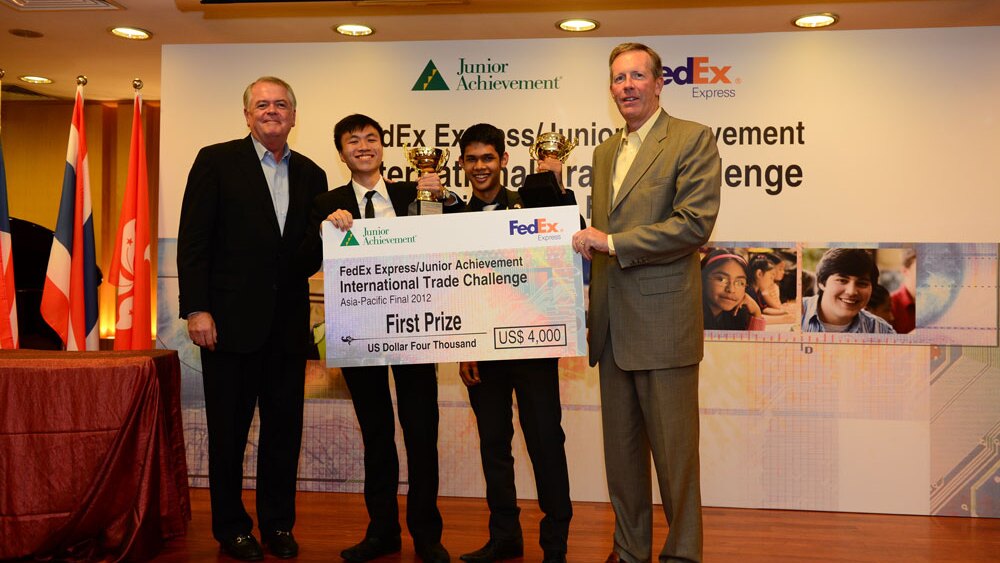 SINGAPORE – Fancy wearing high heel shoes fitted with insole cushion while giving you adjustable height, foot care and slimming effects? Or imagine living in a container home that can be transported by trucks, making it an ideal earthquake safe house? These were some of the amazing products and ideas that Singapore students came up with when they took part in the 2012 FedEx Express/Junior Achievement International Trade Challenge (ITC).
Sponsored by FedEx Express and organized by Junior Achievement (JA), the ITC is designed to educate and inspire young people in Asia Pacific to better understand entrepreneurship and think global. As part of the competition, students attend a workshop where they learn international trade and develop a market entry plan to export a product to an overseas market.
12 teams of two students per teams competed in the Singapore ITC last Saturday and three teams have been selected to represent Singapore in the Asia Pacific regional competition to be held in Hong Kong from August 26-29, 2012. The winning teams are:
1. Yap Jun Yuan & Rusli Yanto, Singapore Polytechnic Sound (Yap Jun Yuan & Rusli Yanto, Singapore Polytechnic) Yap Jun Yuan & Rusli Yanto, Singapore PolytechnicYap Jun Yuan and Rusli Yanto, Singapore Polytechnic
2. Daryl Ng and Elias Wee, ACS Independent
3. Brennan Foo and Joel Chow, ACS Independent
The teams were selected based on their understanding of the significance of market research, creativity, planning, and their market-entry strategies detailing marketing, promotion, pricing, inventory and product distribution plans. They were shortlisted from a total of 62 submissions.
"Singapore is an economy with a small domestic market but heavily engage in the global marketplace so it is vital for Singapore's aspiring entrepreneurs to develop a global outlook in their business. FedEx is committed to provide students with access to opportunities and instill in them a spirit of entrepreneurship," said Clifton Chua, managing director, FedEx Express Singapore.
"At the FedEx Express/Junior Achievement International Trade Challenge, students are taught the roles of world trade, market research, product distribution, and sales play in a market environment. We encourage the students to evaluate on a broader and deeper level about their product ideas and market entry plans. The three winning teams have impressed us with their creativity, in-depth understanding of the foreign market, teamwork and the ability to communicate their ideas," he added.
Now in its fifth year in Singapore, the 2012 local ITC attracted 325 students, aged between 15 – 19 years old, from the polytechnics, junior colleges and the Institute of Technical Education (ITE) who participated in two international trade workshops held in May. FedEx employees from operations, finance, marketing and training departments volunteered as workshop facilitators to share their expertise and experience.
Over the past five years, the program has benefitted 1390 students through the ITC workshops and attracted 340 market entry plans.
- END -
About the FedEx Express / Junior Achievement International Trade Challenge
Designed to foster business knowledge through practical teamwork exercises and classroom learning, the FedEx Express / Junior Achievement program comprises two key activities – the International Trade Workshops and the International Trade Challenge.
To enter the FedEx Express / Junior Achievement International Trade Challenge, the teams have to develop a specific product and create an original international marketing plan for a designated country. Through this process students work as teams of two and gain first-hand experience of what roles world trade, product distribution, and sales play in a market environment. In addition to teamwork, participating students learn about the basics of risk evaluation in the business world and gain confidence in their analytical ability.
About FedEx Express
FedEx Express is the world's largest express transportation company, providing fast and reliable delivery to more than 220 countries and territories. FedEx Express uses a global air-and-ground network to speed delivery of time-sensitive shipments, by a definite time and date with a money-back guarantee.
About FedEx
FedEx Corp. (NYSE: FDX) provides customers and businesses worldwide with a broad portfolio of transportation, e-commerce and business services. With annual revenues of $43 billion, the company offers integrated business applications through operating companies competing collectively and managed collaboratively, under the respected FedEx brand. Consistently ranked among the world's most admired and trusted employers, FedEx inspires its more than 300,000 team members to remain "absolutely, positively" focused on safety, the highest ethical and professional standards and the needs of their customers and communities. For more information, visit news.fedex.com
About JA Worldwide (Junior Achievement)
JA Worldwide is the world's largest organization dedicated to inspiring and preparing young people to succeed in a global economy. Through a dedicated volunteer network, Junior Achievement provides in-school and after-school programs for students which focus on three key content areas: work readiness, entrepreneurship, and financial literacy. Today, 10.6 million students are served by JA Worldwide operations in 118 countries. For more information, visit www.jaworldwide.org.