Singapore Students Impress at FedEx Express/Junior Achievement International Trade Challenge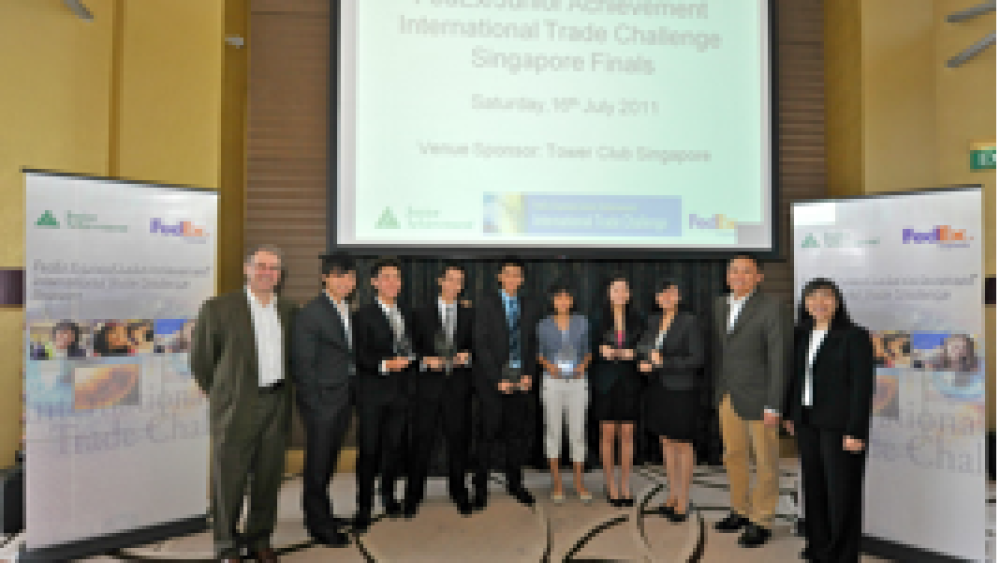 SINGAPORE - Three teams — Low Kai Keng & Foo Fang Ren, from Temasek Polytechnic, Angelia Tan An Qi & Nurul Asyikin Bte Muzlan from Ngee Ann Polytechnic, and Lee Qi Ni & Darren Ong from Singapore Polytechnic —were selected as winners in the FedEx Express/Junior Achievement International Trade Challenge (ITC). The three teams were selected based on their understanding of economic and business concepts, market entry strategies and entrepreneurship skills.
Twelve teams from nine different schools competed in the Singapore ITC finals held at the Tower Club on Saturday (July 16), shortlisted from a total of 116 submissions.
Promoting a vast range of products — from marketing satay for the USA, space-saving furniture for small apartments in Hong Kong, and a mosquito-attracting plant to help Indonesia fight the spread of dengue fever — the students were judged on their market-entry strategies detailing marketing, promotion, pricing, inventory and product distribution plans.
All of the six students will go on to represent Singapore at the regional competition to be held in Bangkok August 24-26. The students will compete against 21 other teams from Hong Kong, Japan, Korea, Malaysia, New Zealand, Philippines and Thailand.
Sponsored by FedEx Express and organized by Junior Achievement (JA) Singapore, the FedEx/JA International Trade Challenge is designed to help students in Asia Pacific markets learn about international trade and provide them with an opportunity to set up a mock business and develop a plan to export a product to an overseas market.
"Our goal at FedEx is to make students aware of how businesses thrive in the global marketplace, to inspire them, stimulate their creativity and most importantly, instill a spirit of entrepreneurship. As more and more companies become global in their outlook, we encourage the students to think on a broader level and understand the needs of the different countries, the market differences, their target customers and what to look out for to be successful," said Clifton Chua, managing director, FedEx Express Singapore.
"The three teams impressed us with their passion, ingenuity, creativity, teamwork and communication skills. They were able to effectively communicate the value proposition of their market entry strategies."
Now in its fourth year in Singapore, the 2011 local ITC attracted 420 students, aged between 15 – 19- years old, from the polytechnics, junior colleges and the Institute of Technical Education (ITE) part in three international trade workshops held from May 21-31. Over the past four years, a total of 1065 students have participated in these workshops.
As part of the FedEx commitment to enable students to gain first-hand experience about the role of world trade, product distribution and sales in different market environments, FedEx employees from operations, finance, marketing and training departments volunteered as workshop facilitators to share their expertise and experience.
About FedEx Express
FedEx Express is the world's largest express transportation company, providing fast and reliable delivery to more than 220 countries and territories. FedEx Express uses a global air-and-ground network to speed delivery of time-sensitive shipments, by a definite time and date with a money-back guarantee.
About FedEx
FedEx Corp. (NYSE: FDX) provides customers and businesses worldwide with a broad portfolio of transportation, e-commerce and business services. With annual revenues of $39 billion, the company offers integrated business applications through operating companies competing collectively and managed collaboratively, under the respected FedEx brand. Consistently ranked among the world's most admired and trusted employers, FedEx inspires its more than 290,000 team members to remain "absolutely, positively" focused on safety, the highest ethical and professional standards and the needs of their customers and communities. For more information, visit news.fedex.com
About JA Worldwide® (Junior Achievement)
Junior Achievement is the world's largest organization dedicated to inspiring and preparing young people to succeed in a global economy. Through a dedicated volunteer network, Junior Achievement provides in-school and after-school programs for students which focus on three key content areas: work readiness, entrepreneurship, and financial literacy. Today, 139 individual area operations reach more than four million students in the United States, with an additional 4.3 million students served by operations in 118 other countries worldwide. For more information, visit www.ja.org