Nurturing Future Entrepreneurs for Malaysia at FedEx Express/Junior Achievement International Trade Challenge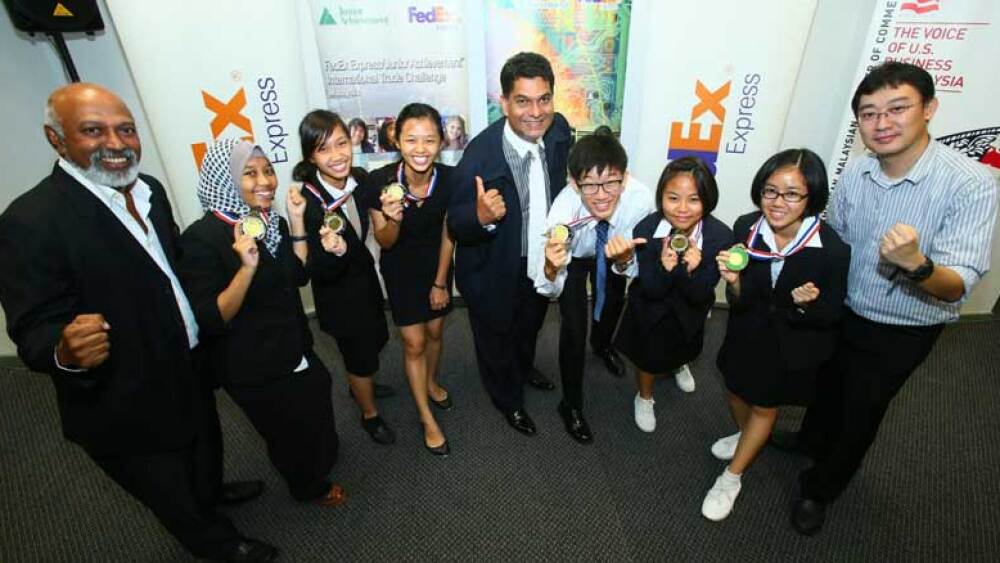 KUALA LUMPUR, July 2, 2014 – FedEx Express, a subsidiary of FedEx Corp. (NYSE:FDX) and Junior Achievement (JA) announced the top three winning teams at the seventh FedEx Express/Junior Achievement International Trade Challenge (FedEx/JA ITC) in Malaysia.
The three winning teams impressed the judging panel with their entrepreneurial spirit combined with knowledge of market entry strategy, international trade, and maturity.
· Adlin Suraya and Dawn Lee from SMK Wangsa Maju Seksyen 5, Kuala Lumpur conceptualised a spa resort that harmonises with nature. Targeted at residents and visitors to Phuket, Thailand, the spa incorporates elements of Malaysian tradition and culture.
· Justin Ong and Chong Mun Yin from SMK Seafield, Selangor developed a jacket especially for hikers and cyclists in Seoul, Korea. The "Resistance Jacket" is not only waterproof, it is also designed to protect the user against the harmful effects of UV rays.
· Hong Qi Jun and Sylvia Chieng from SMK Perempuan China Pulau Pinang presented their strategy to acquire and manage an existing spa resort in Chiang Mai, Thailand. The spa's signature Goats Milk Scrub is the first of its kind in Thailand.
The young entrepreneurs will represent Malaysia to compete against eight other Asia Pacific markets – Hong Kong, Japan, Korea, New Zealand, the Philippines, Singapore, Thailand and Vietnam – at the Regional Finals to be held in Hong Kong from August 17 to 21.
"Entrepreneurship and innovation are important drivers of economic growth," said Ramesh Kumar Singam, managing director, FedEx Express Malaysia and Brunei. "The FedEx/JA ITC provides a perfect platform to inspire and enlighten young people in Malaysia to think out of the box and to develop creativity, innovation and business acumen, which is much needed to become future leaders."
7 teams from 6 different schools in Kuala Lumpur and Penang competed at this year's finals in Malaysia, which attracted a total of 60 submissions.
Sponsored by FedEx Express and organized by Junior Achievement Worldwide, the FedEx Express/Junior Achievement International Trade Challenge is designed to help students in Asia Pacific markets learn about international trade and provide them with an opportunity to set up a mock business and develop a plan to export a product to an overseas market. Now in its seventh year, the FedEx/JA ITC has inspired more than 3,600 students in Malaysia.