Next Generation of Entrepreneurs Show Business Ingenuity with Mobile Phone Creations for the Elderly
Three Winning Hong Kong Teams Heading to Singapore for the Regional Final of the FedEx Express/ Junior Achievement International Trade Challenge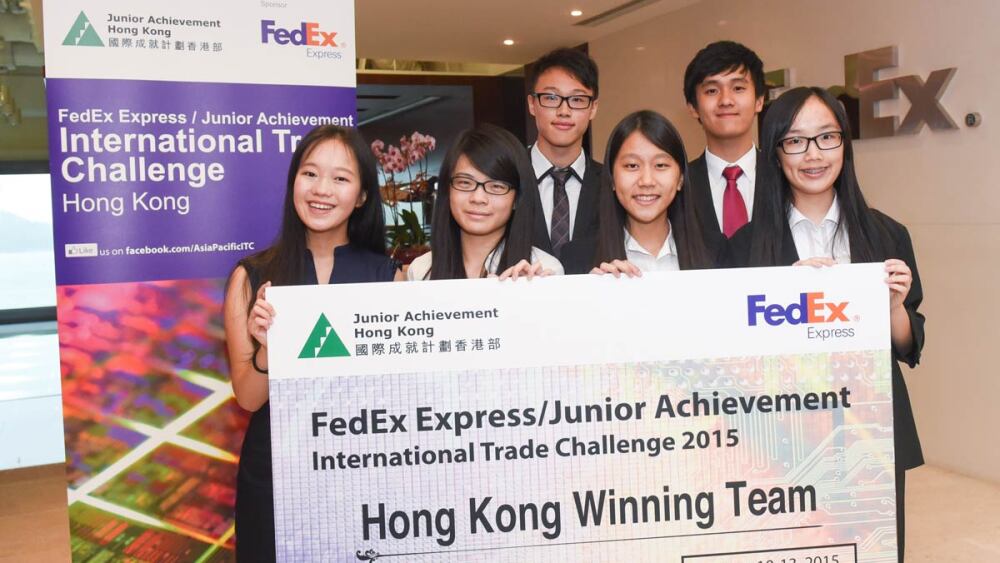 HONG KONG, July 23, 2015 — Six secondary school students emerged among the next generation's top entrepreneurs with their innovative mobile phone designs to address the needs of the elderly across Greater China at this year's FedEx Express/ Junior Achievement International Trade Challenge (FedEx/ JA ITC) Hong Kong Final. These budding young entrepreneurs will represent Hong Kong in a competition with 48 counterparts from eight other Asia Pacific markets, namely Japan, Korea, Malaysia, New Zealand, the Philippines, Singapore, Thailand and Vietnam, at the Regional Final to be held in Singapore on August 11-13.
The three winning teams are[1]:



Team Donut Panic, Bonnie Yeung from Po Leung Kuk Choi Kai Yau School and Diana Siu from Chinese International School came up with a mobile phone dubbed Heartlink for the elderly in Shanghai. It offxers five different Chinese dialects for users to choose from. It features a GPS function that allows family members to locate the elderly users in case they get lost. The phone is also installed with an application to track users' medical records, send reminders about medication, and provide either Western or Traditional Chinese medicine tips based on users' preferences.

Team Sparklers, Angela Hui and Gloria Yee from St. Paul's School (Lam Tin) tailored its Econ Phone to the needs of the elderly in Beijing and Shanghai. It is an all-in-one mobile phone that features a GPS function for family members to locate the elderly users and an application to record the users' health condition. In addition, its auto-synchronization function shares health records with family members and enables them to keep track of their older relatives' health status.

Team Soar, Eamon Suen and Eric Wong from La Salle College aimed to
help the elderly in Beijing manage their health problems with their Xianghe mobile phone. It features a PM 2.5 detector, which alerts users on fine particulate air pollution levels. The phone can also be connected to a smart wristband that measures heart rates and the data it collects can be analyzed and shared with the elderly users' families.
"At FedEx, we see huge potential in small businesses, and the bright young entrepreneurs that we saw at the competition are a testament to that," said Anthony Leung, managing director, FedEx Express, Hong Kong and Macau. "We are excited that we not only provide access to possibilities around the world for businesses large and small, but also access to business knowledge for aspiring young people to pursue their dreams. These next generation entrepreneurs are the fuel for growth not only at FedEx, but also across national economies."
"Hong Kong is one of the most important trading hubs in the world. Junior Achievement Hong Kong is honored to collaborate with FedEx at the FedEx/ JA ITC to inspire and prepare our young people for success in the global economy. Trade is not only a key driver of economic growth but also creates social benefits, enabling people in different economies to enjoy a better quality of life. As exemplified in the 2015 FedEx/JA ITC Hong Kong Final, trade brings technological advances and improves the well-being of people," said Rachel Chan, CEO of Junior Achievement Hong Kong. "Junior Achievement Hong Kong is proud to be associated with FedEx as a long standing ally in helping our next generation understand the broader meaning of trade and the positive impact it has on society as a whole."
At the Hong Kong Final this year, six teams of twelve students were shortlisted to present their market entry strategies to introduce mobile phones with a specific GPS function and health management services for the elderly across Greater China. They were required to provide details of their marketing, promotion, pricing, inventory and product distribution plans. The top three winning teams were chosen for their understanding of the significance of market research, creativity, planning and entrepreneurial skills in entering new markets. Members of the judging panel include Irene Leung, CEO, Senior Citizen Home Safety Association, Andrew Seaton, executive director, The British Chamber of Commerce in Hong Kong, and Norbert Tan, executive director, Starbucks Hong Kong & Macau.
Now in its ninth year, the FedEx/ JA ITC has inspired almost 12,000 students in nine Asia Pacific markets, including 1,755 students from Hong Kong, to understand entrepreneurship from a global perspective.
NOTES TO EDITORS:
About the FedEx Express/ Junior Achievement International Trade Challenge
Designed to foster business knowledge through practical teamwork exercises and classroom learning, the FedEx Express/ Junior Achievement program comprises two key activities – the International Trade Workshop and the International Trade Challenge.
In Hong Kong, the International Trade Workshop was held on November 1, 2014 and May 9, 2015. More than 300 students participated and learned from speakers and business volunteers. The speakers shared both theories and real-life experiences to equip students with an understanding of international trade. In addition, FedEx employees volunteered as mentors to counsel students and guide them through the development of their plans.
To enter the FedEx Express/ Junior Achievement International Trade Challenge, students in teams of two had to develop a specific product or service and create an original international marketing plan for a designated country. Through this process, students gained first-hand experience of what roles world trade, product distribution and sales play in a market environment. In addition to teamwork, participating students learnt the basics of risk evaluation in the business world and gain confidence in their analytical ability.
[1] Arranged in alphabetical order of team names.