Korean Students Create Winning Business Strategies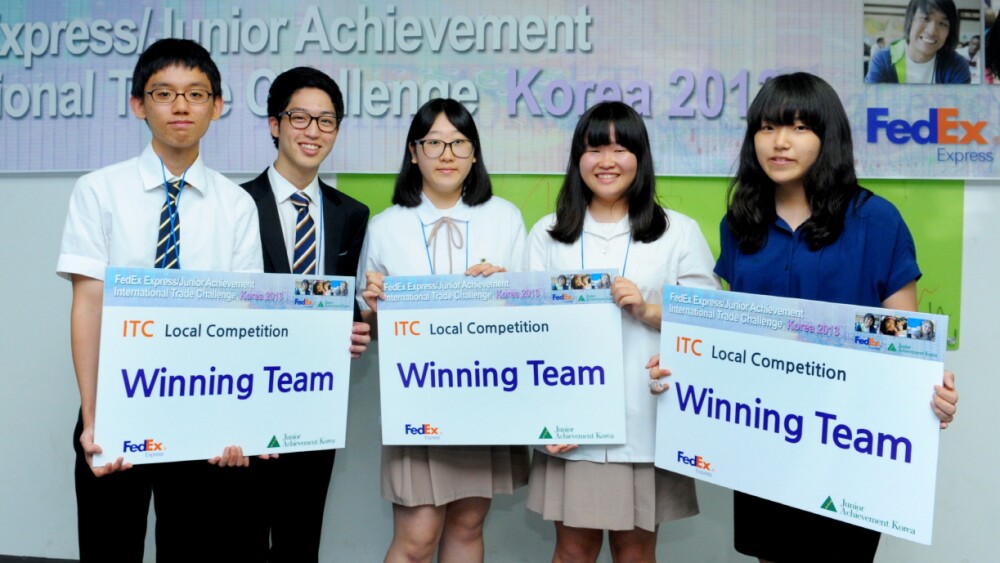 SEOUL, July 29, 2013—FedEx Express (FedEx), a subsidiary of FedEx Corp. (NYSE: FDX) and the world's largest express transportation company, today announced the three Korea finalist teams of the 2013 FedEx Express/Junior Achievement International Trade Challenge (FedEx/JA ITC). Six Korean students paired into three teams, representing Dong Ju Min and Hawon Baek (Hankuk Academy of Foreign Studies), Jeong Eun Kim, Han Byul Lee (CHANGHYUN High School) and Taeyeon Lee, Ye Kwon Huh (BUGIL High School), will compete for the top prize at the FedEx/JA ITC Asia Pacific Final in Hong Kong, August 19-21.
Student teams, participating in the Korean local competition, which was held in Catholic Youth Center on July 27, submitted market-entry strategies under the theme of "Sell a Refrigerator in China" including detailing marketing, promotion, pricing, inventory and product distribution plans.
The team that took the 1st place, Dong Ju Min and Hawon Baek from Hankuk Academy of Foreign Studies, presented an item about 'Spin-Pull Refrigerator'. The 2nd place team and the 3rd place team presented items about 'Soybien refrigerator' and 'Ultra High-end and Ice Pack Refrigerator', respectively. The winners will represent Korea at the regional final competition in Hong Kong, August 19-21, competing against other teams from Hong Kong, Japan, Thailand, Malaysia, New Zealand, the Philippines, Singapore and Vietnam.
Now in its seventh year, FedEx/JA ITC is designed to help students from Asia Pacific learn about entrepreneurship and provide them with an opportunity to set up a mock business and develop a business plan to enter an overseas market. The local ITC winning teams are chosen for their understanding and application of research, creative ideas, planning and entrepreneurial strategies when entering new markets.
"FedEx has always been dedicated to fostering future business leaders and enlightening them to possibilities in the global economy," said Eun-Mi Chae, managing director of FedEx Express, Korea. "FedEx/JA ITC is an excellent opportunity for young people to understand how businesses thrive in the global marketplace, so that they are equipped to contribute to Korea, and the region's continued growth."
A total of 6 members of the judging panel, consists of business executives in various industries, evaluated the students' presentations, discussions, and interviews based on their understanding of the significance of market research, creativity, and logical planning.
Before the students compete in the regional final, FedEx employees will volunteer as mentors and workshop consultants to help students understand the concept of international trade and guide them in the development of their plans and presentation skills.