Hong Kong Students Unleash their Entrepreneurial Skills at The International Trade Challenge
Three teams to represent Hong Kong at the FedEx/JA International Trade Challenge Asia Pacific Finals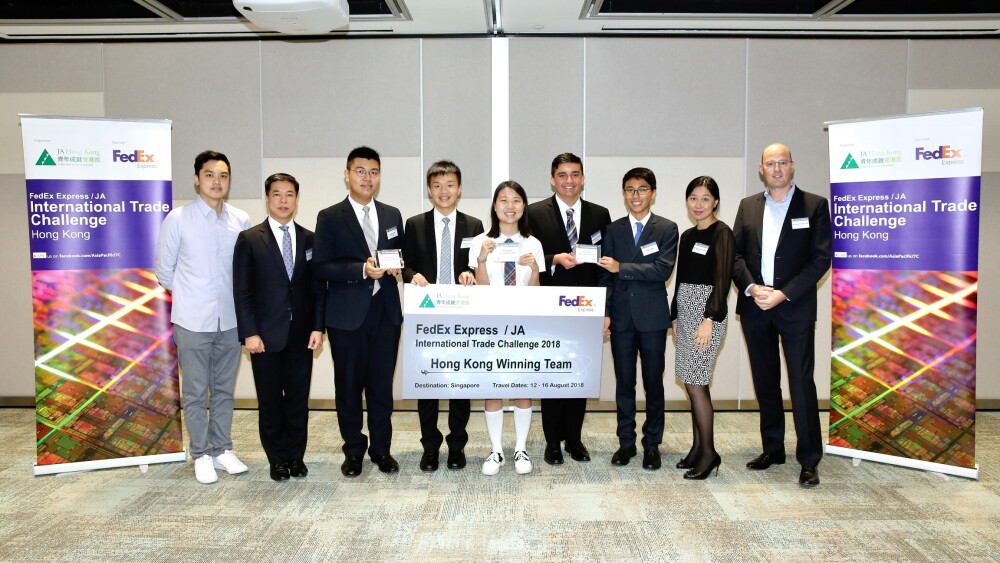 HONG KONG, July 23, 2018 — The FedEx Express/JA International Trade Challenge (FedEx/JA ITC) Hong Kong Finals 2018 was held on July 20, 2018, where ten student teams demonstrated their innovative thinking and entrepreneurial potential. Among the presentations, three teams stood out and successfully impressed the judges with their innovative market entry strategies of introducing an outdoor product to Papua New Guinea. The top three winning teams will represent Hong Kong to compete with 54 students from nine other markets[1] at the Asia Pacific Finals in Singapore on August 12 to 15.
The three winning teams at the FedEx/JA ITC 2018 in Hong Kong are:



Team Cyclone, Noelle Lee and Jenny Wong from St. Paul's Convent School, introduces foam clogs to the market, taking into consideration Papua New Guinea's climate and environment. The shoes are designed to provide excellent ventilation and all-rounded support.

Team Grit, Colin Mak and Philippe-Hari de Manny from West Island School, looks to respond to the multiple needs of the footwear industry in Papua New Guinea to introducing a multifunctional footwear to the market. Named Resilience, these shoes are not only biodegradable and comfortable, but also equipped with acrylic studs, a personal alarm and a GPS tracker that ensure a high level of personal safety.

Team Terrific Synergy, Terry Yung and Synge Lam from La Salle College, aims to tackle power shortage in the market by introducing an electricity generating footwear. Named SHOCKS!, these smart shoes can convert kinetic energy into electricity and provide a sustainable energy source to people who do not have access to electricity.
At the Hong Kong Finals this year, ten student teams of two were shortlisted to present their market entry strategy of an outdoor product to export to Papua New Guinea, one of the participating markets under the 'One Belt, One Road' initiative. Members of the expert judging panel for the Hong Kong Finals included Alan Cheung, chairman and managing director, Grandion Industrial Limited, Emile Van der Berg, vice president, Planning & Engineering, Ground Network Asia Pacific, FedEx Express and Maryann Hwee, executive director, Fringebacker. The teams were evaluated based on the thoroughness of their business plans, market research and creativity.
"FedEx believes our young generations are the future of the world. In Hong Kong, we are committed to nurturing entrepreneurship in young people," said Anthony Leung, managing director, FedEx Express, Hong Kong and Macau. "Through our collaboration with Junior Achievement, we hope to build up local students' understanding of international trade, empower future business leaders and cultivate youth entrepreneurship in the society."
Garrick Lau, CEO, Junior Achievement Hong Kong said, "We are delighted to have FedEx as our longstanding supporter in providing an excellent platform for Hong Kong students to gain international exposure and hands-on experience through the International Trade Challenge program. Hong Kong students are very talented and they have demonstrated entrepreneurial potential, teamwork and creativity in the competition. We hope the experience gained from this competition will become a useful tool for them in the future."
FedEx Express has supported Junior Achievement for the twelve consecutive year in the FedEx Express/JA International Trade Challenge. As part of FedEx global citizenship efforts, the program aims to foster entrepreneurship and connect students to global business opportunities.
Since the program started in 2007, the FedEx Express/JA International Trade Challenge has inspired more than 20,000 students across Asia Pacific, including more than 2,500 students from Hong Kong.
[1] Australia, China, Japan, Korea, Malaysia, The Philippines, Singapore, Thailand and Vietnam