Hong Kong Students Showcased Entrepreneurial Prowess at The International Trade Challenge
Six students represent Hong Kong at the FedEx/JA International Trade Challenge Asia Pacific Finals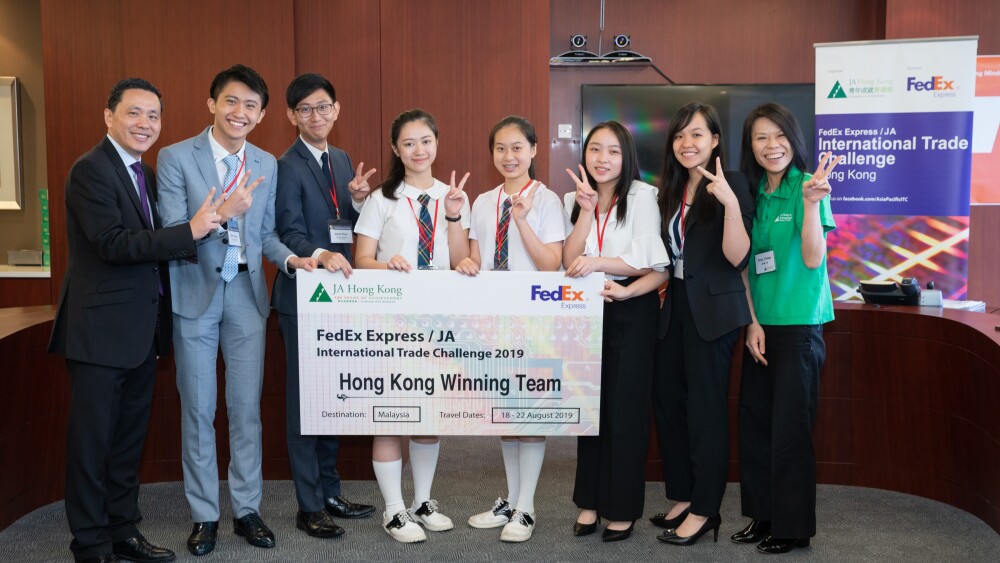 HONG KONG, July 17, 2019, — The FedEx Express/JA International Trade Challenge (FedEx/JA ITC) Hong Kong Finals was successfully held July 11, 2019. Ten teams of two students pitched their ideas to introduce a product to an overseas market. Three teams outshined the competition with their bold ideas and entrepreneurial minds. The winning teams will represent Hong Kong to compete with 54 students from nine other markets[1] at the Asia-Pacific Finals in Kuala Lumpur, Malaysia on Aug. 18 to 22, 2019.
The three winning teams at the FedEx/JA ITC 2019 in Hong Kong are:



ŸTeam Ace, Tam Hoi Wan Amy and Hui Nga Yin Audrey from Maryknoll Convent School (Secondary Section), with the vision to create beauty for all, introduces "Kiya Lip Paper," a portable, affordable and organic lip product for open-minded individuals.

ŸTeam Formula of Beauty, Tsang Cheuk Yin Elvis and Chau Leong Kit David from La Salle College, want to enhance customers' experiences with lipstick by introducing a lipstick which can be customized into any colors. The product comes with a recyclable case which can be recycled after use.

ŸTeam Rafindah, Pang Hoi Ching Noelle and Lee Pui Yu Nydia from St. Paul's Convent School, want to introduce an ethical and sustainable whitening product with fast, measurable results. The product is made with organic ingredients and halal certified.
To enter the FedEx/JA ITC this year, participants were asked to develop a market entry strategy for a beauty product in Indonesia. Earlier in July, the top 10 teams were shortlisted among 70 participants from 18 secondary schools to enter the Hong Kong Finals. The finalist teams were evaluated by a professional judging panel based on the thoroughness of their business plans, market research and creativity.
The judging panel consists of a mix of professionals and executives across various sectors, including Anthony Leung, managing director, FedEx Express, Hong Kong and Macau, Alan Cheung, chairman & managing director, Grandion Industrial Limited and Donny Siu, head of entrepreneurship center, Hong Kong University of Science and Technology.
"FedEx is committed to connecting young people to possibilities around the world. We are pleased to be part of this program. Not only does it provide opportunities for local students to challenge themselves, it also offers a platform where young people can think outside the box and try to make a difference in the community," Anthony Leung, managing director, FedEx Express, Hong Kong and Macau said, "Through our collaboration with Junior Achievement, we also believe that the program can provide local students with basic knowledge of how businesses operate and international trade works, which are essential in cultivating youth entrepreneurs in Hong Kong."
"We want to thank FedEx for their continued support and we are delighted to see a growing success in the program. The FedEx/JA ITC program offers a great platform for young people to explore their entrepreneurial interests outside their curriculum and a chance to interact with like-minded young talents within and outside Hong Kong," said Dr. William Lo, JP, Chairman of JA Hong Kong.
FedEx Express has supported JA Hong Kong for 13 consecutive years through the FedEx/JA ITC program. As part of the FedEx global citizenship efforts, the program aims to encourage entrepreneurship in students and to connect them with global business opportunities.
Since the program's beginnings in 2007, the FedEx/JA ITC has inspired more than 25,000 students across the Asia-Pacific region, including more than 3,000 students in Hong Kong.
For more photos of the FedEx/JA ITC Hong Kong Final, please visit the link here.
[1] Australia, China, Japan, Korea, Malaysia, The Philippines, Singapore, Thailand and Vietnam.