Hong Kong Students Devise Winning Strategies to Address Social Needs in Ethiopia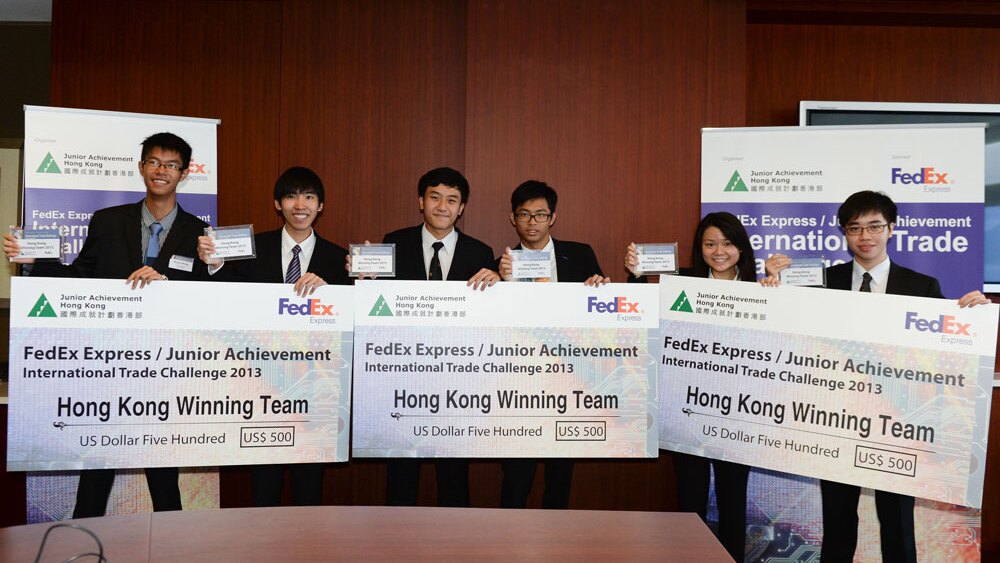 HONG KONG, July 17, 2013—Six Hong Kong secondary school students demonstrated their entrepreneurial innovations to help improve the social well-being of people in Ethiopia at this year's FedEx Express/ Junior Achievement International Trade Challenge (FedEx/ JA ITC) Hong Kong Finals on July 17. These students will represent Hong Kong to compete with their counterparts from eight other Asia Pacific markets, including Japan, Korea, Malaysia, New Zealand, the Philippines, Singapore, Thailand and Vietnam, at the Regional Finals to be held in Hong Kong on August 19-21.
The top three winning teams are:
Team BELLWEATHER, Bryan Wong and Euan Ng from King's College, tackles personal hygiene by offering customers in Addis Ababa, Ethiopia high-quality, eco-friendly and affordable organic soap. The products are made from 100 percent recycled ingredients including essential oils, lye and shea butter. A variety of flavors of soaps are available for customers' selection.
Team C & H, Wen-bin Chew and Christopher Hui from La Salle College, lifts Ethiopian farmers out of poverty by offering sustainable sewage infrastructure that helps farmers improve their agricultural yield. They provide free composting toilet services to the residents in Addis Ababa and Bahir Dar City, hoping to solve the sewage crisis in the areas as well as to convert human sewage into bio-compost for retailing.
Team Extraordinaire, Jensen Ho and Niki Tsui from The Chinese Foundation Secondary School, boosts employment and economic activity in Ethiopia by establishing a vacation resort which is also a training ground for nurturing local hospitality and tourism professionals. The resort originated from 3Ps – People, Planet and Profit. The resort aims to address the education and training needs of young Ethiopians in hope to minimize trans-generation poverty in Ethiopia
"Global trade is about creating win-win situations by serving the needs of individuals in overseas markets and fulfilling one's business goals," said Anthony Leung, managing director, FedEx Express, Hong Kong and Macau. "The FedEx/ JA ITC allows future business leaders to understand market dynamics of different countries and provides opportunities for them to develop their entrepreneurial skills by creating business opportunities that can evoke positive change to society. We are happy to see that this program is positively impacting these students with some of the ITC alumni having actually started their own businesses."
"We are excited to be partnering with FedEx again for the seventh consecutive year to support and to challenge Hong Kong's youth to think out of the box and to develop the creativity, innovation and business acumen much needed to become future leaders," said Vivian Lau, CEO of Junior Achievement Hong Kong. "The FedEx/ JA ITC continues to be the perfect incubation platform for our students to unleash their entrepreneurial potentials and to gain a better understanding of Hong Kong's role in the world's economy. The performance and potential of the Hong Kong delegates further confirm that investment in education provides one of the highest returns on investment."
Now in its seventh year, the FedEx/ JA ITC is designed to prepare students for the global marketplace by stimulating their creativity and instilling a spirit of entrepreneurship. This year at the Hong Kong Finals, twelve students on six teams were shortlisted to present their strategies to bring a product or service that addressed a specific social need in Ethiopia. They were required to provide details of their marketing, promotion, pricing, inventory and product distribution plans. The top three winning teams were chosen for their understanding of the significance of market research, creativity, planning and entrepreneurial skills in entering new markets.
Members of the judging panel included Brutus Lo, managing director of Lanco Asia Limited, Dr. Fun Ting Chan, associate professor of HKU SPACE and Thomas Chan, director of Yuan Tung Financial Relations Limited.
Over the past six years, the FedEx/ JA ITC has inspired more than 6,100 students in nine Asia Pacific markets to understand entrepreneurship from a global perspective. The program provided them with an opportunity to set up a mock business and develop a plan to export a product or service to an overseas market.
NOTES TO EDITORS:
About the FedEx Express/ Junior Achievement International Trade Challenge
Designed to foster business knowledge through practical teamwork exercises and classroom learning, the FedEx Express/ Junior Achievement program comprises two key activities – the International Trade Workshops and the International Trade Challenge.
In Hong Kong, the International Trade Workshops were held on November 24, 2012 and May 18, 2013. More than 260 students participated and learned from speakers and business volunteers. The speakers shared both theories and real-life experiences to equip students with an understanding about international trade. In addition, FedEx employees volunteered as mentors to counsel students and guide them through the development of their plans.
To enter the FedEx Express/ Junior Achievement International Trade Challenge, students in teams of two have to develop a specific product or service and create an original international marketing plan for a designated country. Through this process, students gain first-hand experience of what roles world trade, product distribution and sales play in a market environment. In addition to teamwork, participating students learn the basics of risk evaluation in the business world and gain confidence in their analytical ability.
About Junior Achievement Hong Kong
Junior Achievement Hong Kong is a registered charitable organization dedicated to inspiring and preparing young people to succeed in a global economy. In partnership with the business and education communities, JA encourages young people to participate in a range of activity-based education programs, designed to help them understand the world of work and develop the work readiness, entrepreneurship, financial literacy and other life-wide values essential for their future success. The Junior Achievement worldwide network now serves over 10 million students a year in over 120 countries. Since its establishment in Hong Kong in 2001, JA has engaged the support of over 14,000 business volunteers to serve over 220,000 students. Please visit www.jahk.org for more information.