Global Luxury, Local Roots: Filipino-led Firm Conquers Luxury Packaging Scene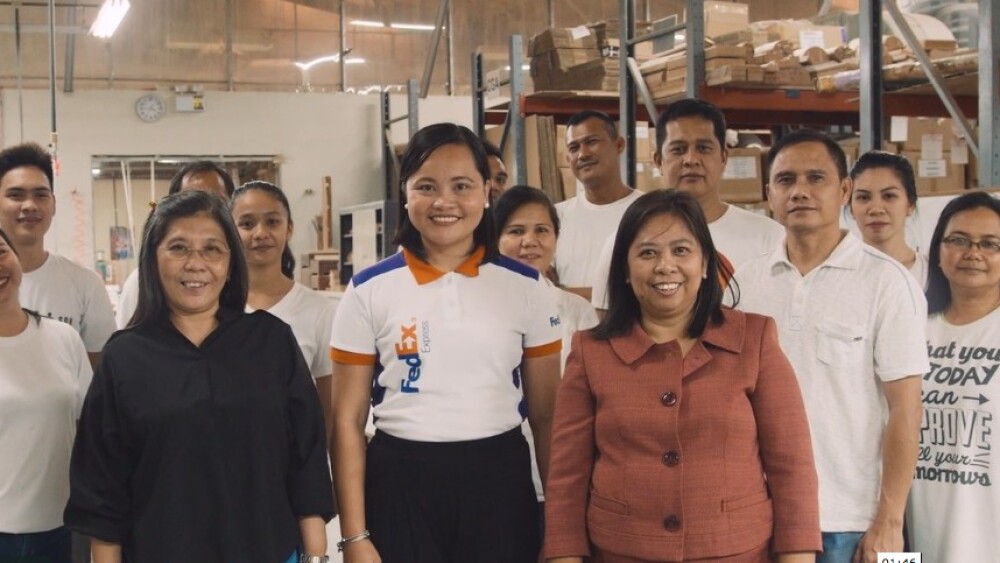 FedEx and Consummare's business relationship spans more than two decades.
Meet the Filipina-led company Consummare behind the decadent custom-designed boxes that carry some of the world's most prominent luxury brands.
Packaging is a silent salesman. Those in the know can distinguish opulence from a particular sheen of a box, quality of the wood, or intricacy of design.
Manufacturing luxury packaging has been Consummare's expertise since 1994. It was built upon the ashes of the Exquisite Box Company (Exquisite) which specialized in manufacturing jewelry boxes.
In 2008, the owners of Exquisite decided to cease operations. "The British owners pulled out, but they offered to turn over Exquisite's assets," reminisces Ralen Yco, President and CEO of Consummare.
Together with then Production Manager Angelina Ela who became the Vice President, Yco took on the opportunity and started Consummare, Inc., as a fully female-led company in 2009.
It was then that Yco and Ela decided to steer the business in a new direction. "Jewelry boxes were not profitable because consumers don't purchase them as frequently. With Consummare, we diversified our portfolio and concentrated on producing packaging for cigars, watches, and premium chocolates," Yco shares.
Lean Team, Big Clients
The company, which holds its offices, facilities, and warehouse at the Subic Bay Freeport Zone in Zambales, is run by a total of 33 employees. They specialize in laminated wooden boxes, and their services cover all aspects of packaging design, from developing the structure to manufacturing the products. As a small team, Consummare takes in a limited number of projects at a time and trains each member of their manufacturing team to be skilled in every aspect of production.
The company's portfolio boasts of several prominent global brands, based in Switzerland, Germany, the UK, and the USA. "We produce cigar accessories, watch boxes, eyewear boxes for several legacy brands," Yco says. "We've also diversified into producing luxury bags for a well-known upscale department store in New York, and fashion accessories for a local designer."
Yco attributes their success to their focus on skills-building for each employee, maintaining good, decades-long relationships with their clients, and also actively joining trade shows.
Yco cites the importance of a reliable and well-established logistics provider like FedEx, with whom they have been working since Exquisite began operating in 1994.
FedEx empowers small enterprises to do more and go further with its extensive network and scale. Extensive guides are provided to customers on the best ways to package fragile items so that they remain in good condition while in transit.
Yco adds, "Working with FedEx has always been a smooth experience. Booking shipments online is easy. Couriers are also friendly and willing to adjust to delays, and assistance is provided with customs clearance."
Through FedEx Ship Manager, businesses are able to monitor the cost and status of their shipments, generate customs clearance documents, and save time preparing shipments by saving frequently used information, as well as senders' and recipients' addresses.
To Recovery and Beyond
Yco and Ela believe resilience and resourcefulness are essential, especially during a crisis. Consummare was not spared from the economic impact of the global health crisis. To ensure the safety of their employees, the company suspended operations during the Luzon-wide community quarantine.
Despite the setback, Yco and her team were able to keep the business running and acquire new projects. Working from home, Yco tapped FedEx to deliver samples of cigar packaging to a new client in the USA, and watch boxes to an old client in Switzerland in March and April.
"Fortunately, no existing orders were canceled by clients during this time. Clients held back new orders for a whole month, but have resumed now that Consummare has returned to full operations," Yco shares.
Yco says Consummare has earned the respect of its biggest competitors. "Our counterparts in China have lauded us for our capability to develop fine products that cannot be replicated through mass production," she shares.
Both Yco and Ela have big dreams for the business. They are looking at producing more fashion accessories, and including furniture in their product portfolio.
The company, having quietly worked behind the scenes since inception, is now working towards strengthening its marketing initiatives to get more clients from other countries. "There are big opportunities in the Middle East, and we would like to expand our client base there."
As Consummare sets its sights on the rest of the world, FedEx global network is ready to aid the company in delivering excellence, wherever their goals may take them
Learn more about Consummare, Inc. on their website.
Visit FedEx Express Philippines to discover more ways to grow your business globally.