Giant Panda Bei Bei Arrives in China on Board the FedEx Panda Express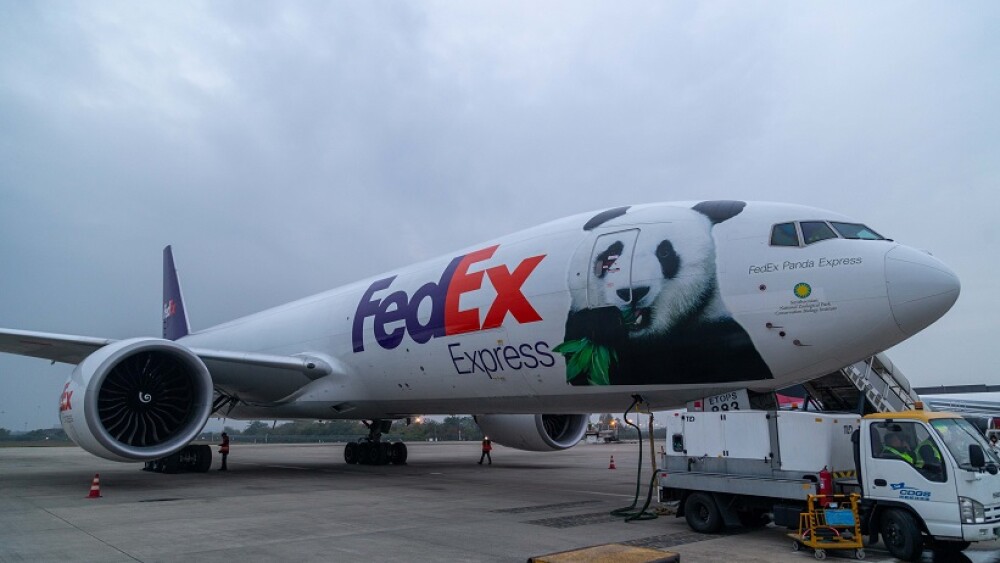 HONG KONG, November 21, 2019 – Today, 4-year-old male panda Bei Bei arrived at Chengdu, China on the specialty chartered "FedEx Panda Express" B777F. Working in conjunction with the Smithsonian's National Zoo, FedEx Express donated its logistics services and operational strength to ship the precious cargo of endangered giant panda.
Bei Bei, a male panda born in 2015 at the Smithsonian's National Zoo, is the offspring of Mei Xiang and Tian Tian, both currently living in the National Zoo in Washington, D.C.
Accompanied by one panda keeper and one veterinarian, Bei Bei was placed in a special crate provided by FedEx and traveled onboard a custom-decaled FedEx Express 777 Freighter nonstop from Washington's Dulles International Airport to Chengdu, China, with a supply of his favorite treats, including 66 pounds of bamboo, 2 pounds of apples and pears, two bags of leafeater biscuits, 2 pounds of cooked sweet potatoes and water.
"We are honored to again be part of a truly special mission. The successful transportation of Bei Bei underscores the company's commitment to safely and securely transporting even the world's most precious cargo," said Karen Reddington, president, Asia Pacific, FedEx Express. "We are proud to have once again served as the trusted carrier, which is a testament to our operational strength and ability to handle highly sophisticated shipments that need special attention and requirements. We are looking forward to seeing Bei Bei adapt well to his new environment."
Prior to the flight, Bei Bei spent a month getting accustomed to the crate space for a comfortable journey in a familiar environment. Upon arrival in Chengdu, Bei Bei's new keepers from the China Conservation and Research Center for the Giant Panda met him on the tarmac and drove him to Bifengxia Panda Base where he will stay in quarantine for approximately 30 days. The Smithsonian's National Zoo's keeper will remain with Bei Bei for a short time as he acclimates to his new home in China.
FedEx Express also provided logistical support in Washington, D.C. to deliver Bei Bei from the zoo to the airport. FedEx pilots, drivers and operations specialists selected to transport Bei Bei are among the company's most seasoned team members. This showcases end-to-end capabilities to handle special shipments that meet the highest standards of operational excellence in the industry.
This is the eighth time that FedEx Express is transporting the giant panda. The previous seven successful deliveries include:



2017: From Washington D.C., USA to China

2013: From China to Toronto, Canada

2012: From China to Paris, France

2011: From China to Edinburgh, Scotland

2010: From Washington, DC and Atlanta, USA to China

2003: From China to Memphis, USA

2000: From China to Washington D.C., USA
FedEx donated a dedicated aircraft to bring Bei Bei's sister Bao Bao to China in 2017. Their brother, Tai Shan, was brought back to China in 2010, and their parents, Mei Xiang and Tian Tian, were sent to the United States in 2000.