FedEx volunteers take part in FedEx Cares Week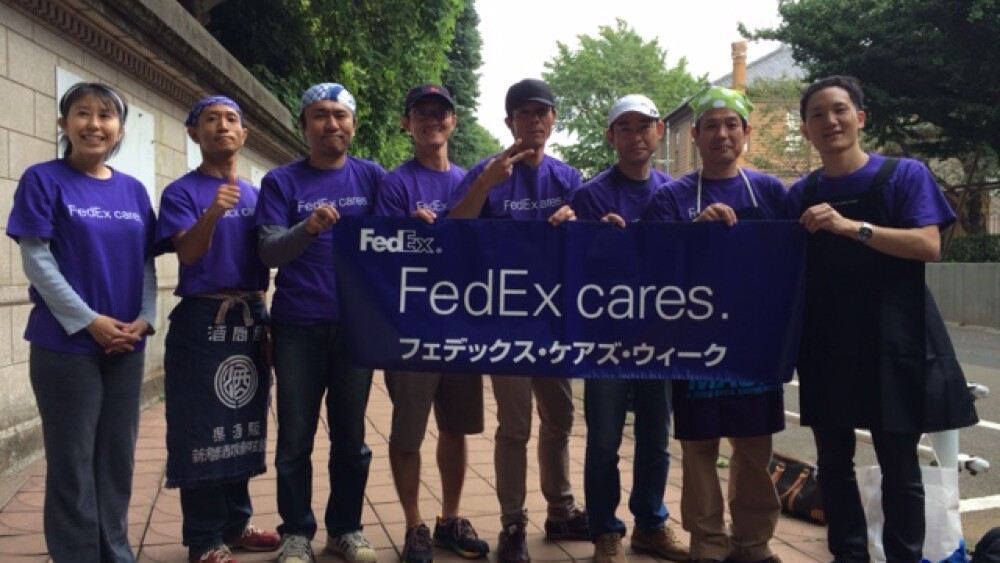 FedEx Express (FedEx), the world's largest express transportation company and a subsidiary of FedEx Corp. (NYSE: FDX), held its annual FedEx Cares Week in Asia Pacific from September 20 to 28 and FedEx volunteers across the region participated in a range of charitable activities. In Japan, the company teamed up with Second Harvest Japan, which operates a food bank on the principle of "Food for all," distributing food to people in need. FedEx volunteers joined in activities to support the more than 2.3 million people in Japan who struggle to feed themselves, including the homeless, single parent households, and refugees. (See below for more details on FedEx Cares Week activities in Japan.)
This year's seventh annual FedEx Cares Week, saw around 1,000 FedEx volunteers from 12 Asia Pacific markets[1] including Japan donate their time and talents to serve local organizations. They were involved in 36 community programs, carrying out activities ranging from preparing and distributing meals to the needy, to interacting with autistic children, to cleaning up local neighborhoods, to promoting environmentally responsible behavior.
"FedEx Cares Week is a way for FedEx to give back and show our appreciation to the communities in which we operate daily, and is one of our most highly valued activities," commented Masamichi Ujiie, regional vice president of FedEx Express, North Pacific. "As well as contributing to these communities, we aim to create a pleasant working environment. In this spirit, it's important to keep programs like FedEx Cares Week voluntary. Nevertheless, we're seeing the number of employee volunteers increase each year, which is key to realizing our vision of being a company that values local communities and the environment."
Since FedEx Cares Week first launched in the U.S. in 2005, it has expanded to more than 64 countries and territories around the globe. Together, FedEx volunteers worldwide have donated thousands of hours of their time serving their local communities and improving the quality of life for people in need.
For more information about FedEx Cares Week and the FedEx commitment to volunteerism and the communities it serves, please visit:
https://www.facebook.com/FedExAPAC or fedexcares.com
Activities in Japan
1. Food Drive
Collection boxes set up in FedEx offices prior to FedEx Cares Week so employees could donate surplus food from home.
Number of volunteers who provided food: 203
2. Pantry Package (sorting and packaging collected food)
Timing: Saturday, September 20 and Saturday September 27
Place: FedEx Shin-Suna station in Tokyo and Nanko station in Osaka
Number of volunteers: 15
3. Harvest Kitchen (preparing and distributing meals to the needy)
Timing: Friday, September 26 and Saturday, September 27
Place: Second Harvest Japan offices (Asakusabashi, Taito-ku, Tokyo), Ueno Onshi Park (Taito-ku, Tokyo)
Number of volunteers: 13
---
[1] Australia, mainland China, Hong Kong, Japan, South Korea, Malaysia, New Zealand, The Philippines, Singapore, Taiwan, Thailand and Vietnam