FedEx Volunteers Renovate Community Center for Underprivileged Children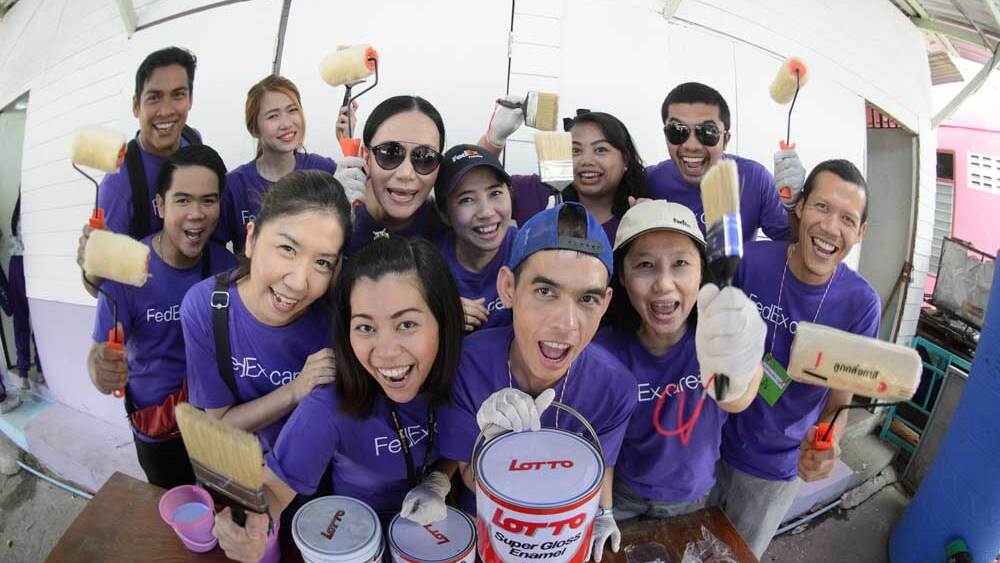 BANGKOK, October 22, 2015 – More than 120 FedEx Express (FedEx) volunteers teamed up with Community Children Fund (CCF) Foundation to renovate the hall and children's playground at the Rimtangrodfai Makason Community Center on October 18.
In addition to improving the facilities, FedEx volunteers tapped their expertise to actively run art workshops and play activities for 190 underprivileged children. FedEx volunteers also donated books, study materials, and book shelves to set up "mobile libraries" to assist the children in their studies.
The volunteers also planted trees and vegetables, and built two puppet theatres, in the grounds of the center.
The event was part of the eighth annual FedEx Cares Week, a worldwide initiative where FedEx team members in 12 Asia-Pacific markets[1] give back to their communities.
"FedEx is committed to improving the learning opportunities of the next generation in Thailand," said David Carden, managing director, FedEx Express Thailand and Indochina. "We're pleased that with our volunteers' dedicated efforts we have improved access to educational support to help all children, particularly the underprivileged, to realize their full potential and lead successful lives."
Across the region, FedEx Cares Week activities will have a strong community and sustainability focus. From September 10 to November 7, around 1,100 FedEx volunteers from 12 Asia Pacific markets¹ will take part in 42 community initiatives around the region.
Globally, more than 10,000 FedEx volunteers will volunteer nearly 55,000 hours during FedEx Cares Week. FedEx Corp. began this tradition in the United States in 2004 and has since expanded it to nearly 500 global communities where its team members live and work.
For more information about FedEx Cares Week and FedEx commitment to volunteerism and the Asia Pacific communities it serves, please visit newsroom.fedex.com/newsroom/asia-english or csr.fedex.com/.