FedEx Volunteers Promote Well-Being and Development of Local Children as Part of FedEx Cares Program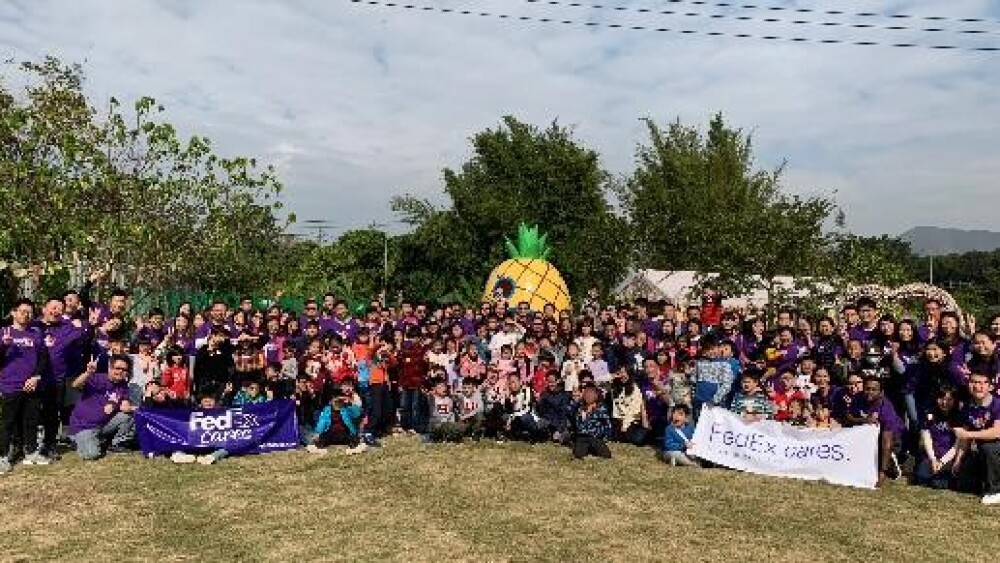 FedEx Express Joins Hands with ChickenSoup Foundation to
Inspire Underprivileged Children Through a Day in Nature
HONG KONG, January 11 2019 – Because many children in Hong Kong live in cramped conditions, spending quality time outdoors is considered a rare luxury. However, enabling children's access to the outdoors is essential for their physical, psychological and emotional development. To promote the overall wellbeing and development of children in Hong Kong, FedEx Express (FedEx), a subsidiary of FedEx Corp. (NYSE: FDX) and the world's largest express transportation company, joined hands with the ChickenSoup Foundation to organize a one-day outdoor activity for children from underprivileged families to experience and connect with nature.
About 120 FedEx team members and their family members spent a day with these children on an organic farm. FedEx volunteers led the children in a series of interactive activities, including a nature gallery tour, organic farming and terrarium and handicraft workshops. These activities were designed to create a positive influence on the cognitive development and wellbeing of the children who have limited opportunities for outdoor time.
Anthony Leung, managing director, FedEx Express Hong Kong and Macau said, "FedEx is committed to creating possibilities and addressing the local needs of our society. We hope connecting these children with nature will have a positive impact on their daily lives as well as their social and emotional development."
This initiative is part of the FedEx Cares global charitable giving program, in which FedEx is investing US$200 million in 200 communities by 2020 to create opportunities and deliver positive change around the world. In the last two years, FedEx has invested more than US$157 million in 200 communities globally, which is more than half way to the 2020 goal.
In Hong Kong, FedEx has collaborated with a number of non-governmental organizations (NGOs) to address the social needs in the community. Most recently, FedEx has supported Junior Achievement Hong Kong for the twelfth consecutive year in its International Trade Challenge program to empower youth entrepreneurship and connect secondary school students to global business opportunities.