FedEx Volunteers Contribute to Local Communities in Japan during FedEx Cares Campaign
Part of FedEx Investment of US$200 Million in More than 200 Communities Worldwide by 2020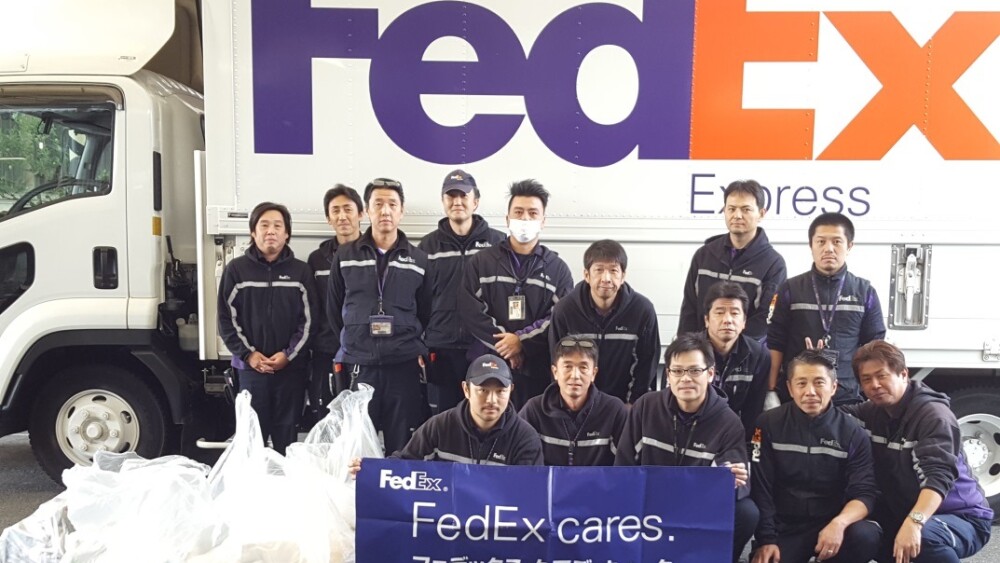 TOKYO, November 30, 2017 – As part of the global FedEx Cares initiative, 89 employees of FedEx Express (FedEx), a subsidiary of FedEx Corp. (NYSE: FDX) and the world's largest express transportation company, volunteered in seven locations across Japan beginning in September and ending in November. Employees were involved in a variety of activities, including cleaning up areas in communities near FedEx locations and collecting clothes to assist refugees and people affected by disasters. Please refer to the chart below for details.
FedEx Corp. has a long history of giving back to the communities where it operates. The company is currently committed to giving $200 million in 200 communities by 2020, in addition to offering its team members opportunities to volunteer.
Each year in Japan, FedEx team members familiar with the areas where they work seek out ways to contribute to their communities.
"At FedEx, we are always mindful of giving back to the communities where we live and work," said Masamichi Ujiie, regional vice president, North Pacific, FedEx Express. "The FedEx Cares campaign is an expression of that mindfulness and the spirit of volunteerism at FedEx. I am proud to see so many of our members participate again this year."
For more information about FedEx Cares and the FedEx commitment to volunteerism and the communities it serves, please visit: http://fedexcares.com/
■FedEx Cares activities in Japan
Timing
Place
Details
Sep. 11 (Mon) – Oct. 31 (Tue)

Koto Ward, Tokyo:

In Ariake Office

Cooperation with JEN, an NGO, to collect clothes to assist refugees and people affected by disasters
Sep. 30 (Sat)

Nagoya City, Aichi:

Along the Hori River and walkway around Nagoya Congress Center, Shirotori Garden, and Atsuta Shrine

Clean-up activity

Oct. 26 (Thu)

Yokohama City, Kanagawa:

Around the area of Namamugi Station, the Tsurumi Bridge and nearby industrial roads

Clean-up activity

Oct. 31 (Tue)

Kawaguchi City, Saitama:

Around the area where the FedEx Station is located

Clean-up activity

Oct. 31 (Tue)

Fuchu City, Tokyo:

Along the Tama River and Tokyo metropolitan route 20

Clean-up activity
Nov. 19 (Sun)

Toyokawa City, Aichi:

Mikami Parkland

Clean-up activity
Nov. 26 (Sun)

Osaka City:

Around Yanmar Stadium Nagai (Nagai Stadium)

Clean-up activity around the stadium after a soccer match