FedEx Trade Networks Announces Opening of Chengdu Office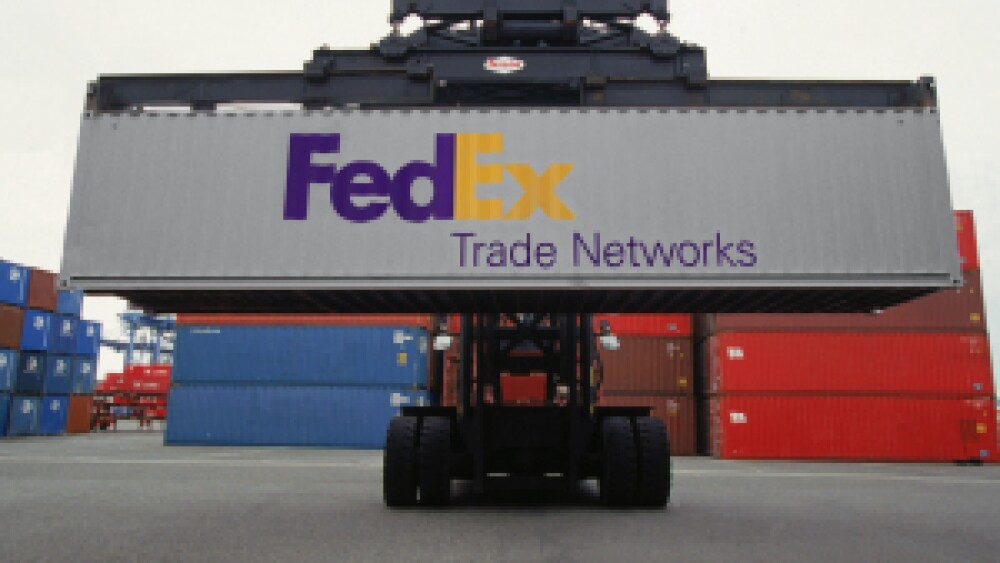 CHENGDU, August 16, 2011— FedEx Trade Networks, a subsidiary of FedEx Corp. (NYSE: FDX) and growing international ocean and air freight forwarder, today announced its expanded global presence with new operations in Chengdu, China; Bucharest, Romania; and Munich, Germany. The new office in Chengdu is located in the city center at the Hongda International Plaza.

"Many companies are moving their manufacturing processes from the coastal cities to Western China in order to take advantage of the abundant labor supply in the region," said Joseph Frank, vice president of FedEx Trade Networks Asia-Pacific region. "With our new office in Chengdu, we are delivering on our commitment to serve our customers in the locations in which they most need the logistics support."

Opening an office in Chengdu is an important step for the freight forwarding arm of Memphis, Tennessee-based global logistics giant, FedEx. Chengdu Shuangliu International Airport, the largest in mid-western China, handled 432,000 tons of cargo last year, ranking it sixth in the country. The opening of the airport's new cargo terminal in March 2011 is expected to boost its handling capacity to circa 700,000 tons annually. The terminal has also reserved additional land for future development as demand rises.

This latest round of office openings marks the fourth consecutive year that FedEx Trade Networks has aggressively expanded its global network. Since 2008, the company has opened offices in 41 locations outside of the U.S. and Canada, including the Chinese cities of Shanghai, Beijing, Guangzhou, Shenzhen, Qingdao, Tianjin, Xiamen, Dalian and Ningbo.

Last month, the company announced that it is now offering customers three distinct ocean shipping solutions through its new ocean choices portfolio. The new offering gives customers the ability to choose and implement the ocean service that best fits their supply chain needs—whether the product demands flexibility or speed-to-market distribution services.

In addition to its new ocean choices portfolio, customers of FedEx Trade Networks also benefit from flexible air freight forwarding solutions that employ a variety of value-added services, including the ability to track and trace their complete supply chain and managed control of their goods in transit from point of origin to final destination. The company also offers other multimodal solutions such as customs brokerage, purchase order management with Global Order Logistics, surface transportation, warehousing and distribution.

The operations in China are a part of a growing global network of company-owned offices for FedEx Trade Networks. Other locations include United Kingdom (Manchester and London), The Netherlands (Amsterdam and Rotterdam), Belgium (Brussels and Antwerp), France (Paris and Le Havre), Spain (Madrid and Barcelona), Italy, Germany (Frankfurt, Hamburg and Munich), Poland (Gdynia and Warsaw), Hungary, the Czech Republic, Slovakia, Romania, Turkey, the United Arab Emirates, India (Mumbai, Chennai and Delhi), Mexico, Brazil, Singapore, Taiwan and Hong Kong. The company also has a representative office in Vietnam.
About FedEx Trade Networks

FedEx Trade Networks, and its predecessor companies, have more than 100 years of experience in international trade. The company's advanced technology and network of worldwide locations and alliances enables it to provide comprehensive ocean and air international freight forwarding, customs brokerage, Global Order Logistics, distribution and surface transportation, trade advisory services, and advanced e-commerce and trade facilitation solutions. FedEx Trade Networks has the resources and support to help customers of all sizes navigate the intricacies of shipping goods globally. For more information, visit ftn.fedex.com.
About FedEx

FedEx Corp. (NYSE: FDX) provides customers and businesses worldwide with a broad portfolio of transportation, e-commerce and business services. With annual revenues of $3 billion, the company offers integrated business applications through operating companies competing collectively and managed collaboratively, under the respected FedEx brand. Consistently ranked among the world's most admired and trusted employers, FedEx inspires its more than 290,000 team members to remain "absolutely, positively" focused on safety, the highest ethical and professional standards and the needs of their customers and communities. For more information, visit news.fedex.com.