FedEx to Operate at New Cargo Terminal at Incheon International Airport
New Facility will Expand Shipping Capability for Korean Customers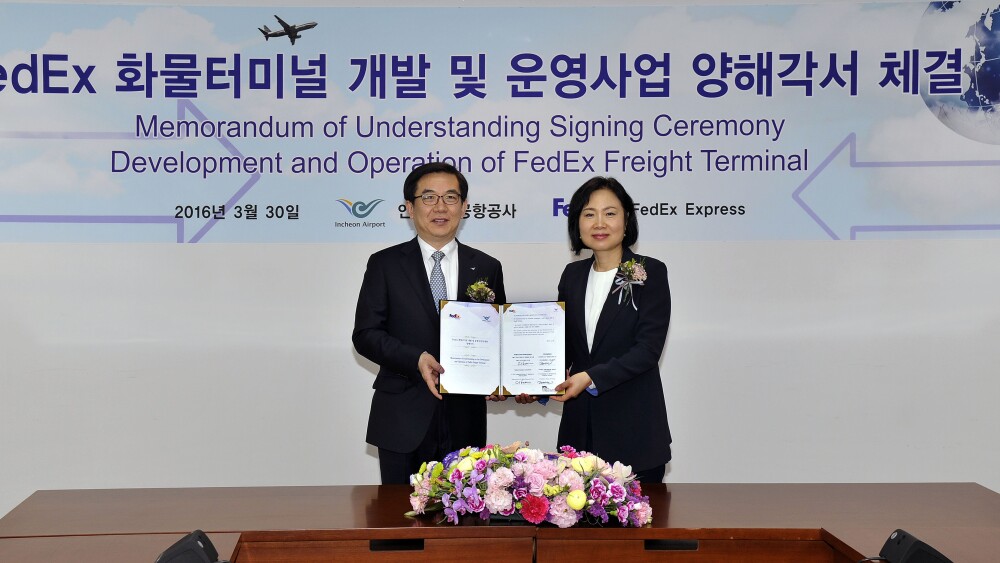 FedEx Express (FedEx), a subsidiary of FedEx Corp. (NYSE: FDX) and the world's largest express transportation company, recently held a memorandum of understanding (MOU) signing ceremony with Incheon International Airport Corporation (IIAC) on the 'Development and Operation of FedEx Cargo Terminal at Incheon International Airport (ICN)'. The MOU signing took place at grand meeting room at IIAC on March 30, 2016.
The new cargo terminal dedicated to FedEx will be located at Incheon International Airport's northern site and is scheduled to be completed in the second half of 2019. FedEx plans to deploy advanced logistics facilities at the new terminal, including an automated cargo sorting system to meet the fast-growing demand of express cargo. The new facility is planned to have the capacity to sort up to 9,000 packages per hour, allowing inbound and outbound shipments to be processed faster and enhancing the overall customer experience. It will serve as a consolidation and transshipment point for Korea.
The new cargo terminal is planned to cover 23,425 square meters, more than twice the size of the current facility, including warehouse, office and canopy.
"FedEx has been operating in Korea for more than 27 years, with flights connecting Korea to the rest of the world. The new facility is part of FedEx ongoing commitment to Korea and our customers giving them greater access to markets supported through our strong and integrated network." said Eun-Mi Chae, managing director of FedEx Express Korea. "This is part of our long-term strategy to continue offering outstanding services that fit our customers' needs."