FedEx to Donate Books for LA Korean via FedEx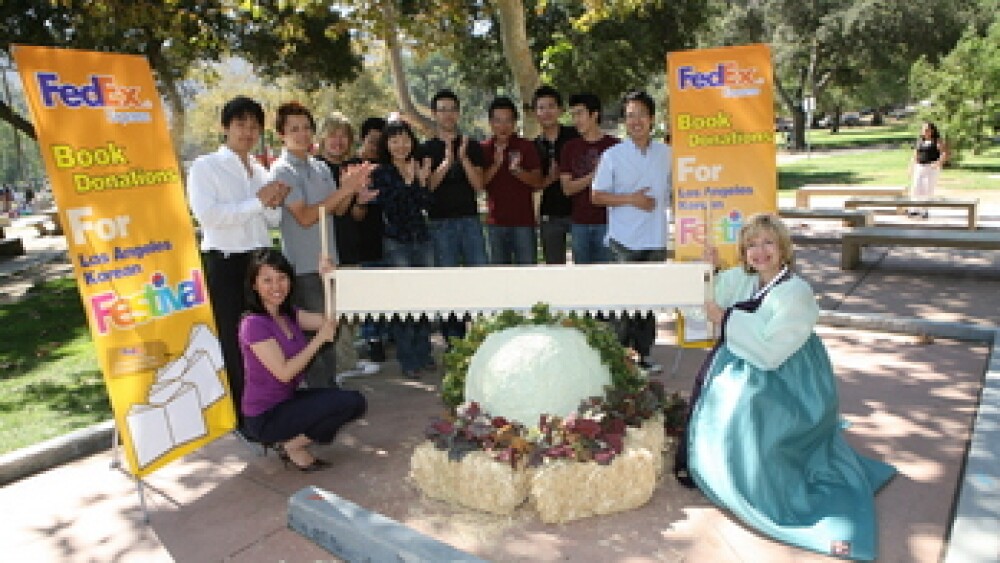 FedEx Express, a subsidiary of FedEx Corp. (NYSE: FDX) and the world's largest express transportation company and FedEx Kinko's Office and Print Services, Inc ("FedEx Kinko's"), an operating company of FedEx Corp. (NYSE: FDX) announced that they would sponsor 34th LA Korean festival in commemoration of the 100th year Korean immigration and would collect Korean-written books and donate them for LA overseas Korean via FedEx.
FedEx is the Gold sponsor of the 34th LA Korean Festival which will be held from 13th to 16th of this September. As the sponsor, FedEx will deliver books which are donated through 26 FedEx Kinko's Service Centers and given by FedEx's employees to L.A. overseas Korean via FedEx aircraft.
Any kinds of books such as storybooks, magazine, novel, or reference books can be donated through 26 FedEx Kinko's service centers including Guro, Gangnam located in Seoul from 20th of August to 5th of September. All customers who donate their books will be given a OO% off coupons for any FedEx Kinko's service. The locations of 26 service centers can be found in FedEx Kinko's homepage (www.kinkos.co.kr).
Eun-Mi Chae, the Managing Director of FedEx Korea said "LA Korean Festival is the largest festival among 2.5 million US overseas Korean. FedEx will sponsor not only this LA Korean festival but also enhance our services for students studying in US and Korean community that has been larger in US. We hope to deliver warm heart of Korean in homeland to LA Korean."
Meanwhile, 34th LA Korean Festival which is held in LA Korean Town with 400,000 visitors expected will hold a variety of event such as All Day World Culture Performances, World Culture Talent Show and FedEx will showcase various event and parade for the visitors as Gold sponsor.

About FedEx Corp.
FedEx Corp. (NYSE: FDX) provides customers and businesses worldwide with a broad portfolio of transportation, e-commerce and business services. With annual revenues of $35 billion, the company offers integrated business applications through operating companies competing collectively and managed collaboratively, under the respected FedEx brand. Consistently ranked among the world's most admired and trusted employers, FedEx inspires its more than 280,000 employees and contractors to remain "absolutely, positively" focused on safety, the highest ethical and professional standards and the needs of their customers and communities.
About FedEx Kinko's Office and Print Services
FedEx Kinko's Office and Print Services is the world's leading provider of document solutions and business services. The Dallas-based company has a global network of more than 1,700 digitally-connected locations in 11 countries. FedEx Kinko's offers access to copying and digital printing, professional finishing, document creation, Internet access, computer rentals, videoconferencing, signs and graphics, notary, direct mail, office products, Web-based printing, and the full range of FedEx day-definite ground shipping and time-definite global express shipping services. For more information, please visit www.fedexkinkos.com. Products, services and hours vary by location.