FedEx Thailand Delivers Support for School in Ayutthaya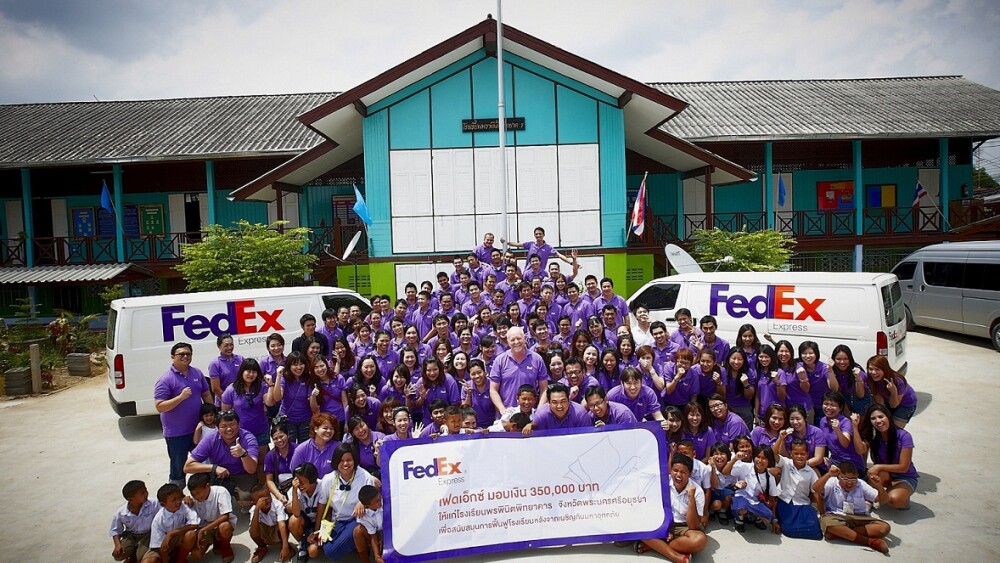 BANGKOK, September 4, 2012—More than 100 FedEx volunteers led by David Carden, managing director of FedEx Express Thailand and Indochina, travelled to Ayutthaya Province to help renovate Pornpinitpitayakarn School which was devastated by the floods of last year.
The company recently donated THB 450,000 to the AMCHAM Foundation's Adopt-a-School program to assist with the rehabilitation of the school buildings and grounds. The funds were used to build a new two-storey toilet block and provide new playground equipment as well as new desks and chairs for the classrooms. The donation will also provide funding towards the employment of a fourth teacher at the school in the coming year.
"FedEx is a strong advocate of giving back to our local communities through action. This has never been more important than now, when so many schools are rehabilitating their grounds and classrooms after the flooding," said Carden.
"Our people have taken personal time out of their weekend to help these children because we all know just how important education is for young children and for the future of the country. I am very proud we have been able to make a difference in such a meaningful and tangible way."
###
About FedEx Express
FedEx Express is the world's largest express transportation company, providing fast and reliable delivery to more than 220 countries and territories. FedEx Express uses a global air-and-ground network to speed delivery of time-sensitive shipments, by a definite time and date with a money-back guarantee[1].
About FedEx Corp.
FedEx Corp. (NYSE: FDX) provides customers and businesses worldwide with a broad portfolio of transportation, e-commerce and business services. With annual revenues of $43 billion, the company offers integrated business applications through operating companies competing collectively and managed collaboratively, under the respected FedEx brand. Consistently ranked among the world's most admired and trusted employers, FedEx inspires its more than 300,000 team members to remain "absolutely, positively" focused on safety, the highest ethical and professional standards and the needs of their customers and communities. For more information, visit news.fedex.com.
---
[1] Subject to relevant terms and conditions