FedEx Tests Autonomous Delivery Vehicle In China
Partnering with Neolix, a leader in autonomous technology, to empower sustainable and smart logistics with innovative technology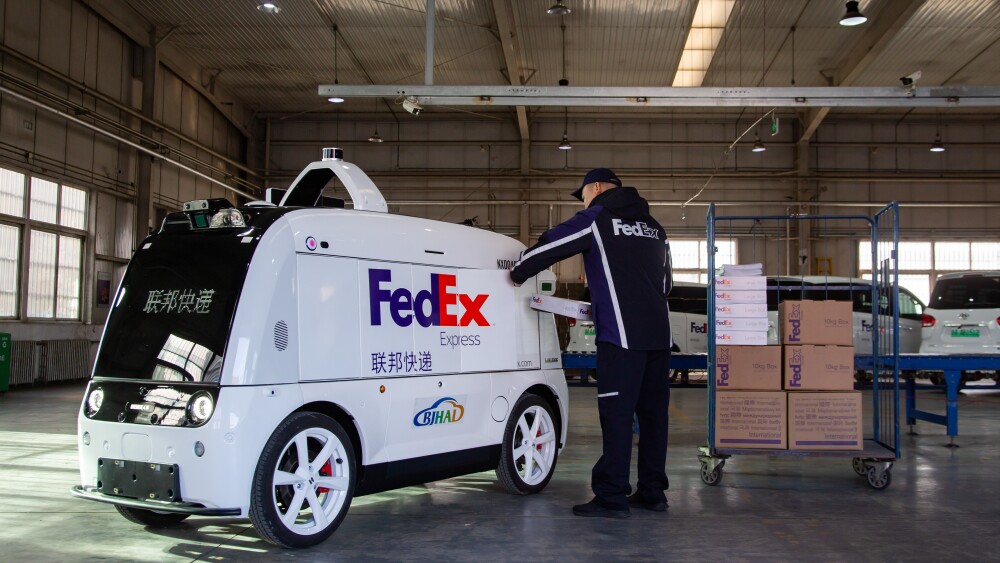 Shanghai, China, 28 October 2021 — FedEx Express, a subsidiary of FedEx Corp. (NYSE: FDX) and one of the world's largest express transportation companies, announced that it is collaborating with Neolix, a leading company in autonomous technology, to test an autonomous delivery vehicle in China. This is the first time in its operations in China that FedEx has partnered with a local Chinese technology company to test the use of a driverless vehicle. This is the latest FedEx effort to embrace technological innovation and deploy autonomous vehicles to embrace sustainable and intelligent logistics in China.
The unmanned delivery vehicle is zero emission, all electric with L4 level autonomous technology which means it:



Incorporates vehicle self-driving tech with internet and intelligent cargo box tech, allowing for AI intelligent dispatching, all-round monitoring and cloud-based management.

Offers multiple safety features with a maximum cargo capacity of approximately 500 kg and a range of 100 km on a full charge.

Is equipped with a technical system that can handle complex road conditions and traffic light recognition during the delivery process.

Supports driving in sunny, foggy, light rain, night and other conditions.
Additionally, the cargo box of the autonomous vehicle can be converted into a temperature-controlled compartment and a smart parcel locker.
"FedEx Express is committed to developing and leveraging technologies that will help transform the logistics industry, enhance customer experience and reduce the environmental impact of our business operations," said Eddy Chan, senior vice president and president, FedEx China. "The rapid growth of e-commerce requires more flexible and efficient digital logistics solutions to solve the 'last-mile' delivery challenges. Our collaboration with Neolix will help us further understand the role of autonomous vehicle technology in enhancing operational flexibility and diversity, which is our latest initiative to support sustainable and intelligent logistics."
FedEx and Neolix began testing the autonomous vehicle in October 2021 in Beijing. The two companies will test a variety of operational applications in different scenarios including delivery to a campus, office building and station over different time periods and then will obtain feedback about the customer experience.
The autonomous vehicle will be shown at the China International Import Expo in Shanghai in November. Visitors will be able to see firsthand its advanced functions, operations and convenient applications.
"Our collaboration with FedEx is not only in line with market development trends, but also an innovative attempt for Neolix to explore the impact on the logistics sector in addition to the retail sector," said Enyuan Yu, CEO, Neolix. "We hope to support the transformation and development of the logistics industry by utilizing the intelligent advantages of autonomous vehicles."
FedEx has been exploring and developing the use of new technologies, including automation and robotics in its operations and services in various markets around the world. To advance the "last-mile" of package delivery, in April FedEx has worked with the robotics company Nuro, to test and use Nuro's next-generation delivery robot, an autonomous delivery vehicle, in the U.S. In July, Roxo™, the FedEx SameDay Bot, an autonomous delivery device developed by FedEx in collaboration with DEKA Development Research, landed in Japan, and in September FedEx announced a collaboration with the self-driving startup Aurora and heavy-duty vehicle manufacturer Paccar to test autonomous trucks in the U.S.
About FedEx Express
FedEx Express is one of the world's largest express transportation companies, providing fast and reliable delivery to more than 220 countries and territories. FedEx Express uses a global air-and-ground network to speed delivery of time-sensitive shipments, by a definite time and date.
About FedEx Corp.
FedEx Corp. (NYSE: FDX) provides customers and businesses worldwide with a broad portfolio of transportation, e-commerce and business services. With annual revenue of $87 billion, the company offers integrated business solutions through operating companies competing collectively, operating collaboratively and innovating digitally under the respected FedEx brand. Consistently ranked among the world's most admired and trusted employers, FedEx inspires its 560,000 team members to remain focused on safety, the highest ethical and professional standards and the needs of their customers and communities. FedEx is committed to connecting people and possibilities around the world responsibly and resourcefully, with a goal to achieve carbon-neutral operations by 2040. To learn more, please visit about.fedex.com
About Neolix
As one of the world's leading mobile retail companies, Neolix is committed to the application of "unmanned delivery" technology in mobile retail innovation, using a comprehensive hardware and software closed-loop technology system, a standardized product mass production system and an efficient and safe driverless operation system. Neolix aims to further improve the efficiency of retail connectivity by creating a "what you see is what you get" service through an instant fulfillment network.