FedEx Taiwan Joins Hands with the Jane Goodall Institute to Clean Up the Coast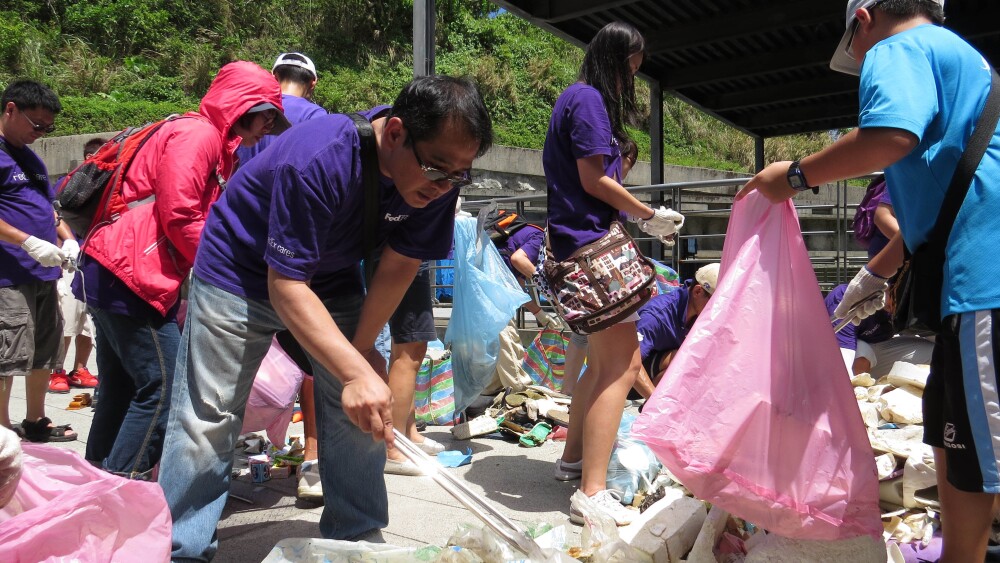 TAIPEI, September 9, 2013—In its continued efforts to deliver a greener community, FedEx Express ("FedEx") partnered with the Jane Goodall Institute Taiwan ("JGI") to organize a coastal cleanup on September 7. More than 50 FedEx volunteers rolled up their sleeves and removed over 120 kilograms of trash from the Chao-Jing Park in Keelung. The event was part of FedEx Cares Week, a worldwide initiative where FedEx employees in 11 Asia Pacific markets[1] give back to their communities between September 7 and 15.
The Chao-Jing Park, a precious natural resource and home to many wild species, is now revived thanks to the collective efforts of the FedEx volunteers. They picked a lot of debris from the coastal park including soda cans, cigarette butts, napkins and plastic bags. This environmental cleanup not only provided an opportunity for volunteers to learn more about the causes of marine pollution, it also raised public awareness about coastal conservation.
"As a global transportation company, the FedEx network includes not only wings in the sky, but also wheels on the ground and keels in the water," said Michael Chu, managing director, FedEx Express Taiwan. "That's why we are committed to minimizing our environmental footprint through various environmental sustainability efforts. It may seem small to clear away a soda can or two here and there, but when our FedEx team comes together and does this collectively, we make a great impact on our environment."
This is not the first time FedEx has worked with JGI. In 2012, FedEx and JGI organized the "FedEx We Deliver Green! Classroom". The education program aimed at promoting environmental awareness and sustainability among students in Taiwan through classroom teachings and practical exercises.
Across the region, FedEx Cares Week activities will have a strong sustainability focus. More than 1,000 FedEx volunteers in Asia-Pacific are expected to commit over 4,000 hours in 36 community activities. This is part of a global FedEx initiative involving employees around the world.
For more information about FedEx Cares Week and FedEx commitment to volunteerism and the Asia Pacific communities it serves, please visit facebook.com/FedExAPAC or news.van.fedex.com/int/asia-pacific.
---
[1] Australia, China, Hong Kong, Japan, Korea, Malaysia, New Zealand, Singapore, Taiwan, Thailand and Vietnam