FedEx Supports the Underprivileged and Empowers the Community
FedEx Volunteers Build Solar-Powered Lights to Improve Social Conditions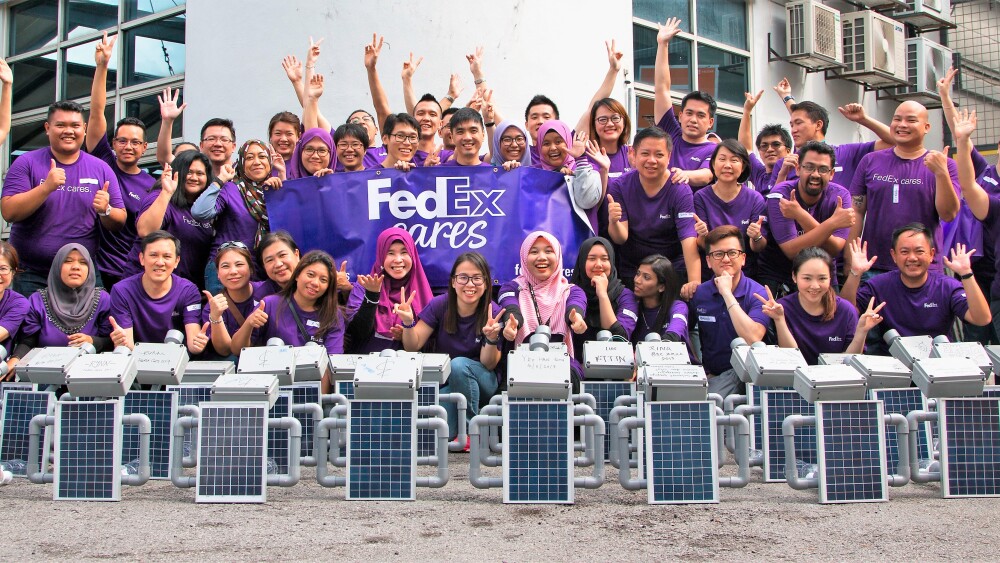 KUALA LUMPUR, November 10, 2017 — As part of the 13th annual global FedEx Cares Fall Campaign, 89 FedEx Express (FedEx) team members and their family members in Malaysia teamed up with Incitement Malaysia, a local social start up, in the "Liter of Light" initiative to build and install solar-powered lights for an Orang Asli village in Kampar, Perak. On November 4 and 5, FedEx volunteers assembled the solar-powered lights in Kuala Lumpur before embarking for Kampar to help install the lights in the village and educate the Orang Asli villagers on usage and maintenance of the lights.
In addition to the solar-powered lights, FedEx dedicated a fleet of vehicles to transport and distribute food to the families in the village.
In Malaysia, electricity remains an imperative issue in some parts of the country. There are more than 280,000 people who live without any access to power[1]. Having access to light at night creates a positive impact on the community in terms of basic safety and social advancement, as well as fostering education for the children as they can keep studying at night.
"Volunteerism is a crucial part of the FedEx culture, and FedEx Malaysia has been a strong advocate for social responsibility throughout the years," said Siang-Chung Chong, managing director, FedEx Express, Malaysia. "Our team members demonstrate the same level of dedication to delivering quality service at work and when they give back to the communities where we live and work. We are proud of our efforts to make a positive change to the social needs of the local communities."
FedEx Cares is the company's global giving platform through which FedEx will invest US$200 million in more than 200 global communities by 2020 to create opportunities and deliver positive change around the world. Local volunteers supplement and enrich these community investments.
[1] Impact Report - Liter of Light, Incitement Malaysia, 2017