FedEx Supports Coastal Conservation with Beach Clean-Up in Sattahip, Thailand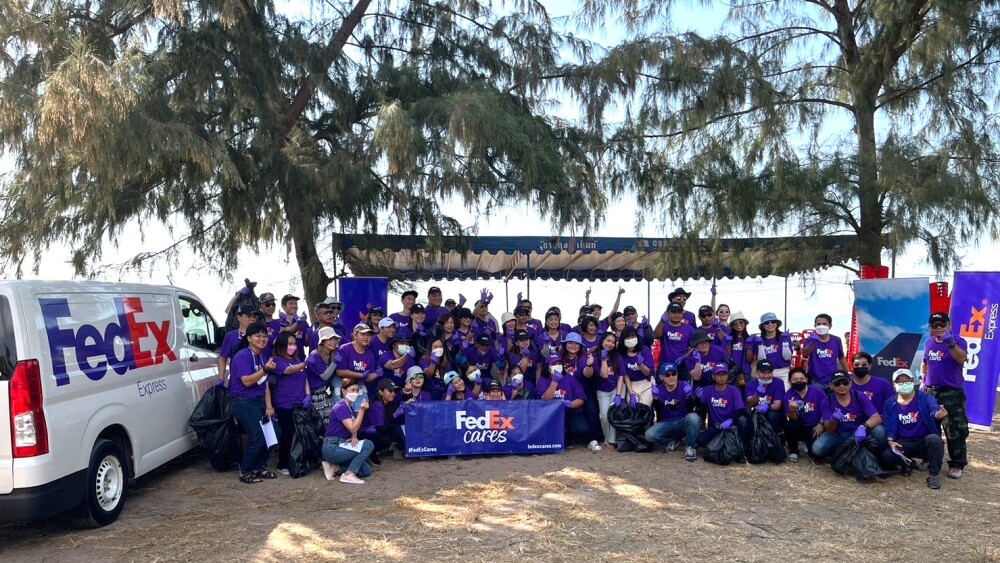 Bangkok, THAILAND – February 7, 2022 — FedEx Express (FedEx), a subsidiary of FedEx Corp. (NYSE: FDX) and one of the world's largest express transportation companies is raising awareness about coastal conservation and the importance of reducing marine pollution. Through the 'For Sea the Future' initiative driven by FedEx team members, 75 volunteers participated in a beach plogging activity to pick up litter while jogging. A total of 217 kilograms of plastic waste were collected and removed from Napa Tharaphirom beach in Sattahip district, southeast of Bangkok
In Thailand, there is an estimated 428 kilotons of mismanaged plastic waste per year. On average, 47% of mismanaged waste that ends up in the rivers is discharged into the sea harming marine life and ecosystems[1]. As part of its goal to be carbon neutral by 2040, FedEx is supporting initiatives to build stronger and more sustainable communities in Thailand. Beach clean-ups play a vital role to mitigate the problem caused by ocean debris and the danger that plastic waste poses to marine life.
More than 455 FedEx volunteers and their family members participated in a pan-AMEA beach cleaning initiative that ran four months up to December 2022 across 21 beaches in Australia, India, Japan, and Singapore. The volunteers put in a total 870 hours of hard work and removed a massive 142,987kg of garbage and plastic waste from the environment.
Giving back to local communities has always been part of the FedEx culture. The company is using its ongoing FedEx Cares program to reach its goal of positively impacting 50 million people around the world by its 50th birthday in April 2023.
Sattahip is an important area where FedEx is offering express connections to support heavy weight shipment services for customers including the Eastern Economic Corridor (EEC) development.
###
About FedEx Express
FedEx Express is one of the world's largest express transportation companies, providing fast and reliable delivery to more than 220 countries and territories. FedEx Express uses a global air-and-ground network to speed delivery of time-sensitive shipments, by a definite time and date.
FedEx Express press releases are available on the World Wide Web at https://newsroom.fedex.com/newsroom/asia-english
Learn more about the latest insights in the logistics industry, please visit:
FedEx Business Insights Hub
LinkedIn FedEx Go Global
For further information, please contact:
Napat Shimada, Webershandwick Thailand
(66) 2-343-6183, Mobile: (66) 89-450-0225
Email: NShimada@webershandwick.co.th
[1] https://www.worldbank.org/en/country/thailand/publication/plastic-waste-material-flow-analysis-for-thailand