FedEx and Safe Kids Thailand Organize "PHOTOVOICE Contest" to Promote Pedestrian Safety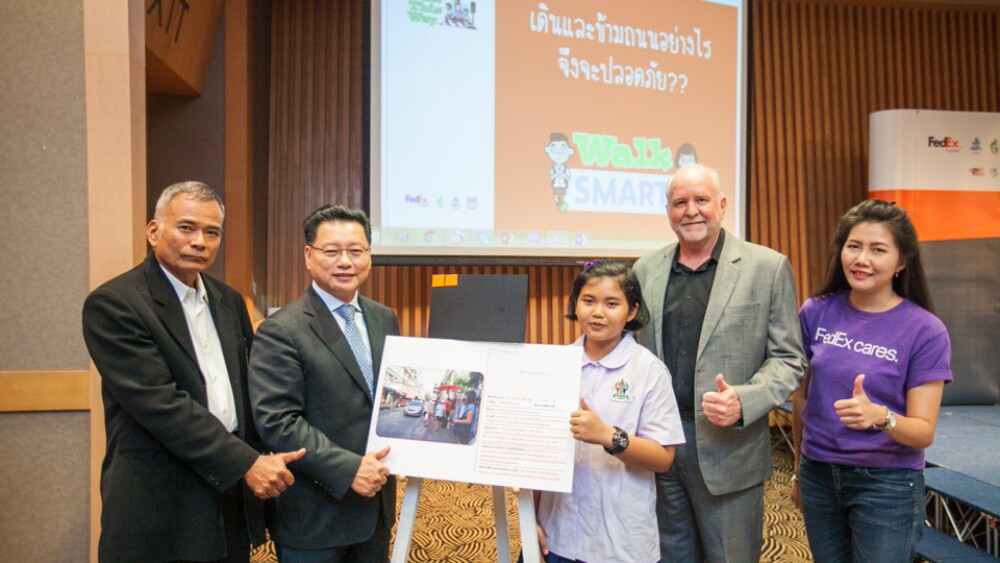 BANGKOK, 2 June 2016—FedEx Express, a subsidiary of FedEx Corp. (NYSE: FDX), the world's largest express transportation company, together with Safe Kids Thailand, today announced the winners of the PHOTOVOICE contest. The contest aimed to raise awareness about pedestrian safety among children.
The inaugural FedEx and Safe Kids PHOTOVOICE contest allows Thai children to use photos to communicate and express their opinion about road traffic issues and pedestrian safety in Thailand. The campaign is part of the FedEx Walk This Way road safety education program.
During March and April, children between 9 and 14 years of age submitted images that captured dangerous road environments in Bangkok. More than 65 students competed in the contest and 65 photos were chosen to be displayed in an exhibition at the Bangkok Cultural Centre on June 2.
The winner of the contest, whose picture won the judges' hearts this year, was Pinmanee Sampanthamitr from Wat Phaingernchotanaram School. Her work "Dangers for pedestrians in front of my school" highlighted a pavement filled with street vendors and food stalls and as a result forced children to have to walk on the road. The three runner-ups were Atiya Krasaesorm from Wat Phaingernchotanaram School, Rawitnai Muangchairak from Na Luang School, and Chayuttapol Panneth from Na Luang School.
"At FedEx, we are committed to raising awareness about the road risks faced by child pedestrians in Thailand. By identifying and taking photos of dangerous walking environments, the students will have visual reminders of what to watch out for whenever they walk to school," said David Carden, managing director, FedEx Thailand and Indochina. "Through the PHOTOVOICE contest, we continue to help make Thailand's roads safer for children."
"Road accidents are the second most common cause of death in Thailand, with 1,000 children killed every year," said Safe Kids Thailand spokesperson Adisak Plitponkarnpim, associate professor and director, Child Safety Promotion and Injury Prevention Research Center. "We strongly believe that the photo exhibition and the knowledge we share with the children today will enable them to become safer pedestrians."
The Photo Voice project is an initiative of the Walk This Way (WTW) road safety advocacy program launched by FedEx and Safe Kids Thailand in 2011. Since then, the WTW programs raising awareness to road safety have reached more than 85,780 children and 5,566 parents throughout the country.
About FedEx Express
FedEx Express is the world's largest express transportation company, providing fast and reliable delivery to more than 220 countries and territories. FedEx Express uses a global air-and-ground network to speed delivery of time-sensitive shipments, by a definite time and date supported by a money-back guarantee[1] .
About FedEx Corp.
FedEx Corp. (NYSE: FDX) provides customers and businesses worldwide with a broad portfolio of transportation, e-commerce and business services. With annual revenues of $49 billion, the company offers integrated business applications through operating companies competing collectively and managed collaboratively, under the respected FedEx brand. Consistently ranked among the world's most admired and trusted employers, FedEx inspires its 340,000 team members to remain "absolutely, positively" focused on safety, the highest ethical and professional standards and the needs of their customers and communities. For more information, visit news.fedex.com.
[1] Subject to relevant terms and conditions