FedEx, Safe Kids Team Up to Launch "Walk This Way" in Jinan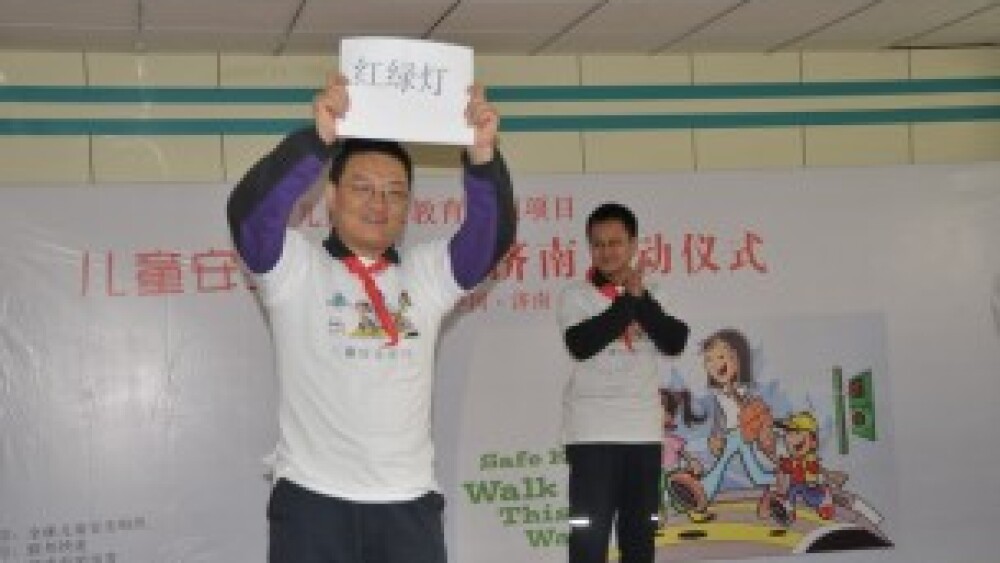 JINAN, March 31, 2011 – FedEx Express (FedEx) today joined hands with Safe Kids Worldwide, a global non-profit organization, to launch the Safe Kids Walk This Way program in Jinan at the No.2. Hong Jia Lou Primary School.
FedEx and Safe Kids first created the Walk This Way program in the United States in 1999 with the aim of promoting child pedestrian safety. Since being introduced to China in April 2004, the program has brought pedestrian safety education to more than 2.75 million students and parents in China..
At the event, 120 students from Hong Jia Lou Primary School and eight FedEx volunteers called for creating a safer, more walkable school environment. FedEx volunteers played road safety games with the students, arming them with basic pedestrian behavior and road safety knowledge. To help meet these goals, Safe Kids Worldwide and FedEx co-donated the Walk This Way road safety curriculum to 50 Jinan primary schools.
The rapid expansion of Jinan's economy and city scale has led to an increasing number of vehicles, worsening the city's traffic situation. The transportation facilities and urban traffic network need to be improved and public awareness of road safety needs to increase.
A Safe Kids survey of more than 502 students in the No.2 Hong Jia Lou School indicates several key pedestrian risks in the city. :
• About half the students surveyed walk to school and ninety percent of these students don't feel safe walking to and from school.
• Fifty-six percent of the students claimed the crossroad is the most dangerous area for crossing the street.
• Nearly half the students surveyed claimed the major safety problem is vehicle congestion at the school gate.
The study identifies the key areas needed for road safety education and points out that measure should be taken to improve the safety of streets while also educating drivers and students on road safety.

About FedEx Corp.
FedEx Corp. (NYSE: FDX) provides customers and businesses worldwide with a broad portfolio of transportation, e-commerce and business services. With annual revenues of $38 billion, the company offers integrated business applications through operating companies competing collectively and managed collaboratively, under the respected FedEx brand. Consistently ranked among the world's most admired and trusted employers, FedEx inspires its more than 290,000 team members to remain "absolutely, positively" focused on safety, the highest ethical and professional standards and the needs of their customers and communities. For more information, visit news.fedex.com

About FedEx Express
FedEx Express is the world's largest express transportation company, providing fast and reliable delivery to every U.S. address and to more than 220 countries and territories. FedEx Express uses a global air-and-ground network to speed delivery of time-sensitive shipments, by a definite time and date with a money-back guarantee .

About Safe Kids Worldwide
Safe Kids Worldwide is a global network of organization, whose mission is to prevent unintentional childhood injury, a leading killer of children ages 14 and under. Based on the U.S. model, which has contributed to a 45 percent decline in the rate of unintentional childhood injury deaths since its inception in 1987, more than 450 Safe Kids coalitions in 17 countries promote child safety by bringing together health and safety experts, educators, corporations, governments and volunteers to educate and protect families. For more information, visit http://www.safekidsworldwide.org