FedEx and Safe Kids Host Walk Rally to Instill Road Safety Awareness Among Students in Thailand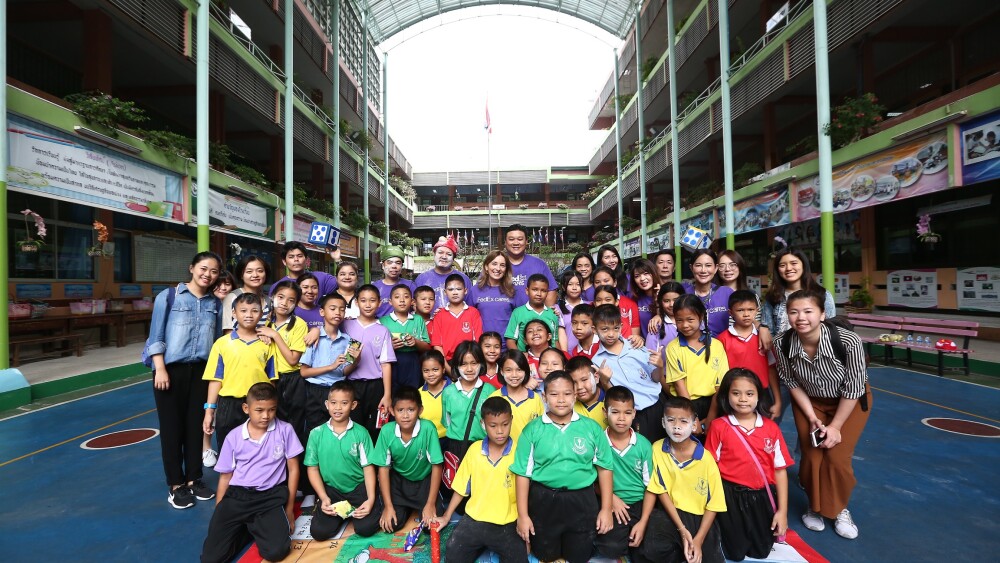 BANGKOK, 14 December 2017 – FedEx Express, a subsidiary of FedEx Corp. (NYSE: FDX) and the world's largest express transportation company, in collaboration with Safe Kids Thailand, organized the FedEx/Safe Kids Walk Rally on 13 December at Suan Lumpini School, Bangkok.
More than 100 students participated in this Walk Safely to School activity and received training on how to walk and cross the road safely, including training on how to do so under difficult circumstances.
The activity kicked off with students taking online training and answering a survey to test their knowledge and awareness of road safety. FedEx volunteers then shared road safety tips with the students and demonstrated how to walk and cross the road safely through fun activities at three stations: Safe Walk, Safe Cross and Traffic Signs.
"At FedEx, we are committed to delivering positive changes in the communities where we live and work," said Gina Galvin, managing director, FedEx Express Thailand. "Road safety education is a priority for FedEx. Every day our vehicles share the roads in Thailand and we're committed to using our expertise in making roads a safer place for all. Through the Walk Safely activity, our volunteers can share their road safety expertise and teach safe behavior to young pedestrians who are more vulnerable to road-related injuries."
"Road accidents are one of the leading causes of death among children in Thailand," said Adisak Plitponkarnpim, director, Child Safety Promotion and Injury Prevention Research Center (CSIP). "Every year approximately 2,000 Thai children under 18 years old are killed and more than 72,000 are injured in road accidents[1]. We believe road safety education can teach young students how to stay safe on the road and reduce the risk of injury or even death."
The FedEx/Safe Kids Walk Rally is part of the Walk This Way (WTW) road safety advocacy program launched by FedEx Express and Safe Kids Thailand in 2011. Since then, WTW programs to raise awareness of road and pedestrian safety have reached more than 174,882 children and 13,751 parents throughout the country. Protecting pedestrians and making roads safer worldwide is part of the FedEx Cares initiative where FedEx will invest $200 million in more than 200 communities by 2020 to create opportunities and deliver positive change around the world.
About FedEx Express
FedEx Express is the world's largest express transportation company, providing fast and reliable delivery to more than 220 countries and territories. FedEx Express uses a global air-and-ground network to speed delivery of time-sensitive shipments, by a definite time and date with a money-back guarantee[2].
About FedEx Corp.
FedEx Corp. (NYSE: FDX) provides customers and businesses worldwide with a broad portfolio of transportation, e-commerce and business services. With annual revenues of $61 billion, the company offers integrated business applications through operating companies competing collectively and managed collaboratively, under the respected FedEx brand. Consistently ranked among the world's most admired and trusted employers, FedEx inspires its more than 400,000 team members to remain "absolutely, positively" focused on safety, the highest ethical and professional standards and the needs of their customers and communities. To learn more about how FedEx connects people and possibilities around the world, please visit about.fedex.com.
[1] Bangkok Post (2016): http://www.bangkokpost.com/news/general/1147641/children-told-not-to-drive-motorbikes
[2] Subject to relevant terms and conditions