FedEx and Safe Kids Award Winners of PHOTOVOICE Contest
Initiative aims to Highlight Importance of Child Pedestrian Safety in Vietnam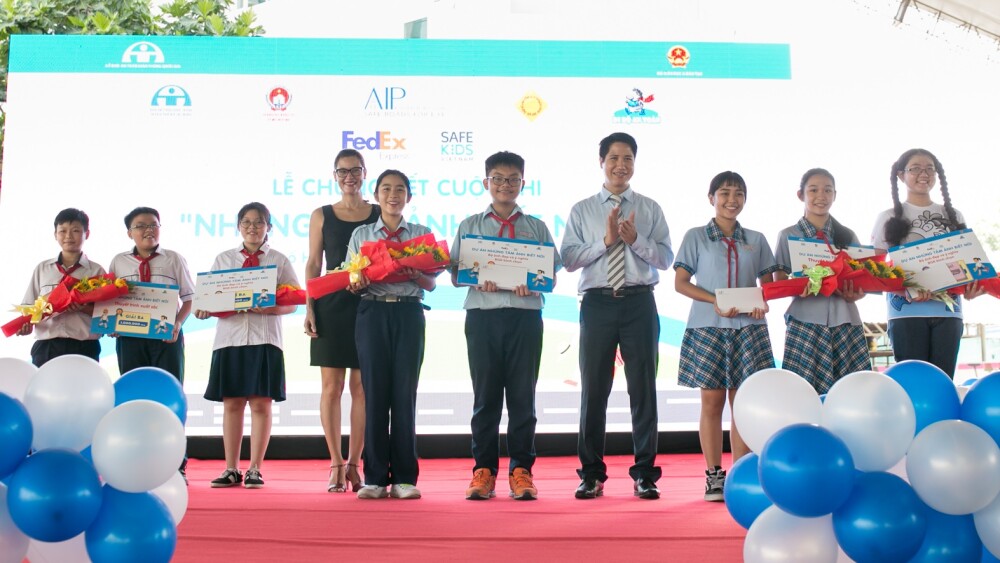 HO CHI MINH CITY, May 26, 2017 — FedEx Express, a subsidiary of FedEx Corp. (NYSE: FDX) and the world's largest express transportation company, recently announced the winners of the PHOTOVOICE contest at Hoa Lu Stadium, Ho Chi Minh City.

Held from March to April this year, students from Ho Chi Minh City submitted their photos of road hazards and unsafe pedestrian behaviors as well as recommendations on how the walking environments around their schools can be improved. Over 350 entries were received. The finalists presented their pictures and recommendations to a judging panel composed of FedEx team members, Safe Kids representatives and government officials, who subsequently selected the winners.

Pham Dinh Ho Secondary School was selected as the winner for their photo entry highlighting hazardous walking areas around secondary schools in Ho Chi Minh City, and their recommendations on how to minimize the risk to pedestrians in those areas. The teams from Ba Dinh Secondary School and Dong Khoi Secondary School won the runner-up prizes.

"It is extremely encouraging that the students, even at their age, are exhibiting a thorough understanding of road safety through their photos and recommendations," said Dao Toan Thang, senior manager of Indochina and country manager of FedEx Vietnam. "At FedEx we are proud to support initiatives like PHOTOVOICE that help create positive change in the communities where we operate."

Held in collaboration with Safe Kids - AIP Foundation, the aim of the competition was to increase their pedestrian safety knowledge by helping them identify hazardous areas they should approach with caution or avoid altogether. PHOTOVOICE is part of the Walk This Way road program that aims to foster increased awareness for child pedestrian safety in Vietnam. Since its launch in 2009, the program has reached 224,263 students from 278 primary and secondary schools across the country. Other Walk This Way highlights include the installation of a 1,700 square meter traffic safety park in Dong Nai Province for primary school students and the donation of 3,472 helmets, 19,855 reflective jackets and caps, and 93,491 pedestrian safety books to students to date.