FedEx Releases 2014 Global Citizenship Report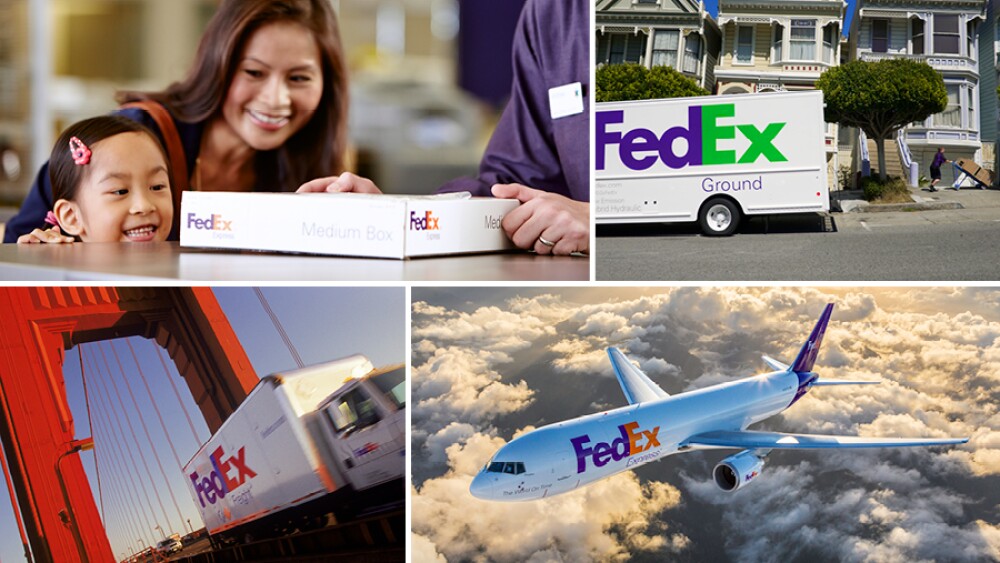 100 million gallons of jet fuel saved in 2014
HONG KONG, April 8, 2015 — FedEx Corp. (NYSE: FDX) has announced the online release of its 2014 Global Citizenship Report (GCR). Now in its seventh year of publication, the GCR tracks the company's efforts to connect the world in responsible and resourceful ways.
Among the most notable accomplishments detailed in this year's GCR, FedEx made significant strides in its commitment to reducing its environmental impact, saving 100 million gallons of jet fuel at FedEx Express and avoiding more than 976,000 metric tons of carbon emissions. The accomplishments were the results of FedEx® Fuel Sense and aircraft modernization programs. Since 2007, Fuel Sense initiatives have collectively saved the company more than 330 million gallons of jet fuel, the equivalent of 500 Olympic-size swimming pools.
"We firmly believe that any company shares a responsibility to take care of society, the environment we live in, and the people we live and work with," said Dr. Karen Reddington, president of FedEx Express, Asia Pacific. "The 18,000 FedEx team members in Asia-Pacific have all contributed towards our achievements in these areas, and this report reaffirms FedEx unwavering focus on responsible corporate citizenship."
FedEx connects more than 90% of the world's GDP and has a presence in 220 countries and territories. As represented in its logo, the company moves possibilities forward and applies that concept to its efforts to improve economic development, the environment, communities and people.
Highlights from this year's GCR include:
Economic Development
In its fiscal year 2014 (FY14), FedEx revenue grew by 3% and its operating margin rose to 7.6%. This economic activity creates wealth and opportunity for a wide range of stakeholders.
In Asia Pacific, FedEx continued investing to expand the reach and range of services. In FY14, FedEx opened the new North Pacific Regional Hub at Kansai International Airport in Osaka, Japan and upgraded its facility at Beijing Capital International Airport. In addition, a new International Express and Cargo facility is expected to open at Shanghai's Pudong International Airport in 2017 to provide faster and more reliable connections between Asia and U.S. and Europe.
Environment
FedEx Express improved its vehicle fuel efficiency by an additional 2.5%, bringing the cumulative improvement to 29.5% from a 2005 baseline. Having nearly achieved its goal of 30% by 2020, the company expects to surpass and then revisit that goal in 2015. To encourage and reward FedEx drivers for adopting fuel-efficient driving habits, FedEx Eco-Drive program has been implemented in 36 countries across Asia Pacific, North America, Europe and the Middle East. In China alone, the program has generated fuel savings of 134,778 gallons between January and the end of May 2014.
FedEx has also opened two new facilities that generate on-site solar energy, bringing the cumulative total to 11. Together, these solar facilities produced more than 8 million kWh of electricity, avoiding 3,145 metric tons of carbon emissions.
Community
Our logistics expertise and global reach allow us to move resources to where they are needed most and to provide relief during times of disaster. In Asia-Pacific, FedEx contributed to the recovery of the Philippines in the wake of typhoon Haiyan in the Philippines in November 2013. FedEx worked with Direct Relief, donating logistics facilities and experts to transport more than US$10 million of relief supplies to affected communities.
The company's dedication to improving communities is not limited to times of disaster. FedEx has worked with Safe Kids Worldwide since 2000 and continues to support in the Walk This Way program to raise awareness of pedestrian safety issues and makes the streets safer for children. Today, FedEx supports the Safe Kids program in China, South Korea, the Philippines, Thailand and Vietnam.
Another key initiative in Asia Pacific is the signature program with Junior Achievement (JA), an NGO that provides students across the region with t real-world skills through education. Since 2007, FedEx has worked with JA to organize the International Trade Challenge program, which educates students on international trade, business and economics through a mix of classroom activities and practical team-based exercises. In 2014, the program reached 2,051 students in 242 schools in nine Asia Pacific markets. Since 2007, almost 12,000 youths have participated in the program.
People
The commitment and passion of FedEx team members drives our exceptional service to customers worldwide. We work tirelessly to advance opportunities for our people, and make FedEx a safe, inclusive and rewarding place to work.
FORTUNE again ranked FedEx as one of the "World's Most Admired Companies". Since 2001, FedEx has ranked among the top 20 in this list that looks at financial performance and corporate reputation.
Every year, we celebrate our team members' achievements with two awards that recognize superior customer service and selfless assistance to others. From accelerating the delivery of life-saving medical devices to helping victims of roadside accidents, the actions of award recipients exemplify FedEx core values. In FY14, one of the winners for the FedEx Humanitarian Award was a FedEx courier in Thailand who witnessed a motorbike accident and took immediate action to assist the badly-injured victim.
FedEx undertook a robust materiality analysis this year with internal and external stakeholders to help refine its global citizenship strategy and to ensure it continues to address areas of maximum impact. The results of this assessment reconfirmed its current strategy but, in the next year, FedEx plans to again review issues to ensure that the company measures and manages what matters most and moves possibilities forward.
For full details of the 2014 Global Citizenship Report, visit csr.fedex.com.