FedEx Reinforces Its Commitment to Child Pedestrian Safety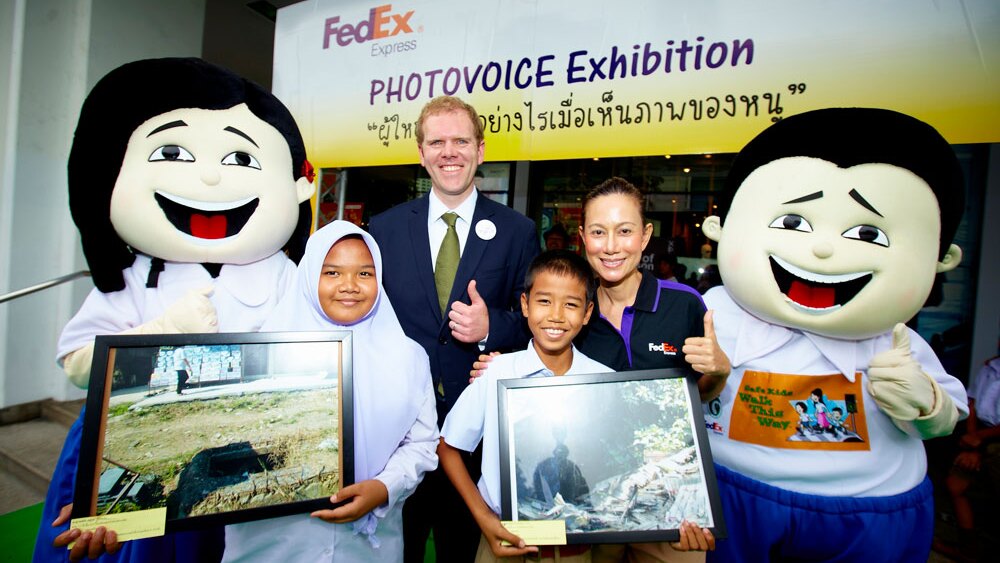 BANGKOK, January 30, 2013—Held at Big C Ratchadamri, FedEx Express, the world's largest express transportation company and a subsidiary of FedEx Corp. (NYSE: FDX), and Safe Kids Thailand today reinforced their commitment to raising public awareness of child pedestrian safety at a 'PHOTOVOICE' Exhibition featuring 20 images taken by students to highlight dangerous driving that could result in serious injuries and fatalities among children.
This is the third year FedEx has sponsored the 'PHOTOVOICE' Exhibition, which involves young students from four schools in Bangkok and Samut Prakarn. The photographs demonstrate children's vulnerability to careless driving by motorists and motorcyclists in a city where traffic accidents are one of the leading causes of death among children.
The Exhibition engaged public participation in the selection process for the photo with the strongest child pedestrian safety message by asking visitors to place stickers on images they believed to be the most compelling. Among the top five winners, Peerasin Prabaripae and Haruthai Yunoot received the highest score for the image of "Deadly Pothole" and "Dangerous Road Sink," respectively.
FedEx support of Safe Kids Thailand began in 2011 in direct response to the shocking number of injuries and fatalities from road accidents among child pedestrians. At the time, a report prepared by the Child Safety Promotion & Injury Prevention Research Center (CSIP) claimed more than 21,000 children suffered injuries annually as a result of traffic accidents, with an estimated 700 to 900 fatalities annually among youngsters under the age of 15.
The 'PHOTOVOICE' Exhibition is one of many collaborative programs between FedEx and Safe Kids Thailand. The aim of these programs is to raise awareness among the public and government in order to initiate behavioral and policy changes that will create a safer environment for child pedestrians.
About Safe Kids Walk This Way
The Walk This Way program was created by Safe Kids Worldwide and FedEx in the United States in 2000. The program has worked with more than a million students and thousands of schools in Brazil, Canada, China, Korea, the Philippines and the United States. Walk This Way is a multifaceted program that includes education, safety task forces that make environmental improvements to areas where children walk, research and law enforcement, all working to promote child pedestrian safety. FedEx Corp., the exclusive corporate sponsor of the Safe Kids Walk This Way program, provides safety expertise and assists in the collection of research data to document the problems faced by child pedestrians. With FedEx financial assistance, Safe Kids Worldwide helps fund pedestrian safety task forces in high-risk areas. FedEx volunteers conduct classroom education, escort
children to and from school on International Walk to School Day, and serve on school-based pedestrian safety committees. Every October, more than 1,000 FedEx volunteers in more than 150 cities around the world work with Safe Kids to keep children safe. For more information about Walk This Way, visit www.usa.safekids.org/wtw.
About Safe Kids Worldwide
Safe Kids Worldwide is a global network of organizations with a mission to prevent accidental childhood injury, a leading killer of children fourteen and under. More than 450 coalitions in nineteen countries bring together health and safety experts, educators, corporations, foundations, governments and volunteers to educate and protect families. The organization is dedicated to the prevention of unintentional injuries such as road traffic injuries, falls, burns, drowning and poisoning. The Safe Kids Walk This Way program has been adapted to match the specific conditions of Thailand and to ensure the greatest effectiveness of the project.
About FedEx Express
FedEx Express is the world's largest express transportation company, providing fast and reliable delivery to more than 220 countries and territories. FedEx Express uses a global air-and-ground network to speed delivery of time-sensitive shipments, by a definite time and date with a money-back guarantee[1].
About FedEx Corp.
FedEx Corp. (NYSE: FDX) provides customers and businesses worldwide with a broad portfolio of transportation, e-commerce and business services. With annual revenues of $43 billion, the company offers integrated business applications through operating companies competing collectively and managed collaboratively, under the respected FedEx brand. Consistently ranked among the world's most admired and trusted employers, FedEx inspires its more than 300,000 team members to remain "absolutely, positively" focused on safety, the highest ethical and professional standards and the needs of their customers and communities. For more information, visit news.fedex.com.
# # #
---
[1] Subject to relevant terms and conditions
I