FedEx Recognized as 'Best SME Partner' in Hong Kong
FedEx Express recognized for its efforts to support the growth of Hong Kong businesses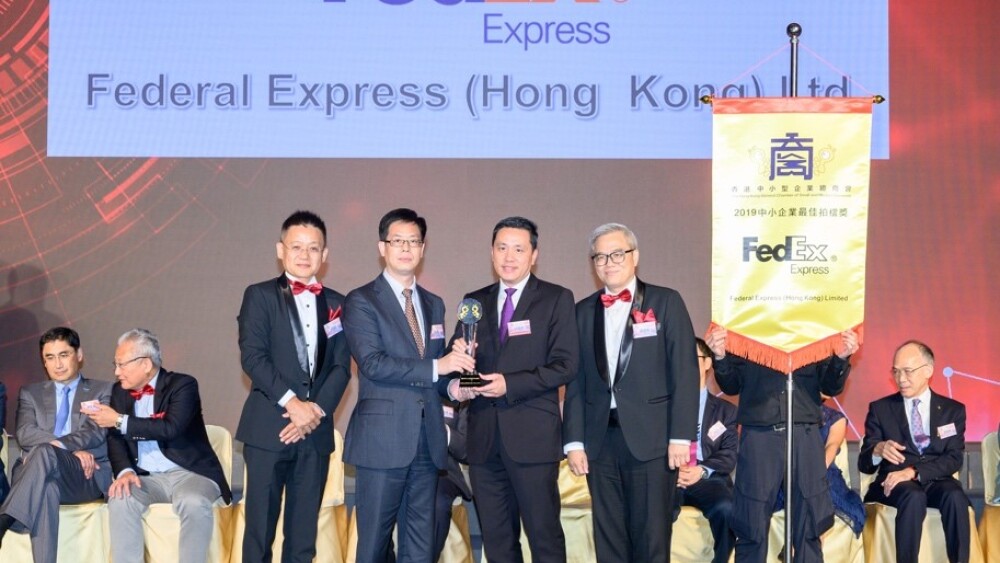 HONG KONG, June 24, 2019 — FedEx Express (FedEx), a subsidiary of FedEx Corp. (NYSE: FDX) and the world's largest express transportation company, has been recognized as the "Best SME Partner" at the 2019 Hong Kong General Chamber of Small and Medium Business Awards Ceremony in Hong Kong. Established since 2006, the annual awards recognize organizations for their outstanding efforts in driving the development and growth of small to medium-sized enterprises (SMEs) in Hong Kong.
"We're honored to be recognized with this award. This is a testament to FedEx's unwavering commitment of creating outstanding experiences to our customers, especially the SMEs, which account for more than 98% of total businesses[1]," said Anthony Leung, managing director, FedEx Express Hong Kong and Macau. "We've been constantly innovating our products and services to meet the changing needs of SMEs for the past 35 years in Hong Kong. We look forward to connecting local businesses to more possibilities around the world."
FedEx continues to invest in its transportation network to provide customers with better, faster access to global markets. Last year, FedEx has launched a number of new routes, including a new flight connecting Hanoi, the Vietnamese capital, to the FedEx Asia Pacific Hub in Guangzhou, China, enabling next business-day deliveries within Asia, including Hong Kong[2]. A new flight connecting Singapore and Sydney, Australia was launched to meet the growing demand between both markets. The new route also allows Hong Kong customers to ship dangerous goods, such as lithium-ion batteries, from Hong Kong to Australia, for the first time.
[1] SMEs in HK, Trade and Industry Department https://www.success.tid.gov.hk/english/aboutus/sme/service_detail_6863.html
[2] FedEx Express Gives Greater Access with New Flight to Hanoi: https://newsroom.fedex.com/newsroom/fedex-express-gives-greater-access-to-vietnam-with-new-flight-to-hanoi/
[3] Subject to relevant terms and conditions