FedEx Receives President's Volunteer Service Award 2012-2013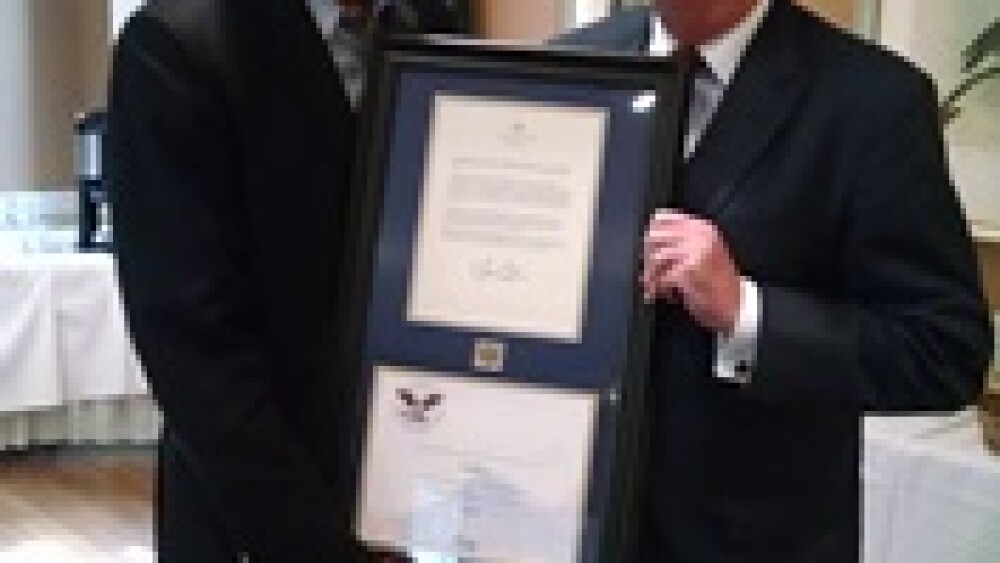 HONG KONG, October 16, 2014 – FedEx Express (FedEx), a subsidiary of FedEx Corp. (NYS: FDX) and the world's largest express transportation company, recently received an award for the significant voluntary work performed around the world by its employees. David L. Cunningham, Jr., president, FedEx Express Asia Pacific, accepted the President's Volunteer Service Award 2012-2013 Bronze Award on behalf of FedEx in Boston, U.S., in September, 2014.
The President's Volunteer Service Award is a U.S. presidential recognition program created by the President's Council on Service and Civic Participation. Established to recognize the importance of voluntary work in local communities and to encourage more people to volunteer, the award program evaluates the contributions of individuals and organizations that dedicate significant amounts of time to voluntary work and makes awards accordingly.
"FedEx has always attached high importance to voluntary work, and we encourage and support our staff to get involved in their communities as part of our CSR commitment," said David L. Cunningham Jr., president, FedEx Express Asia Pacific. "It was therefore an honor to receive this award on behalf of FedEx, and a powerful reminder that our employees' overall contribution was built from the ground up, with employees in Asia Pacific and globally giving up time hour-by-hour and project-by-project. FedEx is proud to be recognized and will continue its dedication to volunteering and being a responsible corporate citizen."
"JA (Junior Achievement) truly appreciates the leadership and all the hours of dedicated work from FedEx associates, both in Asia Pacific and around the world," said Sean Rush, CEO of JA Worldwide, an NGO focused on youth economic development that partners with FedEx on CSR projects. "They have significantly impacted the future leaders of business, supported communities around the world, and should truly be proud of all that they have accomplished."
In the Asia Pacific region, FedEx works with JA to nurture entrepreneurialism and foster business knowledge through classroom learning, practical teamwork exercises, and student business contests. Two of the most prestigious programs are the JA Company of the Year Competition and FedEx Express/Junior Achievement International Trade Challenge, in which FedEx employees volunteer their time to act as mentors. Through the competitions, FedEx has educated and inspired young people across the region.
This latest recognition adds to a string of similar awards FedEx has won. Earlier this year, the company also received the Bronze Award for corporate social responsibility leadership at the 6th Global CSR Awards.