FedEx Received Best Workplace Practices Award at the 3rd Global CSR Awards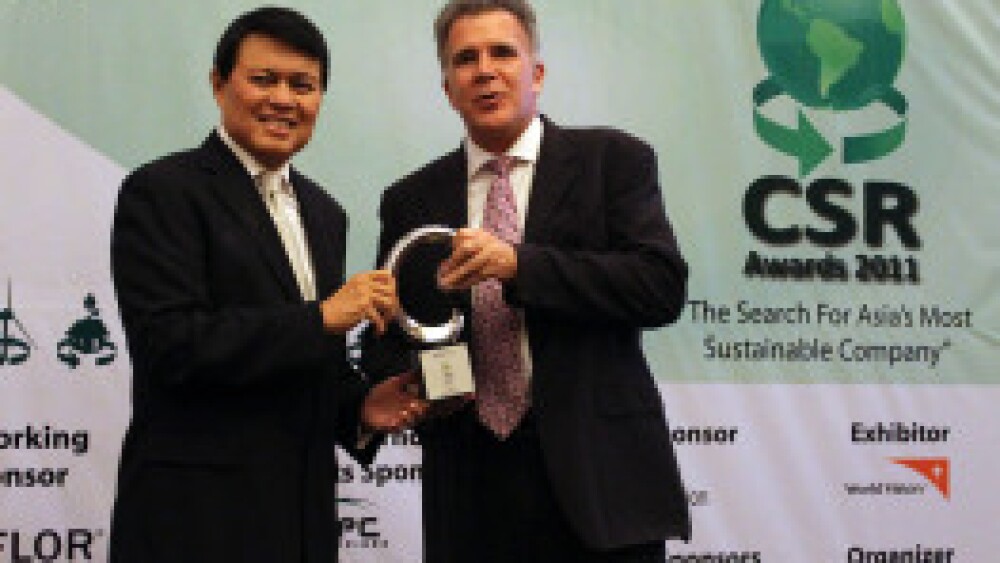 HONG KONG, August 24, 2011 – FedEx Express (FedEx), a subsidiary of FedEx Corp. (NYSE: FDX) and one of the world's largest express transportation companies, was recently presented with the Silver Award for Best Workplace Practices at the 3rd Global CSR Awards held in Cebu, Philippines. FedEx was recognized for its unwavering focus on maintaining a safe and rewarding environment where employees have opportunities to grow and succeed. This is the third consecutive year that FedEx has been honored for its workplace practices at the Global CSR Awards.

The Global CSR Awards is one of the most prestigious recognition awards programs for Corporate Social Responsibility in Asia Pacific, recognizing companies that demonstrate leadership and commitment to ethical values, legal compliance and respect for individuals, communities and the environment.

FedEx has continuously demonstrated its dedication to its employees. The People-Service-Profit (PSP) philosophy has driven many of FedEx outstanding policies, based on the premise that taking care of employees ensures the delivery of impeccable service to customers, which will in turn drive profitability and long-term business success for the company.

FedEx commitment to employees also involves building employee engagement. One recent effort to empower employees is the "I am FedEx" multimedia campaign. The campaign gives FedEx employees a forum for sharing their stories – whether about workplace triumphs or personal passions – while fostering a sense of community among workers dispersed around the globe. Contributions are featured on the "People Gallery" at www.IamFedEx.com and on Facebook at http://www.facebook.com/#!/iamfedex.

The company's culture of volunteerism is also a hallmark of what makes FedEx a great place to work. FedEx encourages employees to give their own time and energy to a myriad of causes, including the annual global FedEx Cares Week, the Walk This Way child pedestrian safety program, the Junior Achievement International Trade Challenge, ORBIS Flying Eye Hospital program, and other local initiatives.

Through the years, FedEx has been consistently recognized for its people-first philosophy and workplace practices, which include:



For the 12th time in 13 years, FedEx has been named one of the "100 Best Companies to Work for" by Fortune (1998-2010).

Aon Hewitt, a leading US-based human resources firm, has consistently ranked FedEx as one of the "Top 10 Employers" in Asia since 2000.

For the 10th time in 11 years, Computerworld Magazine once again named FedEx as one of the "Best Places to Work in IT."

Black Enterprise magazine has listed FedEx among "40 Best Companies for Diversity" for the seventh consecutive year (2005-2011).

FedEx has been honored by Pink Magazine as a great place for women to work.

About FedEx Express

FedEx Express is the world's largest express transportation company, providing fast and reliable delivery to every U.S. address and to more than 220 countries and territories. FedEx Express uses a global air-and-ground network to speed delivery of time-sensitive shipments, by a definite time and date with a money-back guarantee[1].

About FedEx

FedEx Corp. (NYSE: FDX) provides customers and businesses worldwide with a broad portfolio of transportation, e-commerce and business services. With annual revenues of $39 billion, the company offers integrated business applications through operating companies competing collectively and managed collaboratively, under the respected FedEx brand. Consistently ranked among the world's most admired and trusted employers, FedEx inspires its more than 290,000 team members to remain "absolutely, positively" focused on safety, the highest ethical and professional standards and the needs of their customers and communities. For more information, visit news.fedex.com
---
[1] Subject to relevant terms and conditions