FedEx Panda Express Delivers Giant Pandas to Chengdu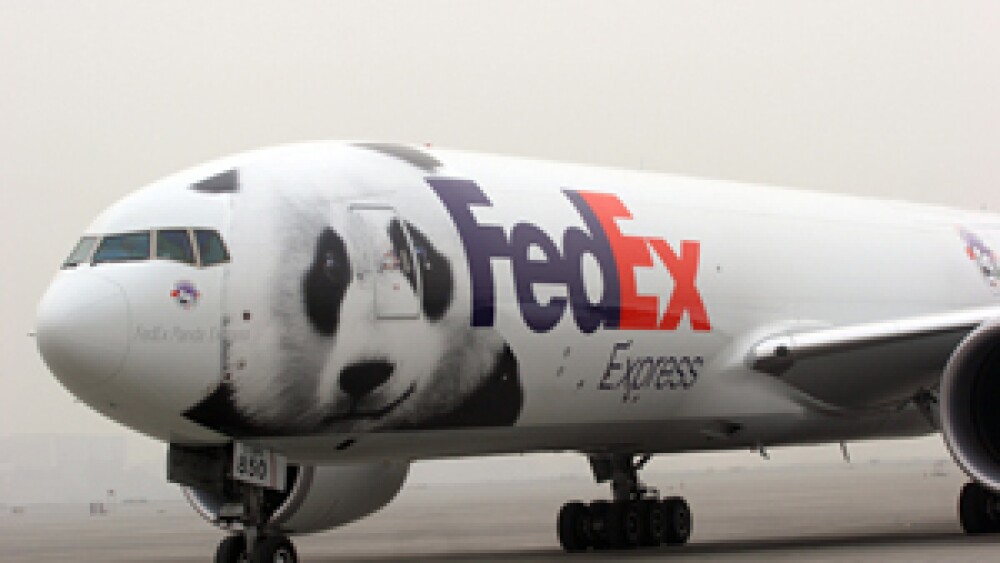 CHENGDU, February 5, 2010 — FedEx Express, a subsidiary of FedEx Corp. (NYSE: FDX) and one of the world's largest express transportation companies, donated the use of its extensive global transportation network to ship two giant pandas from the United States to Chengdu, mainland China.

Tai Shan, a four-and-a-half-year-old male panda born at the Smithsonian's National Zoo in Washington, D.C., and Mei Lan, a three-year-old female panda born at Zoo Atlanta, landed at China's Chengdu Shuangliu Airport at 16:30 pm onboard a custom-decaled FedEx 777 Freighter (777F)—known as the FedEx Panda Express. Upon arrival, the pandas were transported to their new homes in Chengdu—Tai Shan to the China Conservation and Research Center's Wolong Nature Reserve, and Mei Lan to the Chengdu Research Base of Giant Panda Breeding.

"We are pleased to offer our logistical expertise to safely and comfortably deliver Tai Shan and Mei Lan to Chengdu on a non-stop FedEx flight—and in record time," said David L. Cunningham Jr., president, Asia Pacific, FedEx Express. "Our unparalleled service to and from Asia , our recent deployment of the Boeing 777F and our experience with delicate shipments made us the perfect match for this special delivery. We are honored to be the trusted carrier of the giant pandas and are proud to continue our commitment to animal conservation and education efforts."

"Given our experience shipping pandas, it is only natural that we deliver these national treasures to China ," added Eddy Chan, senior vice president, FedEx Express China. "Pandas are a great symbol of China , and we are privileged to support efforts for their preservation."
FedEx Provides Unparalleled Service to China

FedEx Express initiated operations in China in 1984, and today it is one of the company's fastest-growing markets. FedEx currently employs more than 7,000 employees in China and serves 400 cities throughout the country. FedEx is also approaching the one-year anniversary its new Asia Pacific hub in Guangzhou , China , opened on February 6, 2009.
FedEx Express Transports Many Unusual Shipments

FedEx has a long history of transporting rare and delicate cargo. In 2000, FedEx transported Tai Shan's parents from China to Washington , D.C. 's National Zoo and in 2003, FedEx transported two giant pandas from China to the Memphis Zoo.

FedEx has transported polar bears, white tigers, elephants, penguins, lions, gorillas, eagles and even a 13-foot tiger shark used in filming the movie "Jaws." Other unusual international cargo transported by FedEx includes a windmill from Denmark , an 11,000-pound helicopter, and a five-ton communications satellite.
About FedEx

FedEx Corp. (NYSE: FDX) provides customers and businesses worldwide with a broad portfolio of transportation, e-commerce and business services. With annual revenues of $33 billion, the company offers integrated business applications through operating companies competing collectively and managed collaboratively, under the respected FedEx brand. Consistently ranked among the world's most admired and trusted employers, FedEx inspires its more than 275,000 team members to remain "absolutely, positively" focused on safety, the highest ethical and professional standards and the needs of their customers and communities. For more information, visit news.fedex.com

About FedEx Express

FedEx Express is one of the world's largest express transportation companies, providing fast and reliable delivery to every U.S. address and to more than 220 countries and territories. FedEx Express uses a global air-and-ground network to speed delivery of time-sensitive shipments, by a definite time and date with a money-back guarantee[1].
---
[1] Subject to relevant terms and conditions