FedEx Nurtures Thai Entrepreneurial Spirit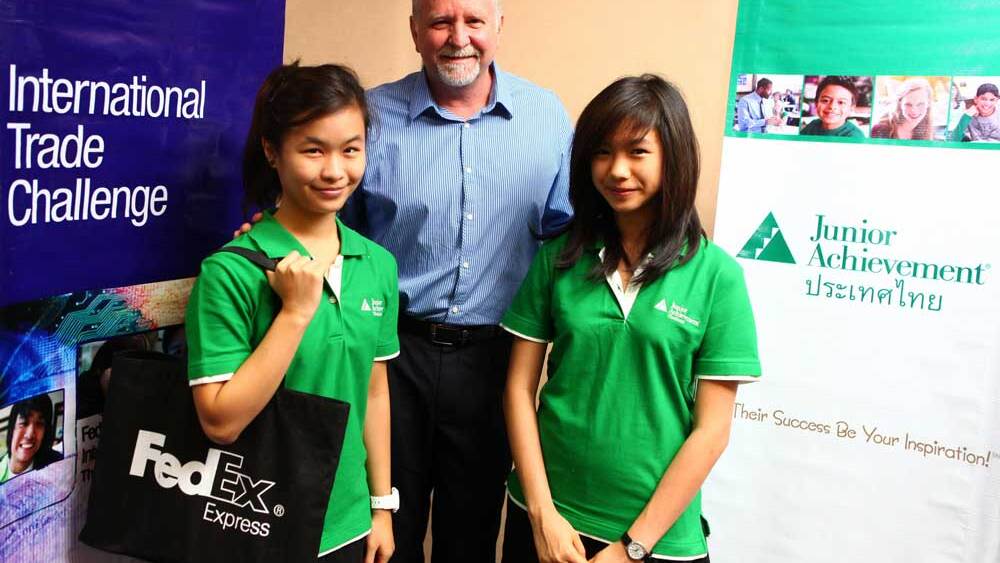 BANGKOK, June 20, 2012--Thai students are competing to again make it to the regional finals this year in the annual FedEx /Junior Achievement International Trade Challenge (ITC).
To help students gain a better understanding about international trade, enhance their presentation skills, and foster an entrepreneurial spirit, FedEx Express employees will be acting as mentors to the students throughout the Junior Achievement (JA) Thailand program.
"Through this program, FedEx hopes to help develop more young entrepreneurs in Thailand, equipping them to succeed in a competitive global marketplace and drive the country's economic growth. Following success of the Thai teams in 2010 and 2011, we're all looking to see if Thailand can manage a "threepeat" and win through again," said David Carden, managing director of FedEx Thailand and Indochina.
Now in its fourth year, the FedEx/JA ITC program aims to educate and inspire young people in Asia Pacific countries, including Thailand, to help them understand how entrepreneurship can improve the quality of their lives and the communities they live in. Thai students have featured prominently in the competition, besting all comers from around Asia Pacific to secure first prize in the regional finals two years running in 2010 and 2011.
The program kicked off with an International Trade Workshop held at The American School of Bangkok, where approximately 120 high school students learned about the fundamentals of entrepreneurship and international trade from industry experts.
Following the workshop, students will be developing international market entry proposals in teams of two, applying knowledge and strategic skills acquired during the International Trade Workshop. Eight teams will be shortlisted to present their plans in the local International Trade Competition in July.
"FedEx recognizes the potential of our young people in bringing about positive change in our society. By supporting the FedEx/Junior Achievement International Trade Challenge, we are providing access to opportunities and helping them realize their potential as future business leaders," added Carden.
The top three winning teams will have an opportunity to compete in the regional finals to be held August 27-29 in Hong Kong. The Thai teams will be competing with students from eight other countries including Hong Kong, Japan, Malaysia, New Zealand, Singapore, Philippines, Korea, and Vietnam.
###
About FedEx Express
FedEx Express is the world's largest express transportation company, providing fast and reliable delivery to more than 220 countries and territories. FedEx Express uses a global air-and-ground network to speed delivery of time-sensitive shipments, by a definite time and date with a money-back guarantee[1].
About FedEx Corp.
FedEx Corp. (NYSE: FDX) provides customers and businesses worldwide with a broad portfolio of transportation, e-commerce and business services. With annual revenues of $43 billion, the company offers integrated business applications through operating companies competing collectively and managed collaboratively, under the respected FedEx brand. Consistently ranked among the world's most admired and trusted employers, FedEx inspires its more than 300,000 team members to remain "absolutely, positively" focused on safety, the highest ethical and professional standards and the needs of their customers and communities. For more information, visit news.fedex.com.
---
[1] Subject to relevant terms and conditions