FedEx New Zealand Named Best Employer For Ninth Consecutive Year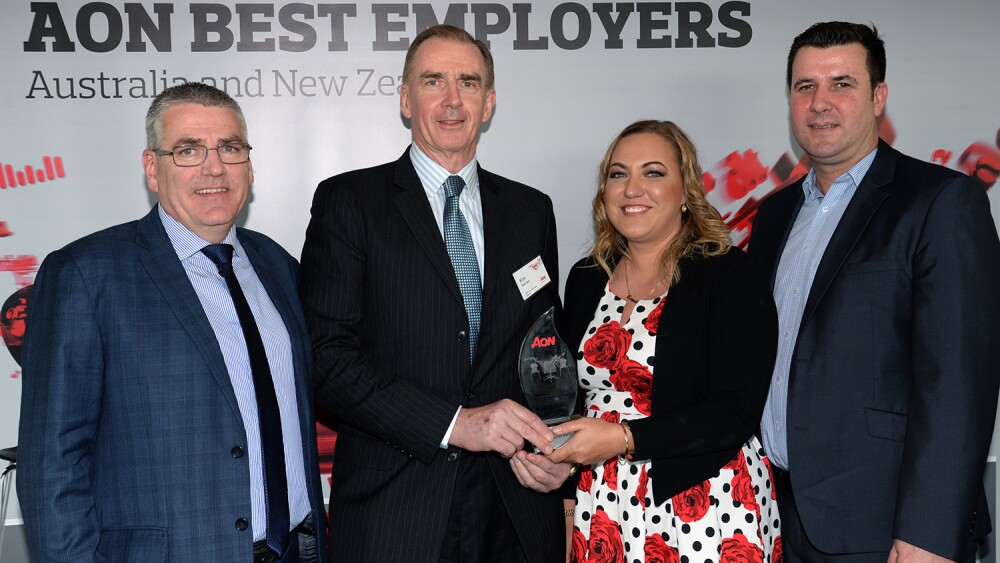 AUCKLAND, New Zealand, June 07, 2016—FedEx Express, a subsidiary of FedEx Corp. (NYSE: FDX) and the world's largest express transportation company, has been named a Best Employer by Aon Hewitt in New Zealand.
"We are honoured to be recognised as an employer of choice in New Zealand for the ninth time. This recognition is a testament to the dedication and hard work of all of our employees to making every customer experience outstanding." said Kim Garner, managing director, FedEx Express Australasia. "At FedEx, our People-Service-Profit philosophy is a fundamental part of our success. We believe that by taking good care of our people, they will deliver exceptional service to all of our customers, which will in turn generate the profit that enables us to reinvest in our team and business."
"By creating a positive working environment through a combination of leadership development, recognition and training programs, FedEx ensures our team members feel engaged and valued," added Garner. "FedEx has long been committed to fostering growth from within and we're proud that 87% of our New Zealand management team have been promoted from within the company."
The Best Employer accreditation process assesses organisations against four critical areas: employee engagement, effective leadership, aligned employer brand and high performance culture.
The accreditation comprises of three components: employee engagement survey, people practices inventory and the CEO and Human Resource Department (HRD) interview. Once all three components have been successfully completed, organisations will be accredited as Aon Hewitt Best Employers and are automatically entered into the judging pool for the prestigious Best of the Best award. Judging on Best of the Best is performed by an independent judging panel using the information gathered in the CEO and HRD interview.
In addition to being awarded Aon Hewitt's 2016 Best Employer in New Zealand, FedEx was also recognized by Aon Hewitt as one of the 'Best Employers in Asia-Pacific' in 2015. Earlier this year, the company was ranked 8th in Fortune Magazine's 'Most Admired Companies' survey, as well as coming first in the delivery industry category.
About FedEx Express
FedEx Express is the world's largest express transportation company, providing fast and reliable delivery to every U.S. address and to more than 220 countries and territories. FedEx Express uses a global air-and-ground network to speed delivery of time-sensitive shipments, by a definite time and date with a money-back guarantee*.
About FedEx Corp.
FedEx Corp. (NYSE: FDX) provides customers and businesses worldwide with a broad portfolio of transportation, e-commerce and business services. With annual revenues of $49 billion, the company offers integrated business applications through operating companies competing collectively and managed collaboratively, under the respected FedEx brand. Consistently ranked among the world's most admired and trusted employers, FedEx inspires its more than 340,000 team members to remain "absolutely, positively" focused on safety, the highest ethical and professional standards and the needs of their customers and communities. For more information, visit news.fedex.com.
About Aon Hewitt Best Employers
The Aon Hewitt Best Employers program in Australia and New Zealand is an accreditation process consisting of three stages including an employee engagement survey; People Practices Inventory; and CEO and HRD interview. Organisations have to meet the criteria for the three stages to be accredited for the year. A total of 140 companies were involved in the 2016 accreditation process, with 83,293 employees contributing to the employee engagement survey and 14 organisations achieved Aon Hewitt Best Employer Accreditation.
More information about the Aon Hewitt Best Employer program can be found here:
www.aonhewittbestemployers.com.au
NOTE TO EDITORS: FedEx press releases are available on the World Wide Web at https://newsroom.fedex.com/newsroom/asia-english/
For further information, please contact:
Elaine Mo of FedEx Express
Tel: +852 2514 0812
Email: Elaine.Mo@fedex.com
OR
Max Hewett of Edelman
Tel: +61 (0) 432 332 215
Email: max.hewett@edelman.com