FedEx New Flight Route Enhances Imports and Exports Between Japan and Vietnam
New Route Improves Inbound and Outbound Transit Times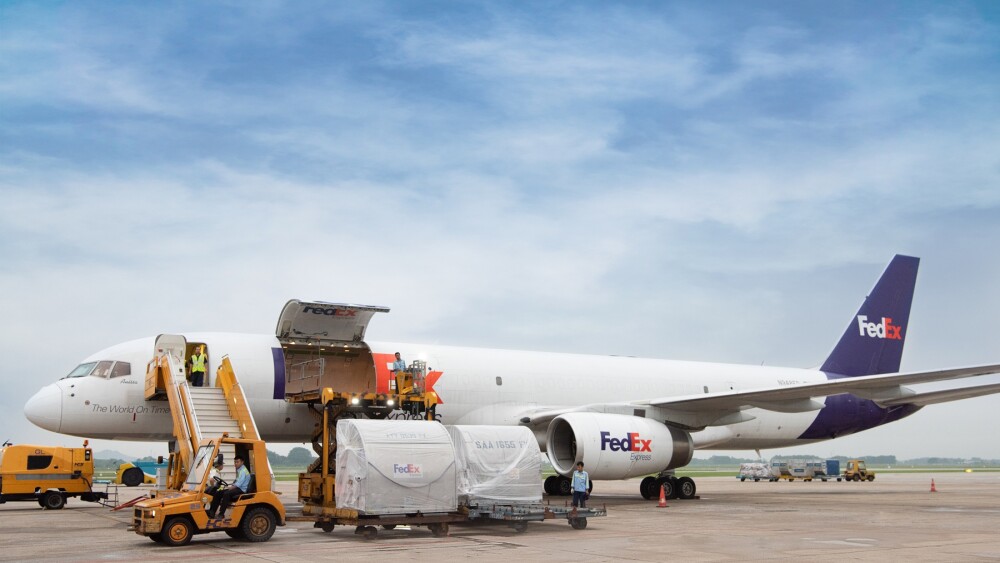 TOKYO, July 25, 2018 – FedEx Express, the world's largest express transportation company and a subsidiary of FedEx Corp. (NYSE: FDX), announced a new flight route between Noi Bai International Airport in Hanoi, Vietnam and Baiyun International Airport in Guangzhou, China, home of the FedEx Asia Pacific Regional Hub.
The FedEx APAC Hub in Guangzhou plays an important role as a cargo consolidation point and the new route shortens transit times between Japan and Vietnam to one business day when using FedEx International Priority (IP), FedEx International Priority Freight (IPF), FedEx International Economy (IE) and FedEx International Economy Freight (IEF).
The new route uses a dedicated Boeing 757 freighter four times a week (Tuesdays-Fridays) to and from Hanoi. Together with existing flights, Hanoi's weekly inbound freight capability is enhanced to all five business days (Monday-Friday) from one business day previously. The increased speed to market and capacity gives businesses a stronger competitive advantage when connecting to and from Vietnam.
The Vietnamese market is gaining attention from Japanese companies both as a production location and a new consumer market. In 2017, Japanese-Vietnamese trade experienced double-digit growth for both imports and exports compared with the previous year. There is also growing momentum for Japanese companies expanding into Vietnam, with 1,816 new business locations established in Vietnam in 2017. Out of these, 801 were manufacturing industry locations , suggesting that continuous growth and expansion of logistics needs between Japan and Vietnam can be expected in the future.
"We anticipate and are prepared to support the express logistics needs of Japanese manufacturing businesses based in Vietnam including the shipping of prototypes and product samples, urgent fulfillment of parts for production lines, and the rapid introduction of finished goods to market," said Masamichi Ujiie, regional vice president, FedEx Express North Pacific. "By actively listening to our customers, we can provide the best solutions and improve our services to meet changing market demands. For example, the entrance of Japanese companies into Vietnam includes small- and medium-enterprises (SME). SME customers often need support when preparing their packages and documents for shipment. Our dedicated Japan sales team is committed to providing the best solutions for businesses of all sizes and this new flight is part of our effort to enhance the customer experience."
To meet the dynamic market needs, FedEx continually adjusts its network and routings in Asia Pacific. In April, FedEx announced a new route connecting the FedEx APAC Hub in Guangzhou and the FedEx World Hub in Memphis. In January, FedEx officially opened its Shanghai International Express and Cargo Hub, the second international hub in China.
---
Basic data of Viet Na, May 2018, Ministry of Foreign Affairs of Japan https://www.mofa.go.jp/mofaj/area/vietnam/data.html
2 Annual Report of Statistics on Japanese Nationals Overseas, May 2018, Ministry of Foreign Affairs of Japan https://www.mofa.go.jp/mofaj/press/release/press4_006071.html