FedEx Named "Partner of the Year" and Ranked "Top 2 Airline by Cargo Carriage" at the 8th Changi Airline Awards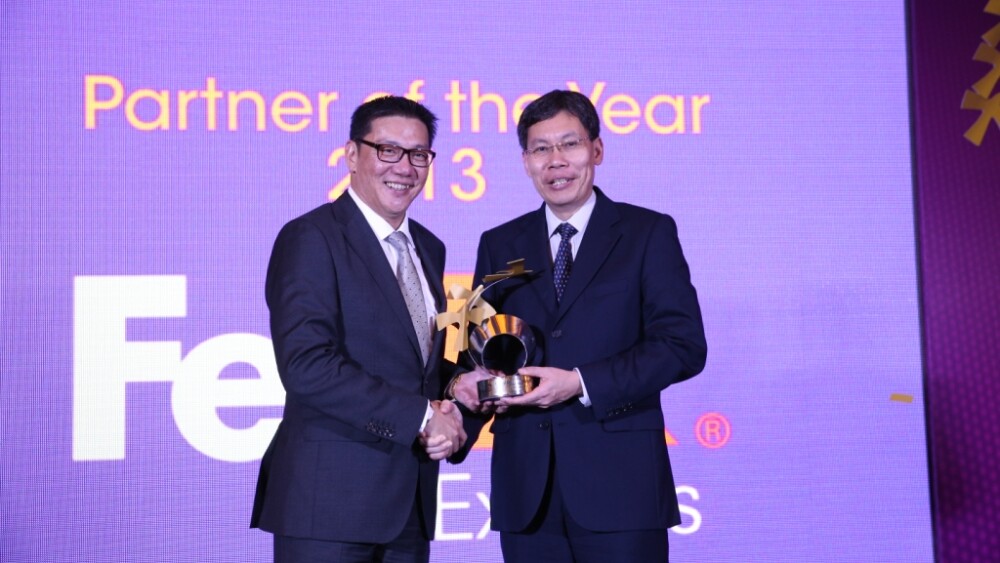 SINGAPORE, May 8, 2013—FedEx Express (FedEx), a subsidiary of FedEx Corp. (NYSE: FDX), took two awards at the annual Changi Airlines Awards including the Partner of the Year and the Top 2 Airline by Cargo Carriage.
Changi Airport Group's (CAG) Partner of the Year award recognises the strong FedEx relationship with CAG to grow and strengthen Changi Airport's air hub status, as well as to enhance Changi's express cargo handling capability and capacity.
Based on the total volume of cargo that airlines shipped in 2012, FedEx is ranked second in CAG's "Top 10 Airlines by Cargo Carriage" list. This is the eighth consecutive year that FedEx has been recognised as a top contributor to Singapore's Changi Airport's overall airfreight volume.
Mr Khoo Seng Thiam, managing director, FedEx Express Singapore, said, "FedEx is honoured to receive this award which underscores the FedEx commitment to Singapore, and reflects the close collaborative efforts between FedEx and CAG to support Singapore's aim to be a leading air cargo hub in the region."
"This recognition is also testament to the commitment and dedication of FedEx employees whose everyday actions drive service excellence and customer satisfaction", he added.
The Changi Airline Awards recognise the contributions that individual airlines bring to the partnership with the airport in order to make it a successful, vibrant and world-class air hub.
About FedEx Express
FedEx Express is the world's largest express transportation company, providing fast and reliable delivery to more than 220 countries and territories. FedEx Express uses a global air-and-ground network to speed delivery of time-sensitive shipments, by a definite time and date with a money-back guarantee.
About FedEx
FedEx Corp. (NYSE: FDX) provides customers and businesses worldwide with a broad portfolio of transportation, e-commerce and business services. With annual revenues of $44 billion, the company offers integrated business applications through operating companies competing collectively and managed collaboratively, under the respected FedEx brand. Consistently ranked among the world's most admired and trusted employers, FedEx inspires its more than 300,000 team members to remain "absolutely, positively" focused on safety, the highest ethical and professional standards and the needs of their customers and communities. For more information, visit news.fedex.com.
For further information, please contact:
Patsy Koh of FedEx Express
patsy.koh@fedex.com
Tel: 6390 5574
Liana Teo
TPR on behalf of FedEx Express
liana.teo@tpr.sg
Tel: 6422 7193
# # #